6 Valuable Dimes Worth Money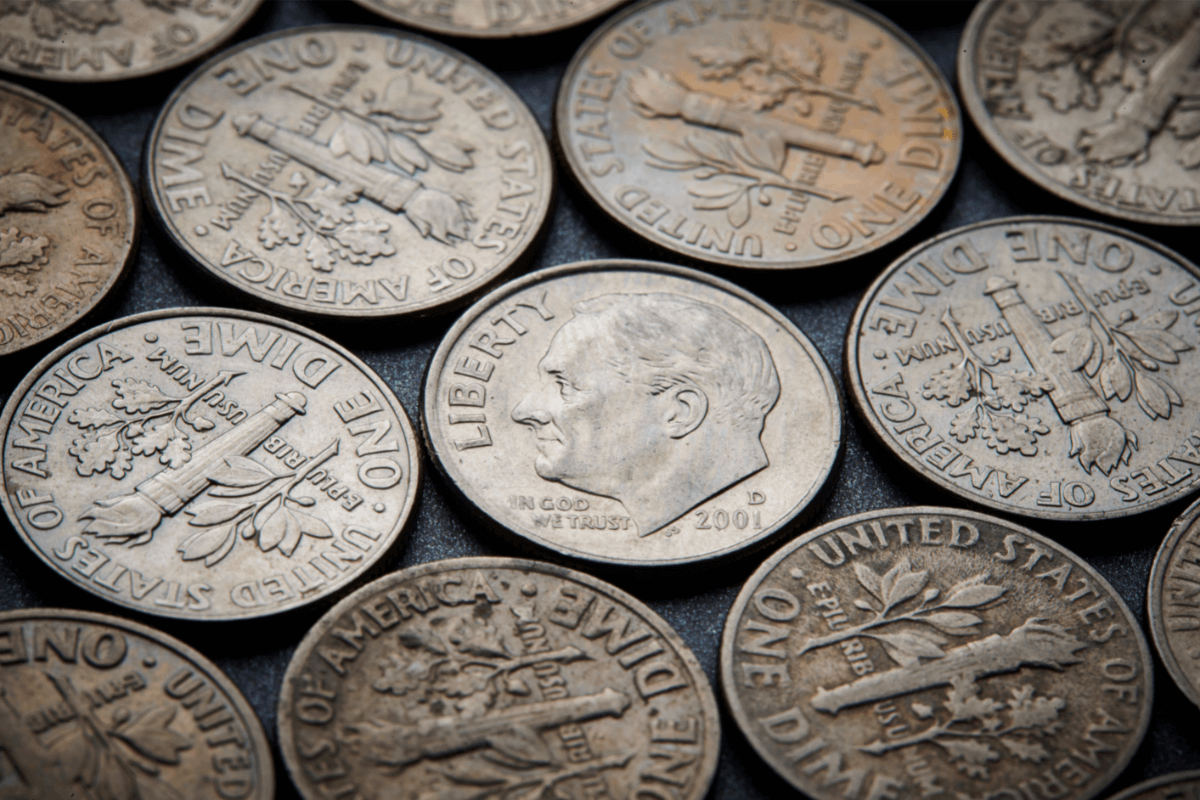 History has it that dimes were the first coin the U.S. Mint made, and that was in 1792. Although the coin's value hasn't changed much since then (10 cents), valuable dimes can fetch a pretty penny.
Like other rare and valuable coins, these dimes have a low mintage (number of coins produced), are old (such as the 1894-S Barber Dime, which only had 24 coins made), or have errors in production (such as the 1968 No-S Roosevelt Dime Proof).
Learning about the history, worth, and how to identify valuable dimes is information any coin collector or investor should know. Even as a regular person, this information can help because valuable dimes may accidentally end up in your pocket change. And it would be tragic to find one and not know its worth.
Valuable Dimes That Can Make You Rich
The 1894-S Barber Dime
This coin is one of the rarest and most valuable dimes, with only 24 produced. It can fetch up to $2 million in mint condition after selling for $1.9 million in 2018.
You can identify it by its design, with Lady Liberty looking towards the right and the date below the obverse. But that's not all; check for an S mint mark on the reverse side, signifying it was made at the San Francisco mint.
Of the 24 produced, only nine are known to exist still, and one of them was found in an old junk box. You never know where valuable dimes may hide, so keep an eye out for this.
The 1916-D Mercury Dime
Another valuable and collectible dime is the 1916 -D Mercury Dime. Its value is due to its low mintage of 264,000 coins, although that may not seem low compared to the 1894-S Barber Dime.
According to the NGC Price Guide, the 1916-D Mercury Dime can fetch up to $12,000 in circulated condition and $39,000 or more in certified mint. Thanks to the relatively high mintage numbers (compared to some valuable dimes on this list), you may have a better chance of finding one in circulation.
How can you identify it? Examine the D mint mark on the reverse side, signifying it was made at the Denver mint. It should be slanted and not appear to have been modified from an S to a D, as is the case for some counterfeits. Also, check for any apparent wear or damage to the mint mark, as this could signify an alteration.
1968 No-S Roosevelt Dime Proof
This dime is valuable due to an error in production; it should have an S mint mark showing it was made in San Francisco. The 1968 No-S Roosevelt Dime is worth up to $31,000 (auction, 2015).
The San Francisco Mint realized the error after making a few coins and adjusted the coin die for the remainder of the proof coins. The small number of error coins are valuable, rare, and sought after by coin collectors. There are also no mint records of the 1968 No-S dimes, adding to its value.
Check for the missing S mint mark on the reverse side to identify it. You may have a valuable dime on your hands if there's none.
1860 Seated Liberty Dime
Another valuable dime is the 1860 Seated Liberty Dime. This dime was designed and engraved by Christian Gobrecht, featuring Lady Liberty seated on a rock holding a pole with a liberty cap on top.
The obverse also includes the inscription "UNITED STATES OF AMERICA," which replaced the stars in the earlier versions, and there's a date below Lady Liberty. The reverse contains the description "ONE DIME" with a wreath surrounding it. Examine these details to identify this valuable dime.
According to USA Coin Book, the proof coin can fetch up to $900 and the mint $600. This coin is not as valuable as the others on this list but good enough to excite a coin collector. Also, it has a relatively high mintage of 607,000, meaning you may have a better chance of finding this dime in circulation.
1798 Draped Bust Dime – Small 8
In 1798, Robert Scot redesigned the back of U.S. bust dimes to feature a heraldic eagle instead of the scrawny eagle that had been there before. It was minted in Philadelphia with no mint mark.
During the early years of the United States Mint, mint workers produced coin dies individually. They engraved the date on each die by hand, which explains why this particular die variety has a smaller numeral 8 in the date than other coins from that same year.
Also, the date 1798 is stamped over the 1797 date, which explains why you can see a seven underneath the 8. This coin also features 16 stars around the eagle instead of the usual 13 or 15 in some cases
Depending on its condition, this coin can fetch up to $250,000, making it one of the most valuable dimes. Look for a smaller 8 in the date and an apparent over-stamping of the date to identify it.
1844 Seated Liberty Dime
The Seated Liberty dime was designed by Christian Gobrecht and minted from 1837 to 1891. This 1844 dime obverse features the goddess Liberty seated on a rock with her arm resting on a shield and stars with drapery.
The reverse has a wreath surrounded by the words "UNITED STATES OF AMERICA" and "ONE DIME" at the center. Unlike the other three locations where the Seated Liberty dimes were minted (Philadelphia, New Orleans, and San Francisco), this dime does not have a mint mark.
How do you know you found a genuine 1844 Seated Liberty Dime? You may have to place it side by side with an authentic one, as it is difficult to spot counterfeit Seated Liberty dimes. However, you can check the details and the date font.
Identifying Valuable Dimes
Although there are ways to spot valuable dimes yourself, the best way to ensure that you have a valuable dime is to bring it to a coin dealer or appraiser. They can easily spot fakes and decipher genuine dimes. They may also tell you the coin's grade, which can affect its value even more.
Last Words
Finding one of these dimes in your everyday change is incredibly difficult, but it's worth keeping an eye out for them. Who knows, you may find one, and it could change your life forever.