15+ Modern Pool Tile Ideas
From bold contrasting tile to herringbone and natural stone, there are many ways to create the pool you've always dreamed of. Here are 15+ Modern Pool Tile Ideas to inspire your project!
15+ Modern Pool Tile Ideas
If you're in search of a modern touch to elevate your pool area, you've come to the right place. In this blog post, we'll explore 15+ Modern Pool Tile Ideas that will transform your backyard oasis into a stunning visual masterpiece! Whether you're aiming for a sleek and minimalist aesthetic or a bold and vibrant statement, we've curated a collection of the latest trends and timeless designs to inspire your pool renovation. So, grab your sunglasses, and let's dive into the captivating world of modern pool tiles!
1. Bold Contrasting Tile
Bold Contrasting Pool Tile is a great way to add some personality to your pool design! This type of tile also makes it easy to see the waterline, which gives added safety to your pool space.
2. Porcelain Pool Tile
Porcelain Tile is a great option for pools and for good reason. This tile is durable, it's available in a wide variety of colors, and will last for years to come.
3. Black Pool Tile
With a unique look, there is a strong desire for Black Pools. We love the benefits of using black tiles in pools! They naturally warm the water and can help prevent algae growth.
4. Herringbone Pool Tile
One fun thing about Herringbone Pool Tile is that it can help your pool to appear larger. This timeless look will never disappoint and is one of our favorite modern pool tile ideas!
5. Natural Stone Tiles
Natural Stone Tile is an amazing choice for pools. It's attractive, easy to maintain, and one of the most durable options for pools!
6. Spanish Glass Pool Tile
If you're looking for something to set your pool apart, Spanish Glass Pool Tiles are the way to go! These tiles are inspired by the beautiful waters of the Great Barrier Reef and they are stunning!
7. Custom Mosaic Pool Tile
From bold and unique to simple and classic, you have endless possibilties when using a Custom Mosaic Tile for your pool. You can truly design the pool of your dreams!
8. White Pool Tile
White Pool Tile is a popular choice for many pool owners when it comes to modern pool tile ideas. Known for its calm and inviting aesthetic, white pool tile is perfect for a classic look.
9. Glow in the Dark Pool Tile
If you're looking for something unique, Glow-in-the-Dark Pool Tiles will not disappoint. These tiles charge when exposed to natural light, to create an incredible nighttime display!
10. Iridescent Glass Tile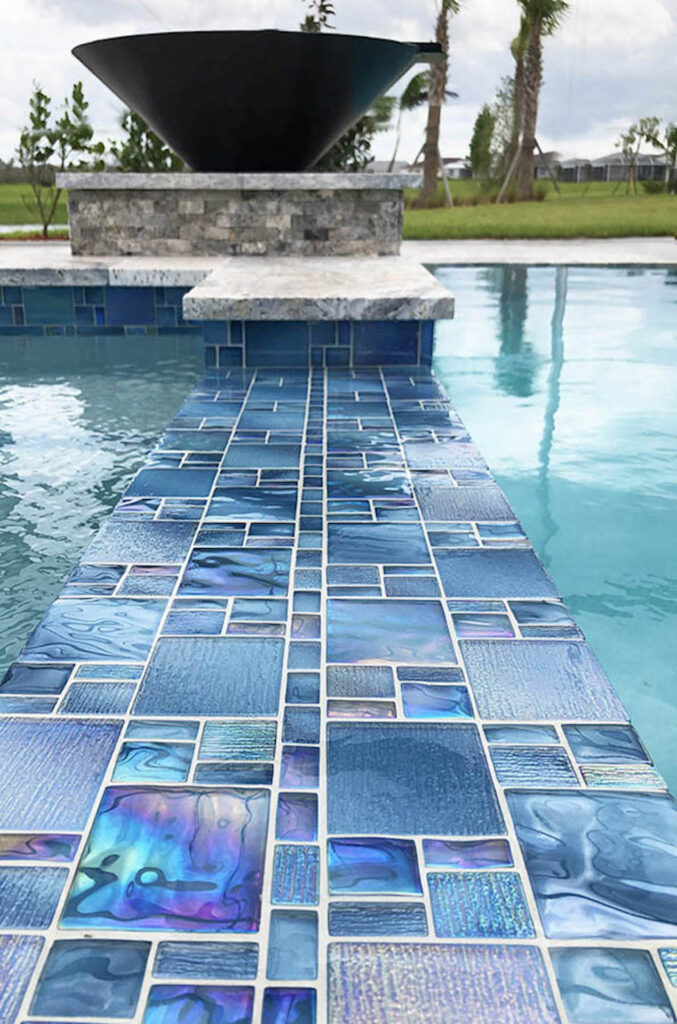 Iridescent Glass Tile is perhaps one of the most beautiful choices for pools. Made with translucent glass, these tiles can be put together in a variety of designs to get a one-of-a-kind look and is one of our favorite modern pool tile ideas!
11. Ceramic Pool Tile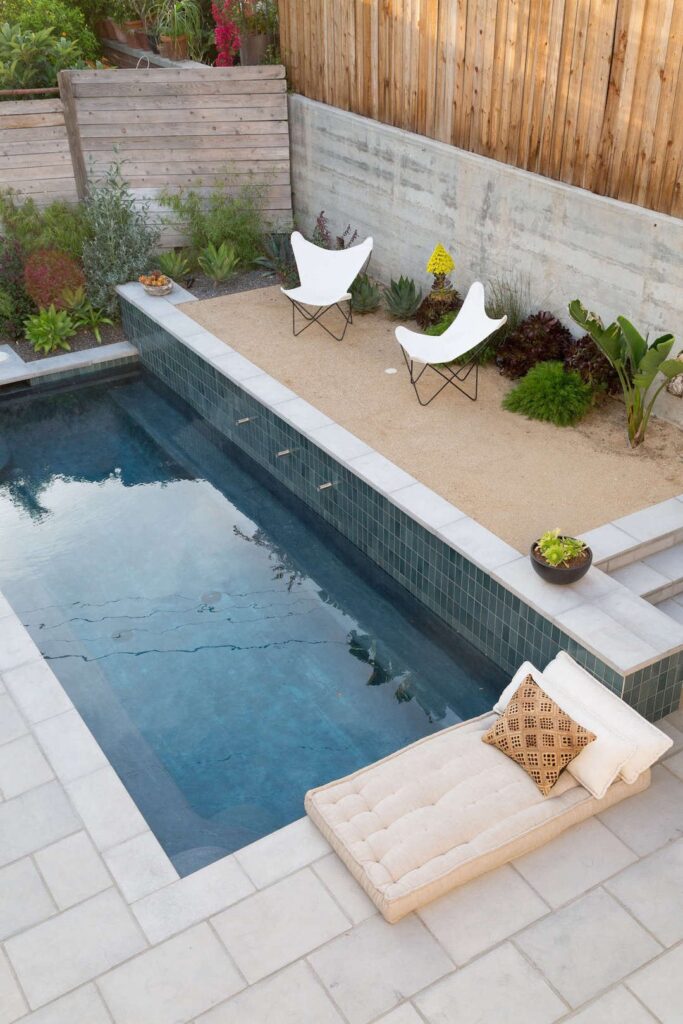 With limited maintenance, Ceramic Pool Tile is a highly favored choice for pools. It's durable and resistant to mold and bacteria which can keep your pool clean and healthy.
12. Lunar Glass Pool Tile
Made to impress, these Lunar Glass Tiles are nothing short of incredible! Made to reflect light, these eco-friendly tiles are a favorite!
13. Hand Painted Pool Tile
If you're looking for a unique, one-of-a-kind design for your pool, Hand-Painted Tiles could be the right fit for you! These tiles will leave a lasting impression and there are infinite design possibilities.
14. Subway Checkered Pool Tile
Fun, classic, and an instant eye-catcher. This Subway Checkered Tile is a modern pool tile idea that's made to impress!
15. Penny Tile
With endless color options, Penny Tile is a popular choice for pools! It's cost-efficient and can be found in a variety of sizes.
More Outdoor Inspiration