Do Gerber Onesies Run Big or Small
An onesie is a one piece baby cloth that snaps at the inseam. Gerber onesies run small therefore you should get a size bigger for your little one when purchasing.
Gerber onesie is made of 100% organic cotton with a three-snap closure design for easy opening and closure. Baby onesies are must-have clothes for newborns and grown kids because they are cute, comfortable, cozy, and easy to put on.
Gerber Onesie Size Chart
Age

Weight

(Lbs)
Weight (Kg)

Height

( In)
Height (Cm)

Preemie

Up To

2.3

17

43.2

NB

5-8

2.3-3.6

17-21

43.2- 53.3

0-3M

8-12

3.6 -5.4

21-24

53.3-61

0-6M

Up to 16

7.3

17-26

43.2-66

3-6M

12-1

6
5.4 -7.3

24-26

61-66

6-9M

16-20

7.3-9.1

26-28

66-71

12M

20-24

9.1-10.9

28-30

71.1-76.2

18M

24-28

10.9- 12.7

30-32

76.2-81.3

24M/2T

28-32

12.7 -14.5

32-34

81.3-86.4
Gerber onesies are designed as short sleeves, long sleeves, and sleeveless, and therefore you can choose the best depending on the weather. What's more, the onesies come in plain colors or printed with patterns and graphics, giving you a variety to choose from.
Also, they offer the onesies in a girl, boy, and neutral prints. This makes it easy for the parents to shop whether or not they are aware of the gender they are expecting. For girls, they offer a variety of girly colors and designs to make your little princess look stunning, and the same case applies to boys.
The gender-neutral colors are ideal for parents who do not fancy the girl and boy color and design trends. Gerber's offers a variety of white, gray, and tan designs if you are working for a neutral wardrobe irrespective of your baby's gender.
What's more, they have a variety of bodysuits in solid colors: white, black, and grey, which are perfect for mixing and matching outfits. If you are looking for a specific design, contact them on their website for a customized onesie and ensure that your baby is comfortable and in the event's theme.
If you do not mind any of these colors, Gerber's offers multipacks containing various long and short sleeve onesies in different colors and designs.
You can never have too much of onesies because your baby will be wearing one under almost all outfits. Always watch out for their sales and stock your favorite designs and colors. A tip when stocking up during a sale, always purchase a size up so that your baby can grow into them.
Read also H &m baby clothes review
Do Gerber Onesies Run Big or Small?
Gerber onesies run small, therefore purchase a size up for your baby. They are designed thin and tall in order to fit the baby perfectly. The fitting design is perfect for the summer.
If you are shopping for a newborn, it is advisable to stock a size or two up because newborns grow very fast. If you stock many Newborn sizes, you will end up not using them, which means a waste of money.
Read also How Do Gap Kid Sizes Run
What Size Onesies Should I Buy?
The size of the onesie depends on the weight and height of your baby. When shopping for the unborn, it is advisable to purchase a few pieces of the newborn-size onesie. Make sure to buy a few pieces of NB size because babies grow very fast, and they will soon outgrow the small sizes. For older babies, always take note of their weight and height for the correct size purchase. 
Read also Newborn Vs 0-3 Months Size
How Do I Know If Baby Onesie Is Too Small?
Babies grow significantly faster and outgrow clothes at a faster rate. Do be surprised if the onesie worn on day one can no longer fit the baby after a week. Most new parents find it challenging to tell when baby clothes are getting small. Below are signs that baby clothes, including the onesie, are too small:
The snaps open by themselves

If you notice a line on the thighs when you remove the onesie

If the onesie is too tight on the baby and you are struggling to dress them

Baby is uncomfortable or cries when you put the onesie on
Like adults, babies are very uncomfortable in tight clothes, and they can cause irritation, rashes, or digestive issues. Therefore, be keen to dress your baby in comfortable clothes.
How Many Onesies Do I Need For A Newborn?
Onesies are comfortable and easy to put therefore you need several newborn onesies. However, you should not stock up too many because the baby will outgrow them very fast.
For the infant size purchase at least three pieces and at most five pieces. The number of pieces you need can be influenced by the season and your laundry schedule. You will need more during the winter and if only do laundry once a week.
How Do You Measure a Baby for An Onesie
First you are going to need a soft tape measure so that you get the best size. You will need to get the chest and length measurement. Try to keep your baby calm when doing this.
You measure the chest measurement just about 1 inch below the arm holes under the arms of the baby around their fullest part. Keep the tape measure level around back and front. It should be comfortably loose to get the right measurement.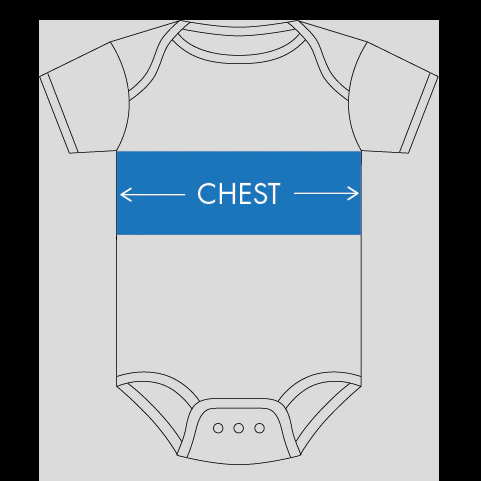 Measure the length in the center from the top of the neck to the bottom to the crotch area.
Read also Do Carters Run Small
FAQ on Gerber Onesie Size Chart
Do Gerber Onesies Shrink?
Gerber onesies shrink on drying. Therefore, you need a size up for the perfect fit. Gerber's onesies are designed to be slim and tall. Therefore, consider buying size 3-6M if your baby is 0-3M. This way, the baby will be comfortable, and the garment will serve you longer.
How Do I Keep My Onesies From Shrinking?
If you do not have any of your onesies to shrink, always use low heat tumble dry. Also, you will never go wrong with the washing and drying instructions on the tag. If they are still shrinking even on low heat, consider sun-drying them.
Do Gerber Onesies Run Big or S mall?
Gerber onesies run a small. Therefore, you need a bigger size for the perfect fit. If you are stocking up for an unborn child, purchase a size larger so that the baby can grow into it. An 8 pounds baby on day one will be very big by the end of week one and all their newborn size onesies will no longer fit.
Does Gerber Own the Word Onesie?
The word "onesies" with an s on end is a brand name for infant bodysuits owned by Gerber Childrenswear LLC. On the other hand, the word onesie is generally used to refer to infant bodysuits of whatever brand.