How to Get Out of Student Loan Debt: 6 Options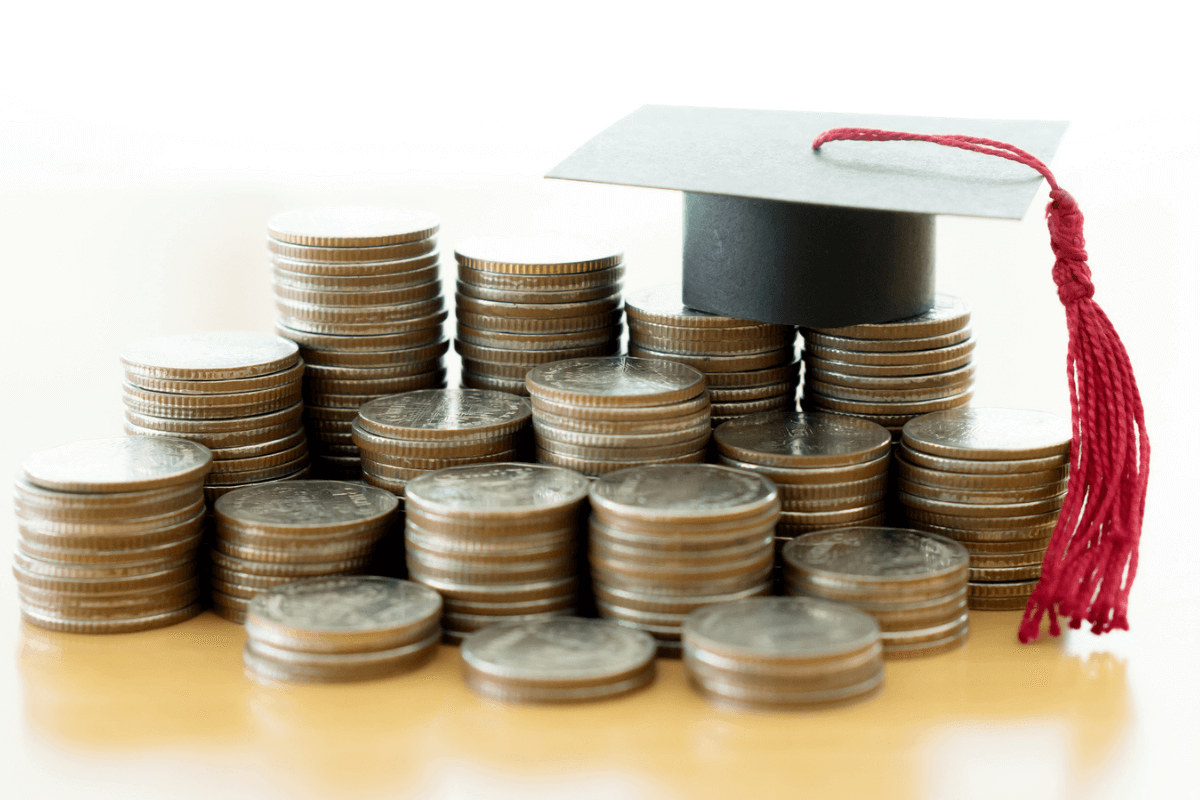 Dealing with a substantial debt burden can be overwhelming. As you repay your debt, wondering the best way to get out of student loan debt is natural. You wouldn't be the first one to wonder if there's a way to get out of paying your student loans legally, like declaring bankruptcy.
The honest answer is getting out of your student loans by declaring bankruptcy is pretty difficult. There are some other options that may help minimize the amount of money you pay back, like federal forgiveness programs or even options that can make monthly payments more affordable, like income-driven repayment plans.
Options to Get Out of Repaying Student Loans Legally
1. Loan Forgiveness Programs
Depending on your eligibility, there are a few different loan forgiveness programs available to borrowers with federal student loans. These programs could help you get out of paying a portion of student loan debt as they forgive your loan balance after a certain number of years.
Each forgiveness program has different eligibility criteria.
Teacher Loan Forgiveness
This federal student loan forgiveness program forgives the loans of highly qualified teachers. Depending on the subject area they teach, teachers who meet the eligibility requirements may have up to $17,500 or up to $5,000. Teachers are eligible to apply for this loan forgiveness program after they have completed five years of service.
Public Service Loan Forgiveness
This program is designed for those working in public service. In order to qualify for Public Services Loan Forgiveness (PSLF) applicants must meet the programs eligibility requirements including:
Working for a qualified organization; including the U.S. federal, state, local, or tribal government, or a qualified nonprofit organization
Hold Direct Loans or have a Direct Consolidation Loan
Make 120 qualifying payments on an income-driven repayment plan
Borrowers who are interested in pursuing PSLF will have to follow strict requirements in order to qualify and have their loan balances forgiven. The Federal Student Aid website, operated by the U.S. Department of Education recommends that participants certify their employment at least annually, or every time they change jobs. This is to ensure that the borrower is still on track and making qualified payments. For more information, check out SoFi's overview of the Public Service Loan Forgiveness program.
2. Income-Driven Repayment Plans
Income-driven repayment plans for federal student loans tie a borrower's monthly loan payments to their income. Depending on the specific income-driven repayment plan you select, they may cap your monthly payments between 10% to 20% of your income, depending on eligibility.
The repayment period for income-driven repayment plans varies from 20 to 25 years, depending on the specific plan the borrower is enrolled in. Income-driven repayment plans help make loan payments affordable for borrowers. However, extending the loan terms may result in accruing more interest over the life of the loan than on another repayment plan.
At the end of the loan term, any remaining loan balance may be forgiven. Be mindful that the forgiven amount may be considered taxable income by the IRS.
3. Disability Discharge
It may be possible to have federal student loans discharged if you have a permanent disability. But it's still very difficult to apply for a total and permanent disability discharge. You need to fill out forms and show the Department of Education that you are not able to earn an income now or in the future because of your disability.
To do so, you need to get an evaluation from a doctor, submit evidence from Veterans Affairs, or show that you are receiving Social Security Disability Insurance. But you cannot apply for disability discharge until you have been disabled for 60 months unless a doctor writes a letter saying that your disability and inability to work will last at least 60 months.
Unfortunately, not all private student loans even give you the option to discharge your loans if you're permanently disabled. If you're permanently disabled and looking to get out of private loans, you may have to take your lender to court.
4. Temporary Relief: Deferment or Forbearance
This option won't eliminate student loan debt but may be an option to consider for borrowers struggling to make monthly payments on their federal student loans. Forbearance and deferment both offer borrowers the ability to pause their payments, if they qualify.
Depending on the type of loan you have, interest may continue to accrue even while the loan is in deferment or forbearance. However, applying for one of these options can help borrowers avoid missed payments and potentially defaulting on their student loans.
Note that private student loans don't offer the same benefits as federal student loans. Some, however, may offer their own benefits. For example, SoFi offers Unemployment Protection, which allows qualifying borrowers to pause loan payments if they lose their job through no fault of their own.
5. Student Loan Refinancing
Again, this option won't get rid of your student loans, but it could help make student loans more affordable. By refinancing your student loans, you can potentially qualify for a lower interest rate, which can possibly lower your monthly payments, or save you money on interest over the life of your loan.
If you refinance with a private lender, you can also change the term length on your student loans. While private lenders like SoFi can refinance both your federal and private student loans, you should know that in doing so, you lose some protections that federal student loans provide like income-based repayment programs.
6. Filing for Bankruptcy: A Last Resort
Bankruptcy is a legal option to clear debt, however, it is extremely rare that student loans are eligible for discharge in bankruptcy. In some instances, if a borrower can prove "undue hardship" they may be able to have their student loans discharged in bankruptcy.
Filing for bankruptcy can have long-term impacts on an individual's credit score and is generally a last resort. Before considering bankruptcy, review other options, such as speaking with a credit counselor or consulting with a qualified attorney who can provide advice specific to the individual's personal situation.
The Takeaway
It can be challenging to get out of paying student loan debt. It is only in extremely rare circumstances that student loans can be discharged in bankruptcy. For federal student loans, some options that can help alleviate the burden of student loan debt include deferment or forbearance, which may be helpful to those who are facing short-term issues repaying student loans.
Another avenue to consider may be income-driven repayment plans which tie a borrower's monthly loan payments to their income, which can help make monthly payments more manageable.
Refinancing could be another option to consider. Qualifying borrowers may be able to secure a more competitive interest rate which could result in less accrued interest over the life of the loan.
This option won't be right for all borrowers as refinancing federal student loans eliminates them from federal benefits and protections, such as deferment, forbearance, income-driven repayment plans, and federal loan forgiveness programs.
If refinancing is something you are looking into, consider SoFi. There are origination fees or prepayment penalties and it's possible to get a prequalification quote in just a few minutes.
Disclaimer
SoFi Student Loan Refinance
IF YOU ARE LOOKING TO REFINANCE FEDERAL STUDENT LOANS PLEASE BE AWARE OF RECENT LEGISLATIVE CHANGES THAT HAVE SUSPENDED ALL FEDERAL STUDENT LOAN PAYMENTS AND WAIVED INTEREST CHARGES ON FEDERALLY HELD LOANS UNTIL SEPTEMBER 1, 2022 DUE TO COVID-19. PLEASE CAREFULLY CONSIDER THESE CHANGES BEFORE REFINANCING FEDERALLY HELD LOANS WITH SOFI, SINCE IN DOING SO YOU WILL NO LONGER QUALIFY FOR THE FEDERAL LOAN PAYMENT SUSPENSION, INTEREST WAIVER, OR ANY OTHER CURRENT OR FUTURE BENEFITS APPLICABLE TO FEDERAL LOANS. CLICK HERE FOR MORE INFORMATION.
Notice: SoFi refinance loans are private loans and do not have the same repayment options that the federal loan program offers such as Income-Driven Repayment plans, including Income-Contingent Repayment or PAYE. SoFi always recommends that you consult a qualified financial advisor to discuss what is best for your unique situation.
SoFi Loan Products
SoFi loans are originated by SoFi Bank, N.A., NMLS #696891 Opens A New Window.(Member FDIC), and by SoFi Lending Corp. NMLS #1121636 Opens A New Window., a lender licensed by the Department of Financial Protection and Innovation under the California Financing Law (License # 6054612) and by other states. For additional product-specific legal and licensing information, see SoFi.com/legal.
Checking Your Rates: To check the rates and terms you may qualify for, SoFi conducts a soft credit pull that will not affect your credit score. A hard credit pull, which may impact your credit score, is required if you apply for a SoFi product after being pre-qualified.
Tax Information: This article provides general background information only and is not intended to serve as legal or tax advice or as a substitute for legal counsel. You should consult your own attorney and/or tax advisor if you have a question requiring legal or tax advice.
Disclaimer: Many factors affect your credit scores and the interest rates you may receive. SoFi is not a Credit Repair Organization as defined under federal or state law, including the Credit Repair Organizations Act. SoFi does not provide "credit repair" services or advice or assistance regarding "rebuilding" or "improving" your credit record, credit history, or credit rating. For details, see the FTC's
website .
External Websites: The information and analysis provided through hyperlinks to third-party websites, while believed to be accurate, cannot be guaranteed by SoFi. Links are provided for informational purposes and should not be viewed as an endorsement.
Financial Tips & Strategies: The tips provided on this website are of a general nature and do not take into account your specific objectives, financial situation, and needs. You should always consider their appropriateness given your own circumstances.
SLR18126
This article is originally on SoFi.