28 Best Affiliate Marketing Tools For Beginners [Top Guide]
As someone new to affiliate marketing, you want to do everything you can to maximize your success, right? Well, apart from having the right mindset and work ethic, you also want to give special consideration to certain tools for your business. But with so many to choose from where do you start?
I've tested and/or used well over a hundred tools over the years and while many of these were good, they weren't all essential. In this comprehensive post, I've limited my choices to only the best affiliate marketing tools for beginners to help realize your goals. So, without further delay, let's get to it!
TRAINING TOOLS
1
Wealthy Affiliate
You could have the most amazing tools for your affiliate marketing business, but they won't do you much good if you haven't properly learned the ropes of the trade. For that, you need the right training to give you the correct foundation from which to build.While there are several good affiliate marketing courses available, many of which I've reviewed here, still none compares to Wealthy Affiliate. Not only is its step-by-step comprehensive training unparalleled in the industry, its premium membership also comes with everything you need to get your affiliate business off the ground, including:
Fast and dependable web hosting
Easy domain registration
Handy and easy to understand keyword research tool
Site comments and site feedback
Helpful and active community
24/7 support
Plus many other benefits
For these reasons and more, it's in your best interest to get on board with Wealthy Affiliate – the same training platform that gave me my start to where I now earn a comfortable 4 figures per month.
WEBSITE TOOLS
2
Generate Press
WordPress themes come in all shapes and sizes. From dazzling to minimalist, you can pretty much find whatever you want. Above all though, a WordPress theme should be stable, fast-loading and with good support.
Currently, Confined To Success uses one of the Genesis themes built by StudioPress — a company renowned for its well-built themes. Since they first released the Genesis framework in 2010, many other reputable themes have sprung up.
A theme that gets a lot of attention these days is GeneratePress — the theme running on big authority sites like HealthAmbition.com right now. I'm planning to make the switch over myself in the coming months.
What makes GeneratePress really stand out from the pack is its speed, customizability, and user-friendliness.
Because it uses far less code, switching to GeneratePress can literally increase the speed of your website by as much as 48% [source​] Considering you only have 3 seconds to catch the attention of website visitors, that's a big deal, not to mention an important SEO ranking factor.
3
Thrive Themes
Once in a while, I get asked how I created such and such thing on my website. More often than not, it comes down to an awesome visual editor/plugin called Thrive Architect made by Thrive Themes.
Thrive Architect allows you to produce visually stunning layouts without needing professional design experience. All you have to do is simply drag-and-drop elements to create the look you want, designs which you can then save as templates for future use.
Keep in mind, the tool has a bit of a learning curve, but once you get the hang of it, it's possible to create stunning designs in no time.
Thrive Themes also produces many other useful tools I use on this website, including Thrive Leads for creating attractive email opt-in forms and Thrive Optimize to conduct split testing.
4
Get Response
Email marketing is an important component of affiliate marketing, especially in niches that involve health, dating, and finance.
You can find free tools that enable you to send emails to your list, but they're often narrow in scope. For example, tools like MailChimp are far more limited in terms of the number of subscribers you're allowed to have on their free plan.
So long as you have a blog that gets at least a few hundred visitors per day, it may be worth investing in a paid tool to market to your readers. Of those available, I'm partial to GetResponse because it's more affordable than competitors like Aweber, plus easy to use and with great support.
When combined with an excellent tool like Thrive Leads to build your opt-in forms, you may find GetResponse among the most valuable affiliate tools in your arsenal.
5
Human Proof Designs
Getting a website up and running, not to mention optimizing it for SEO and other tasks can be a bit overwhelming for the average newbie. If you want to jump to the front of the line and get your website set up in no time at all, I encourage you to look at Human Proof Designs — a company started by Dom Wells, a fellow member of Wealthy Affiliate.
Human Proof Designs offers custom-made websites in a variety of different niches, complete with logo, WordPress theme, plugins, starter articles, backlinks and more. In short, this awesome service offers basically everything you need to get your affiliate website off the ground along with great support.
Now, I still advise you to do everything yourself if you've never gone through the process of building a site from scratch. That way, you'll better understand what's involved each step of the way. But if you're ready to expand your portfolio of affiliate sites, Human Proof Designs is definitely the place to go.
6
Site Ground
As mentioned, Wealthy Affiliate offers quality hosting as part of its training package and so if you're just starting out, I'd recommend signing up with them over any stand-alone hosting company. But if you want to host your website elsewhere, I'd go with SiteGround, even over popular options like Bluehost.
Don't get me wrong, Bluehost is fine initially. But let's face it, the reason why you tend to see it promoted everywhere isn't necessarily because it's best, but because it offers the highest affiliate commissions.
In contrast, Siteground is better all-around because it offers better performance, speed, security, and customer service — all at an affordable price (plans start at $3.95 per month).
Apart from Wealthy Affiliate, I host a couple site with SiteGround and it's been smooth sailing ever since.
RESEARCH TOOLS
7
Jaaxy
There are few things more important to an affiliate marketer than a powerful keyword research tool. Whether you're paying for traffic or building it organically through SEO, you need to know which keywords to target, something only a good keyword research tool can provide.
Now, there are some serious hard hitters out there like Ahrefs and SEMRush, but those tools can cost a couple hundred dollars per month or more, which isn't feasible if you're just starting out. Fortunately, there are a few keyword research tools that do a good job without having to break the bank.
My favorite of the bunch is Jaaxy — the proprietary keyword research tool built by Wealthy Affiliate. It's super easy to use and super easy to find loads of rankable search terms.
Signing up as a Starter member grants you access to the lite version of Jaaxy (30 searches per month) but the Pro and Enterprise versions offer much more, including domain search and registration, search analysis, and unlimited search history.
8
Answer The Public
As an affiliate marketer, there are times when you just run out of ideas for content on your blog. Don't worry, it happens to the best of us. Sure, a keyword research tool may spark ideas, but sometimes that doesn't cut it either. When the well runs dry, you need to break out the big guns and Answer the Public is one of my favorite ways to do so.
Answer the Public essentially works as an autocomplete tool, uncovering some of the most common queries searched by individuals across the internet (similar to Google's autocomplete function).
All you have to do to get started is enter a seed keyword into their search box and you're off to the races. Best of all, it's entirely free!
9
Ninja Outreach
A lot of affiliate marketers are loners, which is why we love to work online because it affords us the opportunity to work alone by ourselves, free from all the office politics and banter. Truth is, it's hard to become successful at affiliate marketing when working in a vacuum.
More often than not, the online world works no differently than the offline world — you need to make connections if you ever expect to get anywhere. The best way to do that is by reaching out to industry leaders and influencers through various means including email and social media.
Ninja Outreach is just the tool to allow you to do that, giving you access to millions of email addresses and profiles simply by typing in a few search terms related to your niche.
Granted, at $52 per month for their Starter plan, it doesn't come cheap, but you can get a lot out of the tool simply by signing up for one month, doing all the research you need to during that time, and then canceling before the second month rolls around (not that I'd know anything about that or anything, ahem).
WRITING TOOLS
10
Evernote
The first stage of writing a great product review or informational post is to conduct a lot of research. That means anything from reading blog posts, analyzing infographics, watching YouTube videos and other methods.
In the past, you'd use a word processor like Microsoft Word or OpenOffice for notetaking and copying/pasting relevant data to cull enough information for your post. Sure, these programs work, but they're not great at organizing and prioritizing your ideas. That's where Evernote comes in.
Evernote is a super efficient way to type notes, clip web sources, record memos, add image attachments and more, all from a single stand-alone software program. Moreover, your data is always easy to find through its powerful search engine.
While Evernote has three different plans to choose from, its free plan offers more than enough to get started with.
11
Workflowy
While Evernote is a great way to store and organize information, it's a bit bloated and complex for simple notetaking. In that case, I'd recommend Workflowy — a lightweight program that allows you to structure your information hierarchically in any way you want.
With Workflowy, any sublist you create can be viewed as its own top-level list, essentially functioning as a super handy zoom feature. This tree-based structure allows you to keep easily expanding on ideas to your heart's content (note: any list you create can also be collapsed).
Workflowy is free for up to 500 items per month. Anything more than that will cost you $4.99 per month. All in all, I'd still go with Evernote for pillar blog posts but anything less than that, give Workflowy try.
12
Power Thesaurus
Among my list of indispensable tools, who would have thought that a free, simple Chrome extension known as Power Thesaurus could make such a difference? If writing is part of your daily routine as an affiliate marketer, I recommend adding this extension to your browser.
What makes Power Thesaurus so invaluable is that it's right at your fingertips when you need it the most, saving you time from having to constantly check out Thesaurus.com or other Thesaurus websites to find that perfect word. Moreover, its clean, minimalist look won't clutter your toolbar.
Don't think twice about this one!
13
Grammarly
As a rule of thumb, blog posts shouldn't read like college dissertations; they should be much more informal as if you were emailing a friend. But there's a difference between being relatable and being lackadaisical in your writing.
Fluffy content, poor organization, and blurry images are just some of the ways you can easily turn off readers. But another big no-no are blog posts riddled with grammar mistakes. Here's where Grammarly shines.
Simply put, Grammarly is an online program that allows you to easily check your grammar and spelling to improve your writing. It works by underlining both critical and less critical mistakes and makes suggestions on how to correct them. Now, that doesn't mean it's alway right (it's only a program after all), but more often than not, it steers you in the right direction.
As soon as I finish writing and editing a blog post, I run it through Grammarly to catch any mistakes I might have made and it's always served me well.
14
Hemingway App
In contrast to Grammarly which focuses on correcting grammar, the main purpose of the Hemingway App is to finesse your writing by identifying areas you might want to improve on. That could mean anything from wordy sentences, complicated phrases, excessive use of adverbs, and/or the use of passive voice.
Each of these areas corresponds with a different highlighted color, making it easy to spot the words and phrases to address. Ultimately, the goal is to make your writing as clear and streamlined as possible.
I always use Hemingway in conjunction with Grammarly, first starting with Grammarly then running the document through Hemingway to find more words and phrases to alter. Free to use, Hemingway definitely helps improve my writing and may help you too.
15
CoSchedule
No matter how good your blog post is, if your headline doesn't capture readers right away, few people will ever bother to read it. For example, when searching for something in Google, which of the two blog headlines are you more likely to click on: 'How to Lose 9 Pounds in Two Weeks' or 'How To Lose Weight'?
If you're like most people, you'd go with the more descriptive headline because it stands out more than the ordinary one. It's details like these that make CoSchedule Headline Analyzer so useful.
Essentially, this little tool can help you find the right balance of words with the optimal character length that will convert best for a headline. A tall order, no? Well, CoSchedule gets the job done at no cost to you.
IMAGE TOOLS
16
Deposit Photos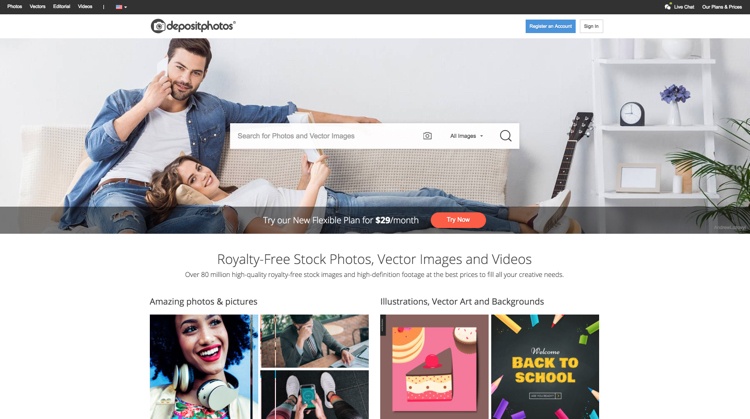 A blog post without images is like a video without audio. In other words, it's an absolute must. First, images make your blog post far more compelling and second, much more informative.
Now, there are many excellent stock photography sites available to find high-quality images, both free and paid.
A free stock image site like Pixabay, while great, isn't the best option since everyone and their mother uses them, making your site look no different than anyone else's. Paid sites like Shutterstock also have wonderful images but they're far too expensive for the average newbie.
That's why I love DepositPhotos — they offer a great selection of outstanding images at an affordable price. Plus, they use a credit system instead of being subscription-based.
Bonus Tip: AppSumo (reviewed below) occasionally offers awesome package deals with DepositPhotos once or twice a year, so make sure to jump at the opportunity when it arises!
17
Canva
As stated above, every blog post you write should include one or more images. But if you really want to step it up a notch and impress your readers, adding certain design elements to your website and social media channels can make all the difference.
That means anything from creating infographics, photo collages, social media ads, email headers and other types of compelling design.
Canva is an online tool that enables you to create all these digital design assets with ease. With its drag-and-drop functionality, Canva allows you to produce professional-looking designs without needing design experience. Best of all, most of its features are free.
Canva has since become an essential component to my affiliate business, especially for creating Pinterest pins.
18
TechSmith Snagit
When using images in your posts, it's important to always show, not just tell. For example, let's say you want to write a post about how to install a WordPress plugin. Most likely, you'd break down the process step-by-step, right? But for greater detail, you'd want to accompany your text with relevant screenshots pointing out what to do for each step. That's where Snagit comes in.
Snagit is a popular and lightweight software tool that enables you to quickly capture images off the web and then add annotations, callouts, arrows, and shapes to better describe the image content.
Moreover, it also comes with a handy screen recorder to quickly record yourself describing anything you want.
This tool works particularly well for any 'how to' post, tutorials, or any kind of content with an instructional angle.
19
PicMonkey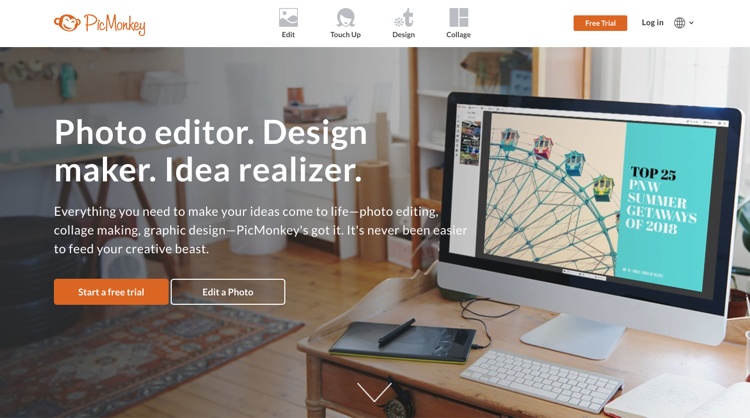 As far as image editors go, there used to be a time when Adobe Photoshop was the only game in town. But its complexity and steep price drove many people away. Fortunately, a slew of professional-level, cloud-based image editors have sprung up in recent years that are both cheaper and less bloated.
Now, don't get me wrong, Photoshop is fantastic. But unless you're a professional graphic designer, many of its features aren't necessary for the typical affiliate marketer. In most cases, you only need a basic photo editor to touch up and edit your images. PicMonkey can help you do just that.
I've been using PicMonkey for quite a while now and I love its simple interface and efficiency.
20
Kraken.io
There are many factors that can slow down the loading time of a website, but one of the most common reasons is large image file size. That's why it's especially important to always run your images through an online image compressor before uploading them to your site.
Ideally, the goal is to reduce the size of your images without compromising their quality. A simple Google search will yield plenty of these tools, but I've found Kraken.io to be the best of the bunch.
All you have to do is drag-and-drop your images into Kraken.io and boom, your newly-compressed images are immediately ready to download. Then it's just a matter of uploading the images to WordPress and you're ready to go.
ANALYSIS TOOLS
21
Clicky
There's no point checking your website stats when it's brand new, only once steady traffic comes in. It's then that you'd normally turn to Google Analytics to study your data. But let's face it, while incredibly powerful, Google Analytics is just too complex and bloated for the average newbie to wrap his/her head around.
It's for this reason I prefer Clicky instead. Unlike Google Analytics, Clicky is far easier to use, providing the stats you want without having to jump through hoops to find and understand them. It also offers regular email reports, uptime monitoring, heatmaps (for the Pro version), and other features.
While you still may want to use Google Analytics to parse out specific information on occasion, Clicky is the better overall solution for your everyday needs.
22
Small SEO Tools

By now, it should be clear that affiliate marketers need certain tools to operate their businesses no different than many other occupations. Problem is, many of these affiliate tools are super expensive, especially when it comes to keyword research, backlink research, and competitive analysis. Small SEO Tools resolves this issue.
While not as powerful and versatile as some of the big dogs in the industry like Ahrefs.com, Small SEO Tools can work just fine when starting out on a budget. It offers dozens of free tools to accomplish everyday tasks related to text, images, keywords, backlinks, website management, website tracking, password management, and more.
I use many of the Small SEO Tools regularly, especially their research and analysis-based ones. This tool's a must-have!
23
Rank Tank
Like Small SEO Tools, RankTank offers a slew of handy tools for all kinds of online marketers. The difference being that RankTank is somewhat more specialized (e.g., Email List Cleaner, Link Disavow Wizard, Rich Snippet Tool, etc.) Moreover, the majority of the tools are built using Google Documents and Google Spreadsheets.
RankTank also offers good training resources to help take your online business to the next level. Right now, I mostly use their Keyword Position Checker Tool and love it for its speed and efficiency. This one's a no-brainer.
PRODUCTIVITY TOOLS
24
Rescue Time
People fail to make money online for all kinds of reasons but one of the most common ones comes down to distraction. No two ways about it, it's hard to get things done when email messages, Facebook notifications, YouTube videos, status updates, and the like are all vying for your attention. Next thing you know, the day's over and you accomplished next to nothing.
RescueTime is an online tool that helps you better understand your daily habits so you can make adjustments to become more focused and productive as a result.
It works by tracking the time you spend on websites and apps, all the while running securely in the background. Afterward, it provides you with reports breaking down your daily activities, allowing you to precisely see how you spend your time.
While not relevant to everyone, RescueTime can be a game changer to some.
25
Hootsuite
Depending on your niche, social media can be an important part of your online business (especially visual niches like travel and recipes, for example). It can also be pretty time consuming, especially when having to spread your focus across multiple platforms. That's where Hootsuite enters the picture.
Hootsuite is a cloud-based platform that allows you to manage all your social media from one central hub. With this service, you can create and schedule hundreds of social media posts and track them easily to see how well they perform and whether improvements can be made for future posts.
Moreover, with its powerful tag and search system, you can easily find and repurpose old content for reposts. Hootsuite offers a variety of different payment plans, including a free one, so you're good to go.
26
Fiverr
Creating and maintaining a website for affiliate marketing takes a great deal of time and effort, from mundane tasks like optimizing images to thought-intensive projects like researching and writing an eBook. Thing is, you could save yourself a lot of time simply by outsourcing some of the more tedious work. Fiverr is my go-to site for these tasks.
Whether you need a logo, animation video, voice over, or any other site-related task done, Fiverr is the place to go, bar none. I can't think of the number of times I've used this site over the years, often costing a fraction of what higher-end freelance sites charge and with little difference in quality.
Now, perhaps you're a perfectionist who'd rather do everything him/herself (yup, that pretty much sums me up!) But that's not the best use of your time. Tinkering around with pixels when you could be crafting a great sales page instead is a much better ROI in the long run. In short, hand-off your busy work to Fiverr!
27
Freelancer
As great as Fiverr is, when it comes to bigger tasks like writing blog posts and guides, I prefer using "higher-tier" freelance sites like Upwork and Freelancer instead (you can find great freelancers on both these sites, but these days I'm more partial to Freelancer).
Keep in mind that you'll have to do your due diligence when searching for freelancers on Freelancer to find the diamonds in the rough.
One of my favorite features is its live chat, which allows you to interact with you freelancer to get constant status updates on your work.
Freelancer is more expensive than Fiverr for most freelance gigs, so you may want to hold off using this service until your site's making money.
BONUS
28
AppSumo
The sheer number of tools available to internet marketers is staggering. But of the thousands to choose from (with more being released every week), this list only offers you a few of my personal favorites. So how do you continue to stay in the know with all this stuff?
I've found the best way to keep up to date with the latest tools is on AppSumo — a website that alerts you to new and interesting tools every day at a heavily discounted price.
All you have to do is sign up to their free mailing list whereupon you'll receive new daily emails notifying you of awesome tools to check out. Now, that said, I have a strong word of warning…
See, it's easy to get carried away by wanting to buy every cool tool you come across. But do that long enough and you'll probably wind up with an empty wallet and a stash of new programs collecting digital dust on your desktop (a common phenomenon known as "shiny object syndrome" among internet marketers).
That's why you MUST exercise caution before deciding to buy anything on AppSumo. Before clicking the 'Buy' button, always ask yourself: "Is this tool essential to growing my online business right now?" If the answer is "no" or even a "maybe," cross it off your list. As a rule of thumb, only invest in products you're convinced will help your bottom line in the short term.
NOW IT'S YOUR TURN!
What do you think of my list of the best affiliate marketing tools for beginners? What did I leave out? What would you leave off? Leave your questions and comments below!
REAL ESTATE EBOOK BUNDLE FOR BEGINNERS
Kids Can Learn Through Storytelling:
The power of saving and the importance of financial literacy
The joy of delayed gratification and the rewards of responsible money management
Tools to teach young readers about the value of setting financial goals