Rat Race Rebellion Review – What's The Verdict?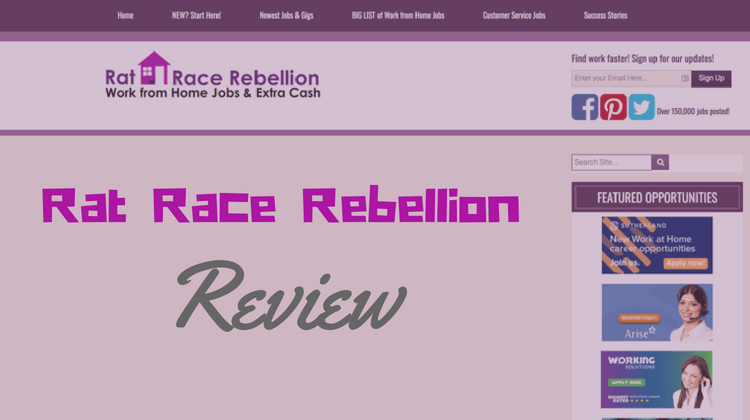 Welcome to my Rat Race Rebellion review!
One of the most common ways to search for a job online is by visiting job listing websites. As you can imagine, there are many to choose from, both free and paid.
Rat Race Rebellion is a free service that claims to make the process of online job hunting easier. It achieves this by listing all types of virtual, work-from-home and non-traditional jobs, as well as side gigs in one spot with the added bonus of having weeded out any listings that are obviously a scam.
Is it really as good as all that? Find out in this Rat Race Rebellion review!
RAT RACE REBELLION SUMMARY
Product Name: Rat Race RebellionFounder: Christine Durst and Michael HaarenProduct Type: Online Job Search RegistryPrice: FreeBest For: Virtual, Online and Non-traditional workers
Click to Zoom
Summary: Rat Race Rebellion is a legitimate site that lists real work-from-home and other job opportunities at no cost to users. If you're looking for non-traditional work and your education or experience is limited, it's a great place to start your job search. But if you have special skills, extensive education, or are highly experienced, you'll have to sift through hundreds of low-paying entry-level jobs to find opportunities that match your skill set.Rating: 9/10Recommended:Yes
WHAT IS RAT RACE REBELLION?
Rat Race Rebellion is a website that provides listings for non-traditional and work-at-home jobs. As its name implies, these listings are different than those you might typically find in the classifieds.
The job listings posted on Rat Race Rebellion include both full-time and part-time regular jobs as well as independent contractor gigs that may be permanent, temporary, or one-time engagements.
Rat Race Rebellion also lists several ways to make small amounts of cash on the side, such as completing online surveys. Nearly all the jobs and gigs listed on Rat Race Rebellion are performed remotely online, with a few exceptions.
It also lists site-specific remote positions, such as those requiring job seekers to live in a certain state or near a certain city. [source]
HOW DOES RAT RACE REBELLION WORK?
Rat Race Rebellion screens and curates job listings before being listed on the site, thus helping to eliminate scams and fake listings. Even so, it still warns users to use common sense when applying for any of the listed positions.
The job posts can be accessed in several ways, including directly on the website itself, through daily email blasts, and on daily Facebook posts. To help job seekers find what they're looking for, the website is divided into several sections, including:
Daily job listings
Non-phone jobs
Featured opportunities
"Big List" of work-from-home jobs
Customer service jobs
Jobs and gigs with no credit check required
Transcription jobs
If you're interested in a job listed on the site, you simply click on the job title to open up a full description of the job that includes all the information made available to Rat Race Rebellion. The description typically includes the starting pay rate for the job as well as minimum qualifications.
A link to apply directly with the company offering the job is also included in the job description on the website. Keep in mind that Rat Race Rebellion isn't involved in the application process in any way; they merely provide the job listing and description. The rest of the process is between you and the company offering the position.
WHO IS RAT RACE REBELLION FOR?
Rat Race Rebellion is intended for anyone looking for a non-traditional job, work-from-home job, flexible job or side gig. Most of the listings on the site are for virtual or telecommuting positions, but a few do require you to spend at least part of the time in an office.
Some positions are also outside the home but in non-traditional settings, such as using your own vehicle to make deliveries or going into stores to stock merchandise.
The website caters to both full-time, part-time and occasional job seekers. Listings are up-front about whether the particular job requires you to adhere to a set schedule and whether it can generate a full-time income.
Most listings are for entry-level workers, although there are some that require additional education or experience.
WHAT KINDS OF JOBS ARE LISTED ON RAT RACE REBELLION?
Far and away, entry-level virtual customer service jobs are the most frequently listed type of job on Rat Race Rebellion. These jobs usually involve answering phone calls, emails and chat messages on behalf of various companies.
Other commonly posted jobs include sales, transcription, tutoring, writing and editing, and technical support. While a few of the jobs listed require advanced degrees or extensive experience, most call for only a high school diploma and little to no experience.
Side gigs posted on Rat Race Rebellion are positions that offer only occasional or small random amounts of income. These gigs often involve answering surveys, taking polls, installing apps on your computer or phone, making deliveries, or going into stores and answering questions about products on the shelves. You'll also find a large number of independent contractor positions.
An approximately equal number of full-time and part-time positions are listed on Rat Race Rebellion. These details are typically included in the full job description on the site, and many of the companies listed hire both full and part-time virtual workers.
If chosen for one of these jobs, you're not a regular employee of the company, but rather self-employed under a contract with the company. These types of jobs typically offer lots of flexibility, but you're responsible for your own taxes and don't usually receive any benefits such as health insurance.
HOW DO YOU SIGN UP WITH RAT RACE REBELLION?
You don't have to sign up or spend any money to use Rat Race Rebellion, unlike some similar sites. All the site's services are free and the job listings are available to anyone. There's no charge to apply or access additional information about the jobs posted, and you won't run into any hidden barriers that force you to sign up for something before completing your application.
Rat Race Rebellion does offer a daily email blast that includes new job listings for the day. It's free to be added to the email list and the daily job listings are usually emailed to subscribers before being posted on the website. This gives subscribers to the email list a slight advantage when popular jobs are first posted.
Additional information about some jobs is also posted on the site's Facebook page, so if you're serious about your job hunt, it may be worthwhile to receive their Facebook notifications as well.
WHAT DO USERS HAVE TO SAY?
Reviews from users of Rat Race Rebellion are generally positive, with many people finding legitimate work-at-home jobs and side gigs consistently. I used to visit the site almost every day to check for newly listed gigs and landed several legitimate gigs that paid well.Other users note that information presented on the site helped them to avoid scams during their search for work. The feature that users seem to appreciate most is the daily job listing as it's always up to date and includes plenty of newly-listed opportunities. Hot opportunities for companies that offer popular benefits, such as providing a computer for employees to use in their home, are often emailed directly to email subscribers, giving them the chance to be among the first to apply for these jobs. The emails usually note that jobs like these go fast, so you know whether to drop what you're doing and apply right away.
PROS OF RAT RACE REBELLION
Up to date – With new jobs posted daily, the listings at Rat Race Rebellion are up to date and include positions that companies are actively looking to fill. You don't have to wade through dozens of outdated and expired listings to find current ones or waste your time putting in an application only to find out that the company already did its hiring months ago.
Scam-free – While the website warns job-seekers to always use common sense when applying for virtual positions, administrators also do a good job of weeding out most scams. It's highly unusual to find an illegitimate listing for a paying position on the Rat Race Rebellion website. This can save you a lot of money and headaches in the long run.
Timesaver – Since hundreds, and possibly thousands, of active jobs, are always posted on Rat Race Rebellion, it saves you the time of wading through dozens of websites looking for virtual and work-at-home opportunities. With all the listings posted on a single site, you can spend your time applying rather than searching for the right job.
Variety – Although customer service jobs are plentiful on Rat Race Rebellion, you can find just about any type of work you're looking for, whether professional or a one-time gig.The website even helps you out by dividing up phone-based and non-phone jobs as well as jobs that require experience and those that don't. If you have credit problems that have caused you problems during your job search, Rat Race Rebellion even has a special section of jobs that don't require a credit report.
CONS OF RAT RACE REBELLION
Confusing ads – Some of the ads on the website look so similar to the curated job listings that it can be easy to confuse the two. The jobs in the advertisements aren't screened by Rat Race Rebellion and some appear to be scams, which can be confusing when you're on a site claiming to have culled out the fake jobs.
U.S.-centric – If you live outside of the United States, it can be difficult to find employers on Rat Race Rebellion who are willing to work with you, whether you're a U.S. citizen or not. There's no easy way to search for such employers on the site either.
No filters – Rat Race Rebellion offers only a basic search and no simple way to filter the results. If you're looking for a specific type of position that's not in one of their main categories, it can be difficult to search for the available opportunities. For example, if you have a Master's Degree and are looking for teaching or tutoring opportunities, there are no search filters to allow you to search only for teaching and tutoring positions requiring a Master's Degree.
Low paying positions – There are many low-paying jobs listed on Rat Race Rebellion. This is fine if you're looking for an entry-level job or are willing to sacrifice pay for the flexibility of working at home. But if you're highly experienced and searching for a job that pays more than slightly above minimum wage, expect to spend a lot of time wading through low-paying jobs to find what you seek.
[wp-review]
SO, NOW WHAT?
For someone looking for a job online – especially a low-paying one – you don't need to question the legitimacy of Rat Race Rebellion, it's a good service despite the few drawbacks.
Still, don't kid yourself, doing these low-paying jobs – even from home – still has you caught up in the rat race, just without the office setting.
Wouldn't you rather make money online on your terms instead of having to answer to an employer? I'm sure the thought crossed your mind, but maybe the idea of starting your own online business felt somehow above your pay grade.
Or perhaps the idea seemed too far-fetched because you assumed you'd need lots of capital to get an online business off the ground.
Both of these assumptions are false and I'm living proof of it. I didn't have an entrepreneurial bone in my body (still don't), nor did I have money to invest in a business and yet I still made it happen. How? By writing helpful content and earning money in the process.
NOW IT'S YOUR TURN!
What do you think of this review? Do you have any questions or comments about Rat Race Rebellion I haven't already addressed? Leave your comments below!