How To Get Comments On Your Website For Better Engagement
A website without comments can feel like a barren wasteland, free from feedback or exchange. For a medium like blogging where community plays such an important role, that's the death knell. But unless your website already gets tons of traffic pouring in every day, getting blog comments is hard. Really hard. But there are ways around the problem.
In this post, you'll learn how to get comments on your website so you can start building a popular, thriving community on your online hub.
Let's first start with the basics — the advantages of blog comments…
WHY ARE BLOG COMMENTS HELPFUL?
So what's the big deal about blog comments anyway? Can't your website be successful without them? Sure, it's possible but in most cases there are necessary and here are the reasons why…
Great motivator – There's nothing worse than blogging for months on end with little to no feedback. In fact, many bloggers quit precisely for this reason. Receiving comments is the ultimate validator and can give the push you need to keep going when things get tough.
Boost site rankings – Most blog posts are written, published and then forgotten about before moving on to the next post. Blog comments are a way to keep posts fresh with new content, often resulting in better traffic and rankings. Why? Because the more content a post has, the more keywords Google has to index, and the more opportunities there are to rank.
Build an audience – Blog comments are a great way to help out your readers and build relationships, factors which can turn casual readers into loyal ones.
More revenue – While hard to measure, interacting with your audience through blog comments builds trust and once you've earned readers' trust, selling becomes easier.
HOW TO GET PEOPLE TO COMMENT ON YOUR BLOG
Many bloggers have a tough time getting readers to comment on their posts despite doing all they can to encourage them. To increase the chances of getting comments, make sure you're doing the following things with your blog…
Become an Authority in Your Space
A website with a solid reputation has an easier time convincing readers to leave comments because it's already earned readers' trust. And readers love leaving comments on big, reputable sites because it offers them the chance to get backlinks to their own blogs.
Write Good Content
No matter how snazzy your site looks, people will pass on content that's merely blah. To encourage discussion, keep these tips in mind…
Be original – Admittedly, this can be tough, especially when so much has already been written about every conceivable topic. But adding your own unique spin to things can still set your work apart from competitors.
Be interesting – Compelling content holds people's attention, making them more likely to leave comments. So what makes content interesting? A few ways include…​
Pushing people's buttons (e.g., controversial positions, etc.)
Entertaining personal anecdotes
Emotionally-charged stories
Create value – A skimpy article offering little value doesn't inspire readers to leave comments. Creating epic content that "wows" readers does.
Include a Clear Call to Action
When I first started blogging, I ended my posts with a short conclusion and some social share buttons. But that's not enough. Make sure to ALWAYS include a call-to-action at the end of your posts, whether it's to invite readers to check out your other posts, subscribe to an email list, buy a product or service, or, in this case, ask for feedback.
Now, don't just say "leave your comments," readers don't pay much attention to generic invitations like these. Also, avoid closed, yes/no type questions as they don't provoke discussion (e.g., "Did you like hiking the Appalachian trail?")
Instead, ask open-ended questions that offer readers the chance to expand on themes raised in your article (e.g., "What was your experience like hiking the Appalachian trail?") Also, ask readers to share personal tips since many enjoy sharing advice.
Make it Easy to Leave Comments
If you make your readers jump through hoops to leave comments, you'll come up empty, so here are a few tips to prevent that from happening…
Only use the WordPress comment system – While other comment systems like Disqus and Muut are trendy, don't use them if you're struggling to get comments. Many people are put off having to sign into these systems (or register an account) just to leave a comment.
Make sure your comment system works – Logout of your WordPress account, leave yourself a comment, log back in and look for the "comment pending" notification. Then approve the comment and see if it shows up on your blog. If it does, you're good to go.
Avoid using CAPTCHA – CAPTCHAs are annoying and discourage visitors from leaving comments so if you use this feature, disable it and moderate comments yourself instead (just make sure to approve them ASAP). Better yet, allow readers to post comments immediately without moderation because, let's face it, no one like seeing the "comment awaiting moderation" alert (just make sure to install a good spam blocking plugin beforehand, like WP SpamShield).
Place the comment box above comments – Readers won't necessarily scroll down to the bottom of your post to view all comments so consider placing the comment box ABOVE your comments (personally, I don't do this but it might be worth a shot). Along the same lines, display your most recent comments first in case readers don't scroll to the bottom of the page (settings can be changed in the Discussion Settings panel of WordPress)…
Actively Engage with Existing Commenters
Replying to EVERY comment signals to readers you care and take interest in what they have to say, which encourages even more comments. Often, a simple "thank you" is more than enough to make a commenter feel validated. But if you want to keep the conversation going, try responding to comments with a question. Just remember to ALWAYS have the last word since unanswered comments look bad.
Now, here's something I dislike about the WordPress comment system: commenters aren't informed if/when the moderator replies to their comment. Unless they bookmarked your site and later returned to it, commenters would never know they received a reply! That's why a plugin like Comment Approved is so handy — it automatically notifies the commenter through email as soon as you reply, a great way to keep the conversation going.
Besides responding to comments, rewarding commenters can also encourage more comments. For instance, the plugin CommentLuv automatically places the headline from a commenter's latest blog post(s) at the bottom of his/her comment which, when seen by other readers, encourages them to leave comments too….

You may also want to consider leaving comments on your commenters' blogs so they'll return you the favor.
Build a Community with Bloggers in your Niche
Seek out other bloggers in your niche, read their articles and start leaving insightful comments (no, "nice job" isn't going to cut it, write at least 100 thought-provoking words). Soon enough, they'll reciprocate by leaving great comments on your blog!
Try also writing guest posts to attract new readers to your blog and get more comments.
Start an Email Subscriber List
First-time readers of your blog may be reluctant to leave a comment but might be more willing once they get to know you. And how can they get to know you when there are just a click away from leaving your site, perhaps forever? By getting them to opt into an email subscriber list. At that point, you can start building a relationship through email which can eventually lead to blog comments.
Make Sure Every Post Already Includes a Few Comments
Blog comments remind me of restaurants — you want to see other people in there before trying it out yourself. Most people don't want to be the first to comment and that's why it's important to get a few comments straight away to get the ball rolling. But how do you get more comments to your post when you're struggling just to get one or two? (It's a bit like the chicken or the egg, eh?) Fortunately, there are ways around the problem…
HOW TO GET BLOG COMMENTS QUICKLY
Run a Contest
Offer the chance to win $50 to one random person from among the first 20 commenters and you'll start seeing comments flying in faster than you can approve them! But before going ahead, make sure to set up some guidelines like insisting on a minimum word length of 100 words. So yes, contests do work, but they don't come cheap…
Buy Blog Comments
Okay, I admit it, paying for comments may seem a tad sneaky but let me tell you, it works like a charm AND it's the perfect solution to a temporary problem. More often than not, real comments start streaming in once a few bought ones are on there.
So, where can you buy blog comments? Well, you could search for "blog comments" on Fiverr.com and filter the results by "Reviews." But the quality is often suspect and requesting revisions is a pain.
I actually use a commenting system included in an online business training program I'm part of called Wealthy Affiliate (WA). Its Site Comments feature is one of several WA features and it works like this…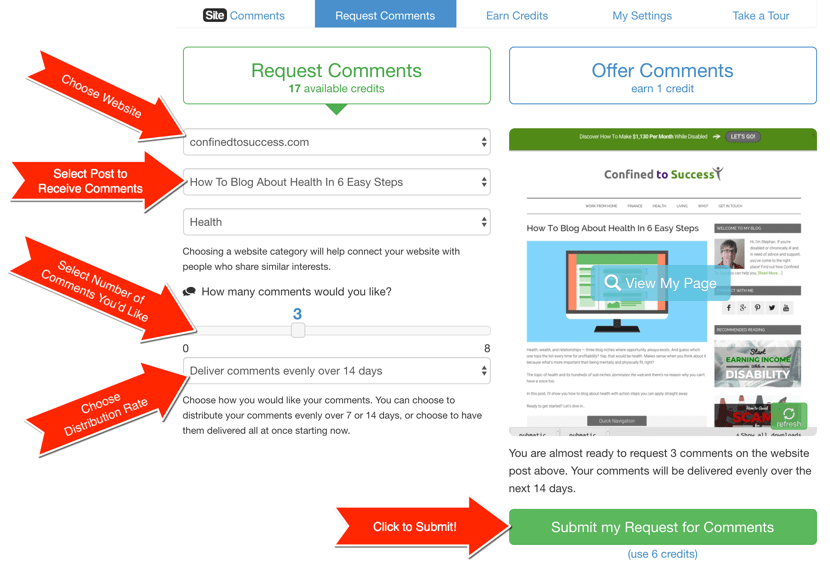 Pretty straight-forward, right?
Each blog comment only costs $1.00 but you can also get them for free by leaving comments on other WA members' blog posts through an exchange credit system.
There are a bunch of things I like about the WA Site Comments tool…
Get to decide whether you want the comments to come immediately or drip fed over a period of 7 or 14 days (this tactic is great for SEO as it looks more natural).
Option to reject comments and easily request new ones…
Click to Zoom
Click to Zoom
Best of all, it works!
For example, I wrote a blog post about jobs for people with PTSD a while ago and ordered some comments which looked like this…
Click to Zoom
Click to Zoom
Click to Zoom
Before I knew it, real comments started coming in…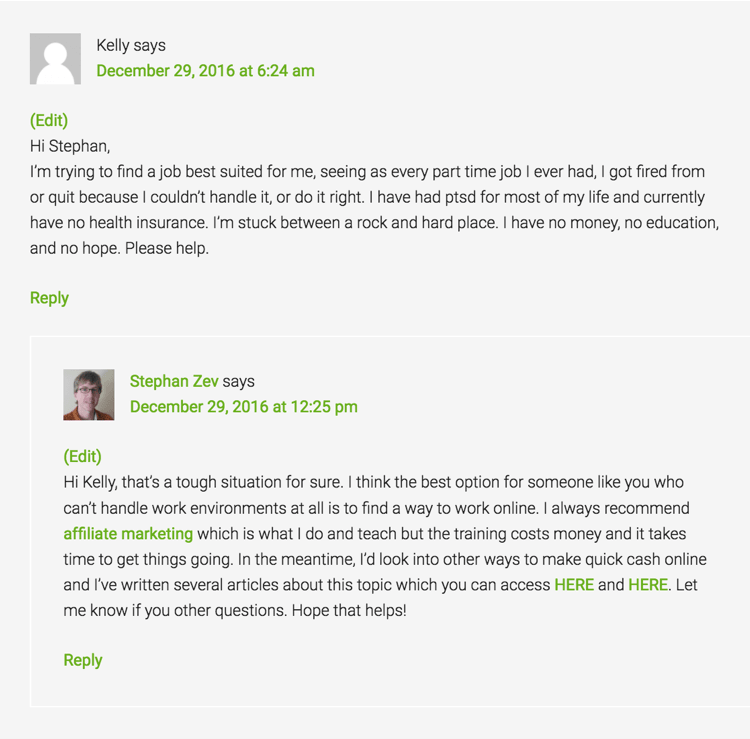 Click to Zoom
Click to Zoom
Click to Zoom
And no, that's not a lucky break. In fact, other WA members have experienced similar results…
Click to Zoom
Click to Zoom
Practically everyone inside WA is impressed with this awesome feature!
Now, to gain access to WA Site Comments, you have to become a member of Wealthy Affiliate which offers the best training in affiliate marketing PLUS a whole host of other features like Site Domains, Site Hosting, Site Builder, and Site Feedback.
And get this…you can try out Wealthy Affiliate for a full week, free of charge and see if it's right for you.
Feel like checking it out?
Try out Wealthy Affiliate for free for 7 days and get blog comments fast!
NOW IT'S YOUR TURN!
Why's it been difficult for YOU to get comments on your website? Leave your comments below!