Best Place To Register A Domain Name [Answer Revealed]
Every successful website starts with choosing a domain name and then registering it. No doubt, it's an important step so the last thing you want to do is get off on the wrong foot right out of the gate.
In this post, I'm going to reveal what I consider to be the best place to register a domain name but before doing that, let's briefly explore the qualities to look for in a registrar so you know how I arrived at my decision.
Ready to dive in?…
HOW TO FIND A RELIABLE DOMAIN NAME REGISTRAR
A quick search on Google for domain companies yields hundreds of accredited and non-accredited registrars so how do you know which one to go with? Well, shopping for a domain company is like shopping around for most things — you have to know what to look for. With that said, here are six key criteria to keep in mind…
1. An Established Reputation
Trying out new businesses is generally good practice but domain registrars aren't one of them. It's an industry rife with scam artists who set up shop and steal your money, then disappear, never to be seen from again.
For this reason, make sure every domain registrar you look into has a proven track record of at least a few years and accredited by ICANN, the non-profit organization responsible for monitoring namespaces on the internet (note: their most recent list dates back to 2013).
2. Fairly Priced
When it comes to the cost of a basic domain, there's not much difference between companies (average price is around $11 per year). What really counts is whether the basic price also includes extras and if so, which ones. See, most domain registrars try to sell you up the wazoo with a bunch of add-ons and that's where they make their real money with services like:
Web hosting
SSL certificates
Privacy protection
Spam and malware scanning
Now, don't get me wrong, many of these extra services are important but don't be fooled by the basic price. Instead, compare and contrast prices only after you've tacked on the add-ons you want.
3. No Sneaky Tactics
Some domain companies use unscrupulous tactics to milk an extra buck off you. For instance, they'll charge hidden fees for transferring your domain to another registrar and make the process unnecessarily difficult. Another tactic is setting your domains to auto-renew as the default, leaving you with domains to pay which you might have otherwise left to expire. And while not sneaky per say, I'm not a big fan of increasing renewal rates (but hey, no domain company is perfect).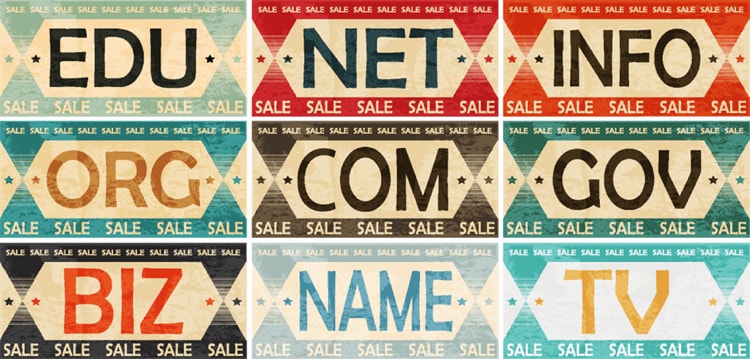 4. User-Friendly
Registering a domain shouldn't be difficult and yet some companies still haven't gotten the memo. If it feels like you're trodding through a maze just to register a simple domain name, it's a good indicator that nothing else with the company will go smoothly. Tasks, like routing your DNS to a separate hosting company or managing notifications, will become a bigger headache than it's worth.
5. Good Customer Support
Whether it's live chat, phone or email, the time it takes for customer support to respond to you should be fast and their ability to resolve problems near-perfect. Having access to a good knowledge base to fix problems yourself is also a big plus.
6. User Satisfaction
Perhaps most obvious, see what other people have to say about domain companies by reading blog posts/comments, review websites, and forums, not to mention video reviews on YouTube. But don't rely solely on customer reviews, get a feel for the companies yourself.
…So Who Comes Out on Top?
Now, taking all this into consideration, of the popular domain registrars on the market today like GoDaddy, Namecheap, Name.com, 1&1, and iPage, I'm most partial to Namecheap and have been satisfied with their service for many years now.
It's not surprising given how close Namecheap comes to meeting my standards as a respectable, affordable, reliable, and efficient company. Plus, Namecheap never makes me feel manipulated with constant upsells (GoDaddy is the worst in this regard).
Having said that, I recently switched to another domain registrar which I'm even happier with and that's what I want to focus on in the rest of this article…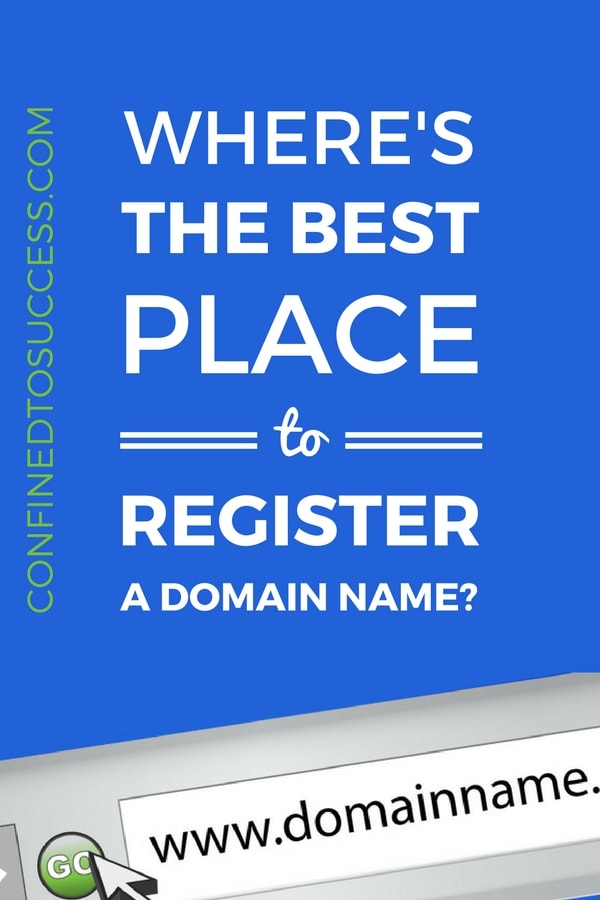 INTRODUCING WEALTHY AFFILIATE SITE DOMAINS
At the tail end of 2015, I became a member of Wealthy Affiliate (WA) which is an online university that teaches how to make money online as an affiliate marketer. As a recognized leader in the industry, WA is always innovating and sure enough, no sooner than a couple weeks after I joined, their newest feature rolled out known as Site Domains.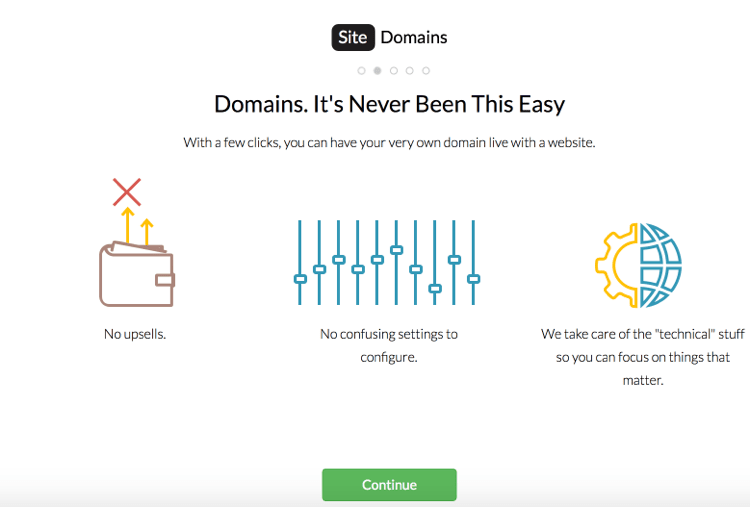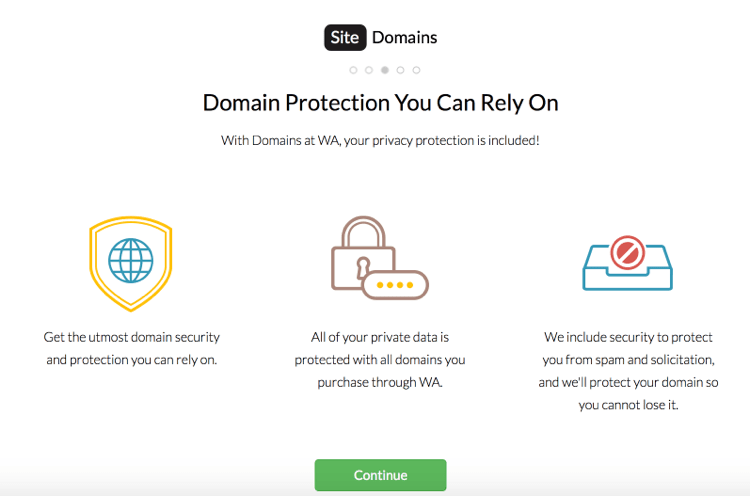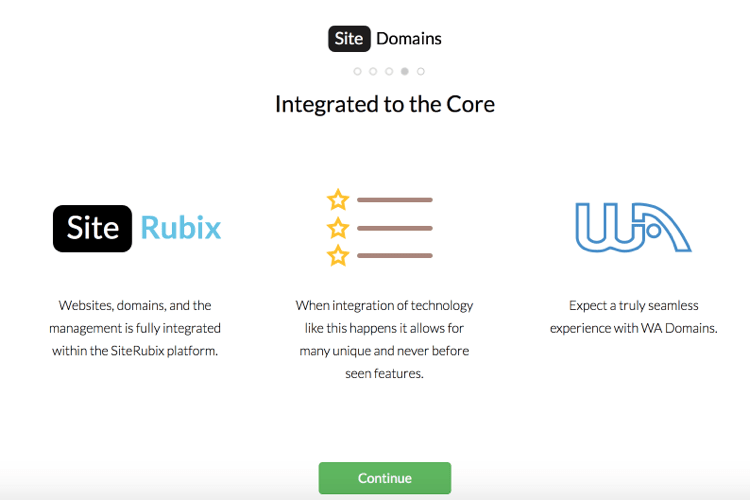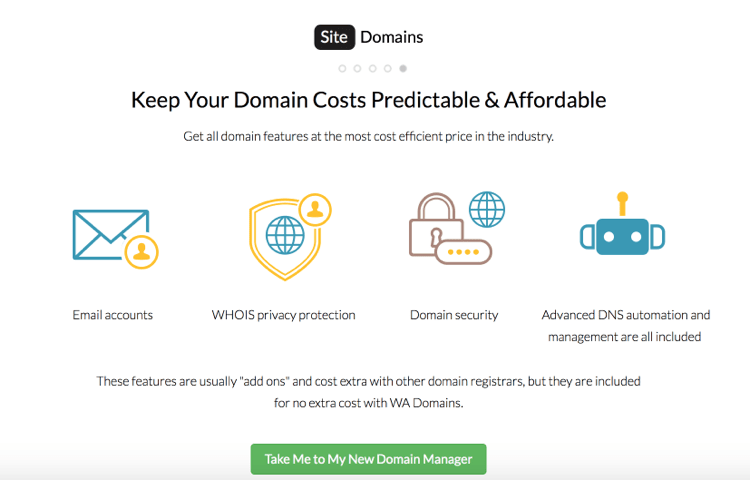 Wealthy Affiliate Site Domains turned out to be everything I'd hoped for…
Reputable company – Wealthy Affiliate has been around for almost a dozen years and has a near perfect reputation.
Easy to use – The WA domain registration process couldn't be simpler
What you see is what you get – No hidden fees or upsells
Fast response time – Ability to start building your site right after buying your domain
Highly secure – Advanced DNS protection keeps hackers, solicitors, and spammers at bay
But here's where Wealthy Affiliate Site Domains REALLY set themselves apart from their competitors…
Flat-rate guarantee locks you into the original price you paid for your domain year after year
Privacy protection is automatically included (normally $3-$8 extra with other registrars)
Premium DNS is automatically included (normally $5 extra with other registrars)
Unlimited number of email accounts when you host your site with Wealthy Affiliate via their Site Rubix platform (more than 5 email accounts normally costs $15-$60 with other hosting providers)
When you add all that up, you save at least $20 per year compared to Wealthy Affiliate's biggest competitors. See for yourself!…
In fact, the onlydrawback I find with Wealthy Affiliate Site Domains is their lack of live chat support. But honestly, that's not that big a deal considering how fast their customer support is even without it.
Wealthy Affiliate Site Rubix
I just noted in passing that Wealthy Affiliate also offers web hosting and this raises an important question: should you host your website with the same company where you bought your domain? Well, there are conflicting opinions about this…
Those against the idea note how domain registration and hosting are quite different services and most companies just aren't great at both. But the bigger reason for the opposition has to do with putting all your eggs in one basket. In other words, it's better to keep domain registration and hosting separate in case things go wrong with your site.
Now, in regards to the first point, there are companies that do a fine job at both and Wealthy Affiliate is definitely an example of that. Second, as long as a company is reputable (which Wealthy Affiliate is), the possibility of losing a site is next to none. And let's face it, having everything together is much more convenient in terms of setup and payment.
As a premium member of Wealthy Affiliate, you can host your new domain instantly through WA's Site Rubix platform, plus get immediate access to their world-class training and awesome features, making WA truly a one-stop-shop.
But even if you decide to host your website elsewhere, you can still take advantage of WA's domain feature as a Starter member which costs you nothing but the price of the domain.
So, let's see how this process works…
How to Buy a Site Domain at Wealthy Affiliate
Buying a domain with Site Domains is a snatch…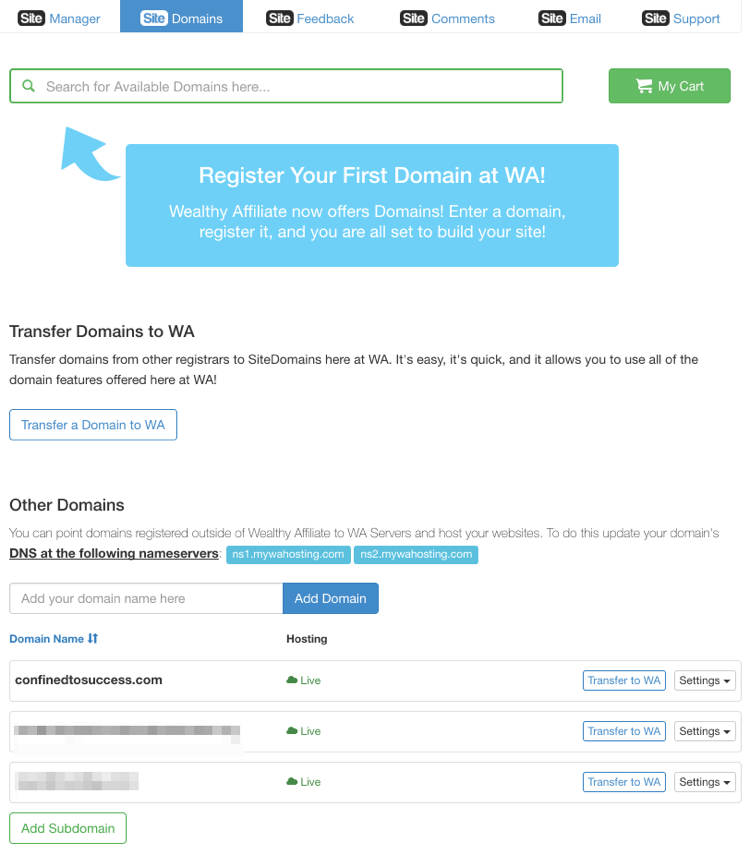 First, type the domain name of your choice. You'll be able to make a selection so long as one or more domain extensions are available. Domains which include checkmarks next to them are available while those grayed out are already taken. (Tip: where possible, always pick a .com domain over other extensions as it's more recognizable).
Once you've found something you like, click the green 'My Cart' button to check out (you can also buy more than one domain at the same time).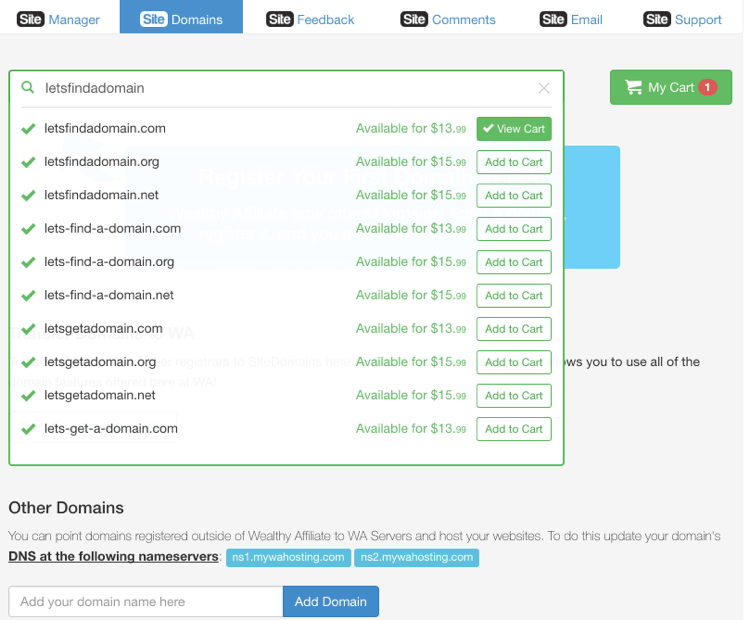 Next, click 'Continue'.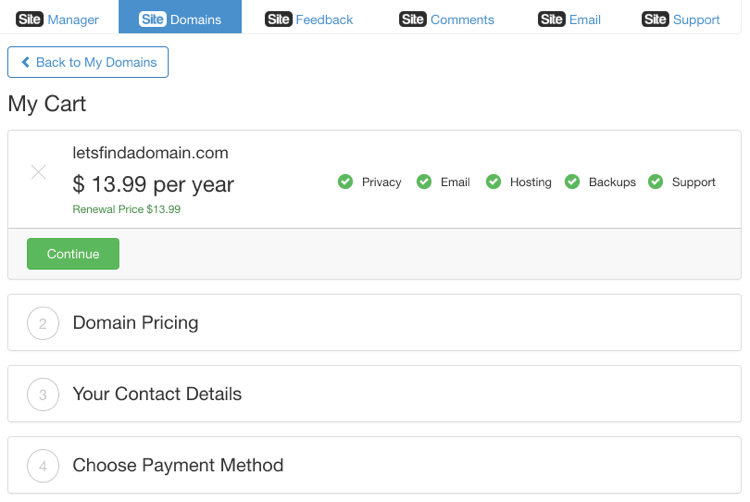 Choose how long you'd like to register the domain for. While the default is set to one year, you can pay up to 10 years.
Next, fill out the contact information. On the right side, you'll notice the privacy policy setting where you have the option of keeping it on or off. It's kept on by default which means your contact information won't be available to the general public when someone performs a WHOIS search on your domain name.
Last, select a payment method. You have the option of paying by credit card, Paypal or WA Site Credits — a system where you earn or buy credits to use for in-house services like Site Comments, Site Feedback and…Site Domains.
After completing the registration, you'll see the following screen…
Now, the bit about taking up to 24 hours to process is just a safeguard since most of the time it only takes a couple minutes. And if you decide to host your site with Wealthy Affiliate, it'll go even faster and you won't need to change your DNS settings.
Once completed, you'll receive email verification asking you to confirm your email. Click to confirm and you're good to go!
Interested in seeing a video of the registration process? Click below…
Testimonials for Wealthy Affiliate Site Domains
Ever since Wealthy Affiliate launched their Site Domains feature, reviews have been ecstatic. Here are just a few of the many happy campers…


Click to Zoom
So, are you ready to give Wealthy Affiliate Site Domains a try?
Click here to register a domain name through WA Site Domains for one flat price along with extras!
NOW IT'S YOUR TURN!
Have you ever had a bad experience with a domain registrar before? What problem did you have and how did you resolve it? Leave your comments below!