Do Guys Go To Baby Showers? Dad's Reliable Advice You Need To Know First
Traditionally, baby showers have been only for ladies. However, we live in a time where parents are taking equal roles of responsibility. For soon-to-be fathers or women invited to a friend's baby shower, commonly ask the question, "Do guys go to baby showers?"
As a father of two lively kids, I'll share with you my personal opinion and my experience with my tribe of dads. Then, we can finally put this question to bed, rewrite the etiquette book, and change history!
Do Fathers Attend Baby Showers?
As more fathers desire to be more involved in their children's lives, it's common for fathers to attend the baby shower. Although they are not physically pregnant, they too want to celebrate becoming a father and entering parenthood.
When my wife and I were trying to get pregnant, it didn't quickly happen. We tried for about a year, had a minor miscarriage, and sought professional advice.
And, although it was an extremely emotional and stressful period for my wife, I was alongside her, also riding the same ride.
So, once that home pregnancy test said we were pregnant, you can imagine my disbelief. I was afraid of a false-positive result.
However, when the doctor's office confirmed we were officially pregnant, you better believe how much I was already committed to being a part of my child's life.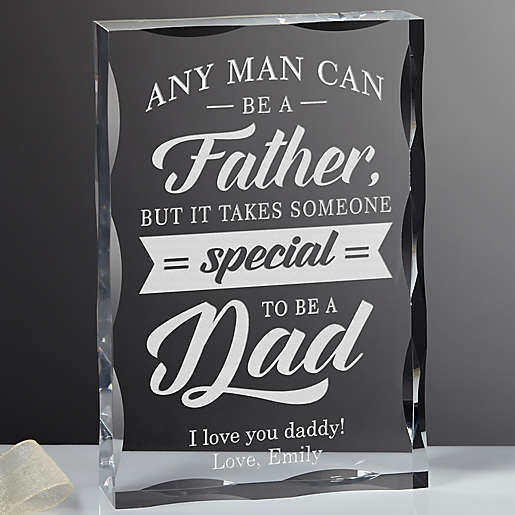 Special Dad Engraved Keepsake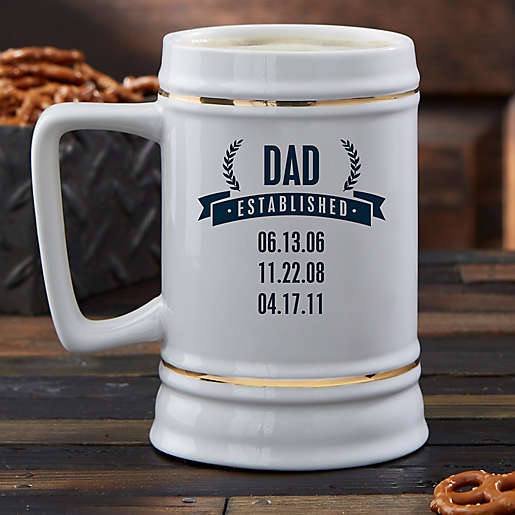 Established Dad Mug
Do Guys Go Baby Showers?
Yes, guys go to baby showers. I attended several baby showers for my guy friends and had my male friends attend my baby shower. However, if the question is, "Are guys allowed to go to the baby shower?" Then, the answer is "It depends."
A general good rule of thumb is to ask, "Is the father attending the baby shower?" If yes, then it's a safe assumption that guys are allowed to attend the baby shower. Otherwise, the guys can hang out somewhere else.
Either way, it's an excellent way for experienced dads to share their wisdom, such as how to handle a witching your baby. Also, it's a form of bonding, similar to how some men hold bachelor parties. Men attend a baby shower to support their best man!
What Do Guys Bring To A Baby Shower?
If you're a guy and want to bring gifts but are unsure where to begin, ask if there is a gift registry. The dad and mom-to-be list items they would like to have for their new baby. However, if you want to give your best friend a funny dad gift, I'm sure they will laugh and appreciate it.
If they haven't announced if they are expecting a boy or a girl, give gifts that are gender neutral.
Otherwise, you can never go wrong with gifting diapers for the new baby. A newborn will quickly go through all the diapers from the diaper party.
Why Are Guys Not Allowed at Baby Showers?
In a traditional baby shower, it was not common for men to attend a baby shower. Back then, women took on the heavier role of raising the children. So, the fathers excused themselves from this activity to allow the mother to be the main focus of the shower.
However, I've seen my female friends continue the tradition of a "ladies only" baby shower but not in any way to discount the father's role in rearing the child. Instead, it was a way for friends to celebrate this momentous life event.
Here are some reasons why sometimes men are not allowed at baby showers:
Pregnancy Talk
Typically, baby showers involve pregnancy talk in a traditional ceremony. And, No matter how much fathers or husbands try to be understanding of their partner, there are some things that we can't begin to relate to, in particular, experiencing being pregnant. For this reason, women don't invite men to baby showers.
Honestly, I fully understand. I love supporting my wife. But, when it comes to those conversations, I wouldn't be able to contribute. Additionally, every nerve in my body may get a shock from some of the details shared amongst the ladies.
Add giving birth on top of all of it. There is no way I can equate that hard work. So, I call my wife a trooper cause I can never do what she did (twice).
Celebrating Motherhood
A new mom deserves to feel special. Like how guys have their dad tribe, an expectant mother will also have their female circle.
Similarly, a "ladies only" baby shower is an excellent opportunity to share personal stories and experiences about being a mother. These talks are helpful to prepare for kids who may be strong-willed or have questions about breast pumping.
Social Event
Cyndi Lauper said it best with her song, "Girls just want to have fun." Depending on who sets up the baby shower, people can liken a baby shower to a party.
I recall as a child many years ago attending a baby show because the hosts invited my mother. My mom is a single parent. So, it's natural that she brought me along.
Aside from receiving baby essentials as gifts, they played party games. As a child peeking from another room, it was strange. But, as an adult, I understand that some girls want to have fun. It was enough reason not to include men.
"Calling all sassy grandmas!"
Are Baby Showers Only For Ladies?
Baby showers don't have to be only for ladies. Although it's still okay to only have a ladies-only baby shower, It's become more commonplace for guys to attend.
So, if you're planning a baby shower, figure out if you want the baby shower to be female-only for the new mom or a co-ed baby shower. Then, when it comes to making invitations, you can make subtle hints not to offend anyone.
For example, if you're planning a co-ed baby shower, the baby shower invitations can say, "Ladies, bring your significant other." On the other hand, for a ladies-only baby shower, the invitation can read, "Want to escape from your husband?" or "Leave the boys at home and party!"
Can Baby Showers Be Co-ed?
Yes, baby showers can be co-ed! A co-ed baby shower is an excellent opportunity for both parents to recognize that they'll be working together in rearing a child.
During the opening of gifts in our co-ed baby shower, my wife saved one particular gift for last. I came to find that my wife prepared a special gift for me. It was a set composed of a hat, mug, t-shirt, and scrubs that all said "New Dad" on it.
As a dad to be, it was one of the most thoughtful gifts in my life!
If you're trying to host a coed baby shower and trying to figure out how to include everyone on your guest list, plan activities, fun games, and food that everyone would love.
What Do Guys Do During a Baby Shower?
If you think there's nothing for guys to do at a baby shower, you're sadly mistaken. I consider myself an introvert and found myself participating in various activities. Guys can either be passive or active in their participation in baby showers.
Here are a few passive activities for guys to do at a baby shower:
Eat
If there are no games planned for the guys, they can still enjoy their time when you offer them free food. What guy turns down free food? Even the shy types can stuff their mouth full without feeling the pressure to talk.
As for baby shower food ideas, you can never go wrong with barbeques, burgers, and pizza.
Watching Sport
Watching sports on TV is another way for guys to feel comfortable. Whether it's the NBA or a college sport, guys will watch it as long as a team passes a ball. So hand them a drink alongside their burger, and you got yourself a satisfied guest.
Billiards and Ping Pong
What is it about shooting pool that men find so entertaining? After every college class, I would find myself in the school game room playing billiards or ping pong. If a pool table or ping pong table is available, it's enough entertainment for the guys to watch and feel included.
7 Activities To Include Guys In A Baby Shower
Are you looking for baby shower ideas? Then, check out these baby shower games your family members and loved ones will love.
1. Stroller Racing
Every father loves a good race. Give them a stroller, and you've got "Fast & the Fatherly." All you need is at least two strollers, a set path to race around, and you're ready to go!
2. Baby Food Guessing Game
Trying to get kids to eat their vegetables can be a task. However, you won't get what it tastes like unless you try. In this game, couples are blindfolded while eating the mystery baby food and try to guess what it could be. Open wide!
3. Tinkle In The Pot
Another kind of race men will never experience is racing to the bathroom while being pregnant. Well, not until now!
For fun, stuff a balloon in the men's shirt and place a ball between their legs. The goal is to get from one point to another while still holding the ball between your thighs.
Trust me. If you're looking for a time to laugh, this game is the one!
4. Blindfold Diapering
After changing so many diapers late at night with my first baby, you would think I can do it blindfolded. But, unfortunately, I still need both eyes when changing my kids.
For a baby shower, have the guys blindfolded and try to change a diaper on a doll. If only kids knew how to stay still in real life.
5. Bottoms Up Baby Bottle
If you're looking for a drinking game, put your favorite beverage in a bottle and see who can drink it down the fastest. Of course, I'm not saying what should be in the bottle for the game. However, men attending a baby shower should expect to be drinking milk.
6. Pin The Sperm On The Egg
Have you played the game "pin the tail on the donkey" when you were younger? Then, the game "pin the sperm on the egg" should not be a problem to learn. Instead of a tail, you'll have to create something else.
First, blindfold your guest. Next, spin them around while the crowd cheers them on during the whole process.
7. Bobbing for Bottle Nipples
As for another traditional game, you can take the game bobbing for apples and convert it into "Bobbing for Bottle Nipples."
Place a couple of bottle nipples in a large bucket of water and let the flow. Next, have the guys try to capture the bottle nipples with their mouths.
You might have to give a heads up and let them know to pack a towel and an extra change of clothes. Those who are determined to win may be the ones most soaked.
Additionally, they make hilarious party favors!
Final Thoughts
Do guys go to baby showers? Yes, men go to baby showers.
As more dads work toward being more present in every step of their child's life, it's become common to see them take part in the baby shower. Additionally, their male guests are more than willing to support their friend in this new chapter in his life.
Thus, if you're expecting parents hosting a coed shower, plan activities where everyone can participate regardless of gender roles. There are several things, active and passive activities, that guys can do to have a great time.
Are you still on the fence about attending? Or, are you hosting a baby shower and looking for ideas? Which activities sound best for your couple's shower?