How To Decorate A Two Story Wall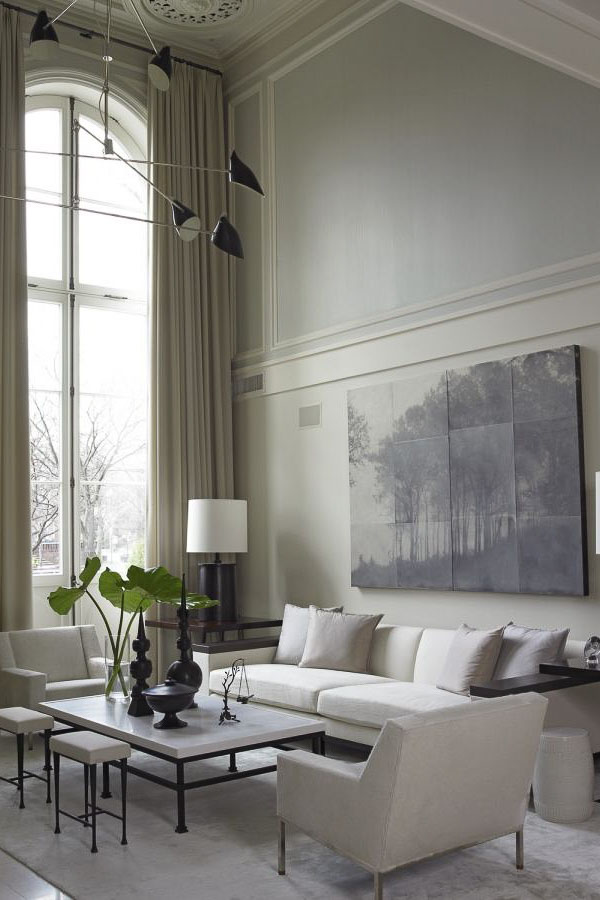 A living room or entry way with a two story wall can be so beautiful. But how do you fill the space and design the area? Here are 9 ideas for how to decorate a two story wall!
Trying to figure out how to decorate and fill a large space can be overwhelming. But with a few simple tips and ideas, a tall, two story wall can really bring a room to life! This post is full of brilliant tricks (and tons of photo inspiration) to help you get started. Give your space the grand, beautiful feeling it deserves with these 9 ideas for how to decorate a two story wall!
RELATED: House With Big Windows: 7 Things To Know
9 Ideas for How To Decorate A Two Story Wall
1. Add Wall Paneling
Adding wall paneling is one of the best ideas for how to decorate a two story wall! The different wood panels help break up the large wall, making it easier on the eyes and adding texture as well as beauty. You can't go wrong with wall paneling!
2. Two Story Wall Art
Many people immediately think about adding a gallery wall when it comes to art for a two story wall. However, this can be tricky to accomplish and majorly depends on the architecture of the space! Consider adding a single or multiple large art pieces to bring a two story wall together. This is a great way to feature beautiful art as well as balance the length of the wall space!
3. Use Shelves
Using shelves to break up a large wall is a great way to bring character to a space! From open shelves to shelves with unique brackets or an interesting bookshelf, the options for using shelves to decorate a two story wall are limitless.
4. Add Wall Paper
One of the best, most unique ways to decorate a two story wall is to add wall paper. Adding an interesting, well-designed wall paper can make the area truly come to life!
5. Half-Paint the Wall
Painting half of the wall or adding an interesting angle can help break up the space on a large, two story wall. This adds dimension, contrast, and can take the space to another level! Here are some ideas for half-painting a two story wall:
6. Go With Large Lighting Fixtures
Large or even oversized lighting fixtures can help balance the length and the grand feeling that a two story wall brings to a room. The trick here is to find the right large lighting fixtures for the space to create the look and feel that you're going for!
7. Use Large Curtains
If the two story wall is next to a large window, add long curtains to emphasize the window and distract from the wall. This is a great way to keep a clean and elegant feel in the space!
8. Add Library Bookshelves
Ever dreamed of having floor to ceiling bookshelves? Have a two story wall is the perfect opportunity to make it happen! Even if you don't go floor to ceiling, adding library bookshelves can bring a new dimension to a tall room.
9. Decorate at Eye Level
Another simple idea is to decorate the wall space at eye level. No need to fill the entire wall! Simply decorate it like you would a normal wall, placing an imaginary ceiling over the decor to keep things eye level and allowing the extra wall space to give the area some breathing room.
More Home Improvement Ideas & Inspiration
Want to make moves toward financial freedom?
Subscribe to our email newsletter and you'll receive actional steps and insights on:
How to have an investor mindset
How to build wealth for your family
How to educate your kids on financial literacy
How to become a real estate investor
We'll even offer you VIP prices for the ebook series and online courses.