Is Real Estate a Good Career Choice | 6 Reasons People Must Learn
Is real estate a good career choice? Many individuals nowadays are asking themselves this question. Thus, we have made this article to enlighten you. We get faced with pursuing a job or a career at some juncture. We all desire the greatest professions or trades possible.
When making these decisions, you are frequently confronted with a fork in the road because the decision you make today could determine whether you are delighted ten years from now or not. Sometimes all you want is a career, not just a job.
The distinction between the two is that you can work multiple jobs in different sectors simultaneously, whereas you can only focus on one career at a time. The objective of getting a career or a job is the same. But a career provides the opportunity to be an authority in a field.
However, there are dozens of job paths to pick from in today's America. Real estate is a rapidly expanding part of the economy. You will not want to lose out if you have realized the possibilities of real estate investing in America.
It is essential to have a clear notion of what you want to achieve and learn from people already doing it. If you're interested in the real estate industry, you're probably wondering if it's a suitable career option.
Knowing whether you are making the proper decision is critical because there are no magic recipes for company success. However, there are many reasons you should pursue real estate as a profession. Come along!
Is Real Estate a Good Career Choice: A Comprehensive Analysis?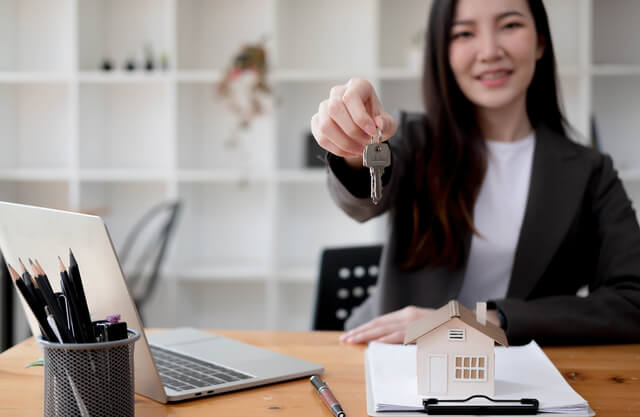 Are you looking forward to starting another job or a side business to support your daily income? You can consider investing in real estate. After all, each month, 17,000 individuals in the US research "how to start a real estate career."
Those who succumb usually join the estimated 2 million valid real estate license holders in the US. Compared to other careers with comparable income potential, becoming a real estate agent or broker is very simple.
There are several merits as well, such as being your manager, getting to know people, and assisting others through one of life's most significant milestones.
Still, many individuals underestimate how much effort it takes to develop a successful real estate profession. On the other hand, consider the following reasons for choosing real estate as a career:
Financial stability in the long run
Whether you decide to leave your ordinary 8 am-5 pm work to become a full-time real estate investor and save for your retirement, you are on the right track.
It is common knowledge that, unlike other companies, real estate is not a get-rich-quick plan. It is a sector in which individuals spend money in the hopes of reaping future rewards. Investing in actual holdings today, for example, may make a significant impact when you retire in six to 10 years.
Having many lands in various locations may result in additional revenue, particularly when the property's value rises over time. This often gets attributed to the area's growth.
You'd have figured out a long-term financial plan for yourself before retiring. One of the motivations to pursue real estate as a profession is long-term financial security.
Consistent Earnings
Another reason to consider real estate a viable career option is a consistent income. Most individuals invest in real estate holdings because of the continuous stream of income they get from rents.
Owning a rental property is one method to ensure a steady revenue stream. You know how much to anticipate and when to expect it at critical times. The purpose of beginning work or a profession is to support you. Investing in rental homes is a beautiful approach to accomplish that aim.
You may be able to pay the costs of your initial investment while simultaneously investing in another rental property in a different region, depending on the location of your property.
This is why it's critical to strategically choose the ideal spot for your rental property. Because the demands are generally high, places like metropolitan regions or cities with colleges tend to give greater or higher pay. As a result, the importance of a good site cannot get overstated.
Maintaining control
The most incredible thing about working in real estate is that you have complete control over your time and finances. Working an 8-5 job, on the other hand, might be underpaying and leave you with less time for yourself.
As a real estate agent, you have complete power over your time and finances. You are your employer here and hence control your failures and accomplishments.
You choose the homes you invest in, the tenants you wish to live with, the rent you will charge, and who will manage and maintain the property. Another reason real estate is an excellent career option is that it gives you the freedom to make your own decisions.
Appreciation of real estate
It is expected that real estate is not a get-rich-quick plan but instead requires a lot of hard work and patience. This does not get intended to be a short-term investing strategy.
It is not a get-rich-quick strategy, but it grows in value over time. One of the advantages of selecting real estate as a profession is that your real estate investment has a great chance of appreciation.
Depending on the region's growth, this is frequently the case with capital assets (land) and rents. For example, a property in Texas now is not worth the same ten years ago. Because of the growth in the neighborhood, it has increased in value.
Possibility of on-the-job training
The real estate industry does not require any academic education in the sector. That is, you do not need to be a real estate management graduate to begin a career in real estate.
However, having a proper understanding of the area is advantageous. You can study independently and experience this field since it is practical. Having the necessary knowledge of the area, on the other hand, provides you with a solid understanding of how things function.
Provider of solutions
Making money is, without question, the most critical aspect of every company. Similarly, the goal of establishing a job or a profession is to create a livelihood.
It is a given that you will get as both a real estate agent and investor, but this is not the only benefit of a real estate job. The real estate industry enables you to address one of the most fundamental human needs: housing.
Frequently Asked Questions
Is real estate a good career choice?
Yes. Real estate is a good career choice due to the merits highlighted above.
Is real estate a profession on the decline?
No. Real estate isn't going away anytime soon. In fact, in 2021, there were more real estate agents than ever before. With the introduction of internet marketing, virtual reality and virtual tours, and simple online paperwork, the sector is evolving drastically. Real estate agents must innovate to compete in this new environment.
Why do individuals leave the real estate industry?
People exit real estate for various reasons, most of which anticipate instant returns. People expect a good deal and a large sum of money after a month of hard effort. They quickly conclude that real estate isn't for them when it doesn't.
How can real estate agents get wealthy?
Real estate brokers may make money in one of two ways. The first method is to create a valuable company that can get sold. The second option is to concentrate on turning commission revenue into riches. You must continuously and aggressively transform your commissions' money into the capital to become wealthy.
What makes the real estate test so tricky?
Passing the real estate exam is very difficult due to the challenging nature of the examinations. You could encounter concerns about real estate professionals' obligations, specific national state and federal rules, real estate financing, and ethics. You could even come upon some reasonably tricky arithmetic problems.
What is the best real estate position?
The following are the highest-paying real estate careers with decent pay:
Inspector of homes: You can work as an inspector of homes part-time if you already have a solid primary job and are searching for a way to supplement your income.
A lawyer who specializes in real estate.
Real Estate Dealer.
Commercial Property Agent.
Property Manager.
Manager of Corporate Real Estate.
What is the definition of a luxury realtor?
A luxury realtor specializes in luxury homes, often priced between $2 and $40 million. These houses get constructed with high-quality materials and finishes, and they come with the most lavish amenities available.
Conclusion
In conclusion, real estate provides an excellent choice for many. And if you are among those who are still in doubt, the above highlight on "is real estate a good career choice" will aid you immensely.