Best (And Worst) Jobs For People With Low Self Esteem
Many employees sail through the ups and downs of work unscathed. But when you have low self-esteem, your self-worth is so fragile that your job either utterly validates you or totally crushes you. Spare yourself this on-the-job suffering by considering the following best and worst jobs for people with low self-esteem.
WORST JOB CONDITIONS FOR PEOPLE WITH LOW SELF-ESTEEM
An overbearing boss – This supervisor disrespects you, screams at you, humiliates you and lambastes trivial mistakes. He's a bully and sees you as a target who's weak and won't fight back. You're so insecure that you probably won't, setting yourself up for more bullying and more erosion of your self-esteem.
A micromanager – A boss who constantly hovers over you makes you apprehensive that, under such close scrutiny, all your shortcomings will be exposed. [source​] Since you tend to devalue yourself anyway, you're cowed and make numerous mistakes – just like you thought you would.
Uncooperative or critical co-workers – When you're lacking self-esteem, it doesn't take much to reinforce your insecurities. If you're working with people who are petty, condescending, pushy or vindictive, their toxicity will italicize the things you dislike about yourself.
Favoritism – Favoritism is a major trigger for someone with low self-esteem. "Why doesn't my boss like me? What did I do wrong? I'm probably incompetent." When you have low self-esteem you believe you're afflicted with character flaws that caused this dilemma. It's difficult for you to see that favoritism may just be a reflection of your boss' questionable workplace practices, rather than a reflection on you.
Cliques – A workplace culture that fosters cliques is not one suited for people with self-esteem issues. Cliques are such tight-knit groups that someone with low self-esteem may interpret their exclusivity as a personal rejection. According to Katherine Crowley, co-author of "Working for You Isn't Working for Me," "Cliques can be extremely alienating and very hard to break into." [source​]
Fortunately, there enough good work conditions to compensate for the bad…
BEST WORK CONDITIONS FOR PEOPLE WITH LOW SELF-ESTEEM
An employer who expects excellence – When a boss holds you to a high standard of excellence – not perfection – he is saying that you are capable of excellence. He's committed to your growth and development. This moral support boosts your faith in yourself, which in turn makes you a more productive, valuable employee.
Management that recognizes all communication styles – A good employer doesn't dismiss or devalue you if you work quietly instead of contributing vocally. They comprehend that you're not doing less work or inferior work. Your work is just as important as anyone else's, and they tell you so.
You're appreciated – People with low self-esteem crave appreciation and validation. Even a small but meaningful gesture, like a boss remembering that you have a chihuahua and asking about him, can make you feel as though you matter. Forty percent of employees feel underappreciated, and you yearn for appreciation more than most. [source​]
Your boss plays to your strengths – One of the symptoms of low self-esteem is shyness. A sympathetic boss will understand that social situations can provoke anxiety, impair memory and tie your tongue. He also understands that this doesn't negate your talents and will help you prepare for, and even rehearse, leading a meeting or making a presentation.
These are the jobs to avoid to prevent your self-esteem from teetering further…
WORST TYPES OF WORK FOR PEOPLE WITH LOW SELF-ESTEEM
Retail – In retail, you have intense, continuous face-to-face contact with people all day long. You need to be self-assured, look people in the eye and convincingly persuade them to buy merchandise and then upsell. If they want suggestions about what to buy, you must be decisive. These traits are lacking in someone with low self-esteem, and retail is a job that will perpetuate the problem.
Politics – There's no way to advance in politics unless you're in the public eye — a lot. You'll have to confidently speak to people one-on-one, give speeches and appear on TV. People will try to dig up "dirty laundry" about you and attack you on social media. You'll need leather-hard skin to deflect profound criticism. You can't take any of it personally. Successful politicians have robust self-esteem.
Real Estate Agent – Real estate agents are energetic, charismatic and assertive. People with low self-esteem aren't. An agent must radiate positivity and have a demeanor that quickly earns a client's trust. You're selling the most expensive thing that most people will ever buy, so they must feel that they can trust you implicitly.
Server – There are few jobs that are better at flattening someone with low self-esteem than restaurant work. You'll often wait on people who seem to be there for the sole purpose of venting their anger at you. Did you bring someone a dinner fork instead of a salad fork? Why are there two salt shakers on the table and only one pepper? I already told you I want margarine instead of butter — no tip for you! If this job can distress people who don't have low self-esteem, think of what it could do to you.
So, what can you do for a living? Here are some jobs that are well suited for someone with low self-esteem…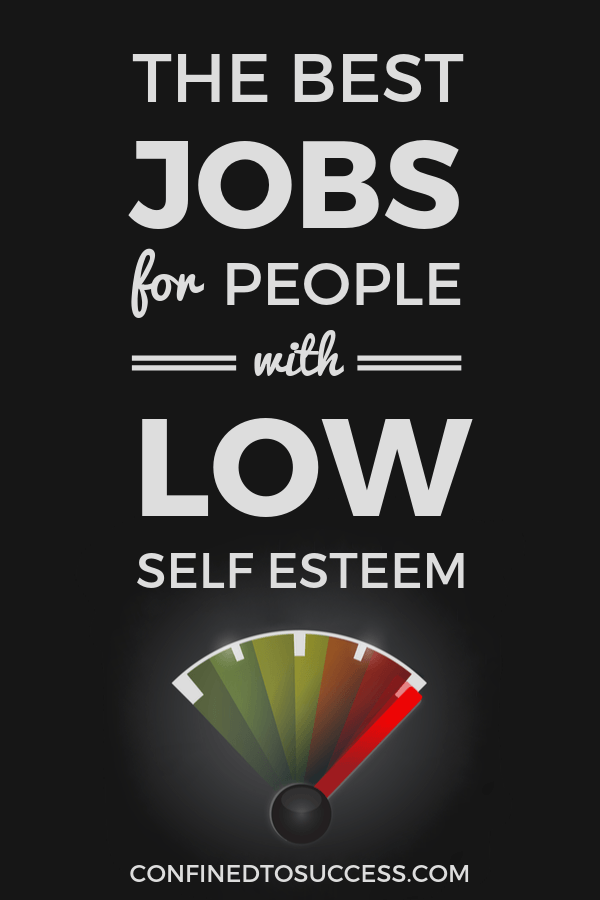 BEST TYPES OF WORK FOR PEOPLE WITH LOW SELF-ESTEEM
Writer – When you're a writer, you can write from just about anywhere in the world, including home. You can do many types of writing including blog writing, website writing, technical writing, copywriting, SEO copywriting, social media writing, ebook writing and ghostwriting.If there's something you absolutely love, but you're too insecure to let anyone know about it, you can express that love through writing. Your self-esteem will rise when you're writing about something that you're passionate about.
Transcriptionist – Transcription is another job that you can do from home. You'll need a computer, a high-speed internet connection, a digital foot pedal, a headset and software that supports MP3 files. You'll also need a minimum typing speed of 70 words per minute.The transcription company will send you files including general transcription, entertainment transcription, medical transcription, legal transcription, and governmental transcription. You can take as many or as few files as you like and work whenever you want. This will liberate you from workplace conditions that make you feel worse about yourself.
Digital marketing specialist – As marketing makes large shifts to the internet, digital marketing is booming. You'll plan and implement online advertising through email, mobile and social media campaigns. You can do this from home and shield your self-esteem from workplace drama.
Survey taker – No, you won't make a full-time income doing this, but dedicating a few hours per day or week filling out surveys online is an easy way to make a nice supplementary income from the safe comfort of your home (my in-depth guide explains how).
Affiliate marketing – Affiliate marketing could be the perfect money-making opportunity for someone with low self-esteem. You'll be at liberty to work as much or as little as you want. More importantly, you'll be spared a high-pressure office environment that can further erode your self-esteem.With affiliate marketing, you'll earn commissions simply by promoting another person's or company's products. You'll create a website or blog containing a link to the product you're advertising. When a visitor clicks on the link and buys the product, you'll earn a commission. You don't have to worry about shipping the product to the consumer. The company takes care of that. Here's how the whole process works.
NOW IT'S YOUR TURN!
What jobs for people with low self-esteem would you recommend? How have you dealt with low self-esteem in the workplace in the past? Leave your comments below!