The Circle of Control: How to Focus on What YOU Can & Cannot Control
Have you ever heard of the circle of control?
Whenever I have a friend or family member tell me about their stressful situations, I ask them the following questions:
"What can you control directly? And what can you not control?"
While this seems oversimplified (and we will elaborate), the truth of the matter is that the old saying "Death by 1,000 cuts" couldn't be more true when looking at how we as adults, parents, and human beings as a whole react to situations that occur in our daily lives.
Typically, an event occurs, we react, and we have an outcome based on how the two mesh together. So, for example, if it rains [event], you would grab an umbrella [response], and thus you would stay dry [outcome].
But imagine getting worked up on the event [rain], which is out of your control, and it completely throws off your response/action [umbrella] to the point where you become stressed (and, in this case, a little wet).
This frustration is why you need to take a deep dive into this brief article today on the Circle of Control made popular by Dr. Stephen Covey in his book 7 Habits of Highly Effective People.
Stephen Covey & The Circle of Control
Dr. Stephen Covey's book 7 Habits of Highly Effective People has sold over 25 million copies worldwide. One of the essential premises of the book is a paradigm shift from independence or dependence to interdependence.
The book has inspired millions to live healthier lives with better relationships and positively influence government policy. However, those who feel helpless or want to gain a sense of stability must stop worrying about the wide range of concerns and outside factors negatively impacting them.
Covey conveys one way to do this is for humans to stop concerning themselves with what they can't control but instead focus on what they can.
By default, when people effectively focus on their control, they can
influence outcomes potentially outside their control. Of course, those things happen – areas or circles of concern – that can impact us too.
By starting with the core center in mind and working inside out, Dr. Covey's circles give us a simple approach to becoming proactive and personally effective instead of always reactive.
What is the circle of control?
Understanding how the circle of control concept works is pretty straightforward. Only so many things happen in life resulting from your direct control.
By focusing on what you can only control, you can move on quicker, have more resilience, experience less stress, bounce back, spend less time worrying, and have a more positive influence.
Think about the reactive people who try to control everything or the micromanager at work. Isn't it odd how they always seem never to have any control at all? Proactive people focus on the first circle, the circle they control, which includes the likes of
Things Within Your Control:
Your thoughts

Your words

Your actions & behaviors

Your reaction to things that happen

Your decisions & choices

Your mood

Your work ethic

Your habits
While someone might point out a few discrepancies – some may feel like your mood or emotions isn't always within your control – by in large, the list of things you can control is the smaller circle.
Sure it would be nice to control how much time you spend dressing your child each morning or how much the stock market will rise on any given day, but sometimes a four-year-old doesn't want to cooperate, and it brings on a lot of stress.
We all heard growing up there are only a few things we can control in life, our actions, and our attitudes – this statement rings more valid and more accurate every day.
Focusing on the inner circle of control instead of the outside circle of concern will significantly impact the circle of influence, which we all want anyway. Therefore, you shouldn't focus on the areas of concern or those outside of your control like the national debt, your favorite team losing, some health issues, etc.
Little or No Control
As a parent and adults, we sometimes find ourselves constantly reacting and fixating on things simply out of our control. In an attempt to gain control, we tend to clamp down with a lens of negative focus on the big circle that we honestly can't control.
The big circle of concern covers things that we have little or no control over, including:
Government policy

Death of a family member or friend

Your upbringing

Some physical attributes (height, build, nose)

Sporting events

Traffic

The World

Power struggles

Foreign policy

Economy

Global warming
In large, we like to think that we have control or influence over the next election. Still, though necessary, we have very little control over who gets elected as isolated individuals. In fact, with the correct frame of reference – a focus on what is within our control – unless you are a campaign manager, worrying about the results of an election won't do you much good in the long run.
To take it a step further, recognizing our control and own actions will lead to our influence, and a positive influence is where we should concentrate our energy. It's also vital to identify those areas we should have little or no concern over.
Little or No Concern
Learning to separate matters that we should not concern ourselves over is mentally freeing and a giant step to help you let go of all the things outside of your control. Things like:
Work gossip

Other people's behavior
Circle of Influence
A significant aspect of Covey's circle teachings is that by focusing on the smaller of the two circles – what we directly control – we can indirectly "Influence" the middle circle, the circle of influence. These two categories, what we can control and what we cannot, affect our circle of influence.
The circle of influence is where we have indirect control over things like:
You reputation

Your commitments

Other's thoughts of you

Whether people like you or not

Where you work

Your child's future

Your finances
The list can go longer and longer, but understand how the circle of influence works. The middle circle in the Covey circles, your circle of influence can stem from either:
Your circle of control working inside out

The circle of concern working outside in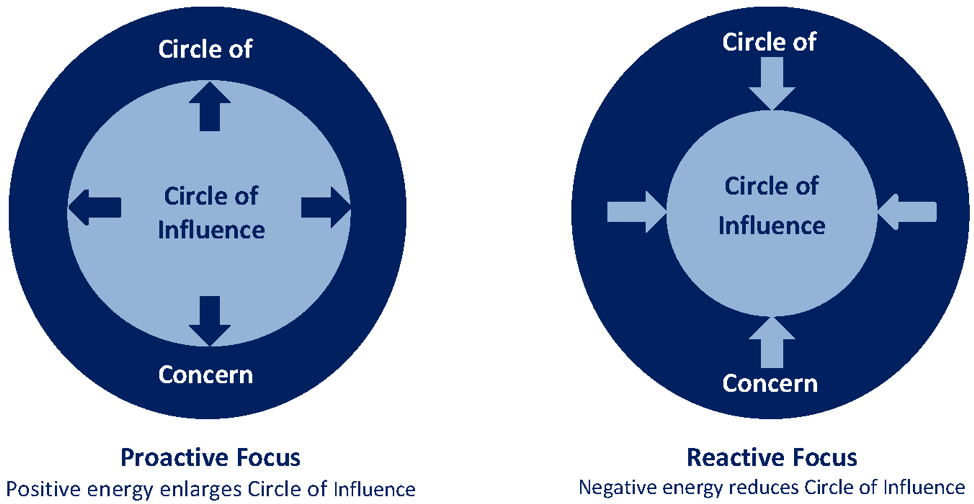 By focusing on what you CAN control, you will have more success with the circle of influence. However, when you spend energy and time with the circle of concern, your circle of influence will shrink.
For example:
Reputation:

If you have a bad reputation at work, perhaps control your attitude and work ethic, you will start to INFLUENCE a new reputation.

Children:

If your children won't do their chores or homework, perhaps you control your habits and model, thus positively influencing them.

Siblings:

We can teach our children that we cannot control our siblings' behaviors, but we can control how we react to our siblings.

Spouse:

Utilizing a proactive focus of going above and beyond can indirectly rub off on your spouse because you focused on the circle of influence
How to Apply the Circles in Your Life
First Step – Set priorities
All the sticky notes in the world won't help you stay organized and focused on what you can control if you don't first have some priorities.
Spend some time with a pen and piece of paper and write down some of your priorities such as:
Family time

Health

Friends

Work performance

Some hobbies
From there, start to align your actions and what you can control for each.
Put first things first – Set Goals.
Once you identify your priorities, these are where your focus should remain. Perhaps you have heard the story about the jar, rocks, pebbles, sand, and water.
If you spend the bulk of your time filling your jar with sand and pebbles (things that are not a major priority), you won't have room in your jar for your big rocks – the essential things in your life.
Seek to actively control where your time goes by spending 80% of your time on the top 20% of your priorities.
Use the E+R = O Formula
The E+R=O formula is an effective way to capitalize on the circle of control mindset.
The formula is simple:
[Event]+[Response]= [Outcome]
For example, your child comes home with bad grades [Event], and you spend time reflecting with them [Response], the outcome is more likely to be the desired positive outcome vs. getting upset with your child.
Using the E+R=O formula allows you to adopt a "Things Happen" mindset, leading you to step towards the results you truly want in life.