15+ Herringbone Flooring Ideas
Herringbone flooring is taking over as it's becoming a more popular choice for new build homes and renovations. But what exactly is herringbone flooring? How is it installed? How much does it cost? And is it the right option for your home? These 15+ Herringbone Flooring Ideas can help guide your decision and visualize how it can beautifully transform a home!
In This Post
What is Herringbone Flooring?
The Herringbone flooring pattern is made up of rectangle planks or tiles and laid in a v-shaped broken zigzag pattern. While herringbone is similar to chevron, it is slightly different in that the planks are not cut at an angle. Herringbone flooring has always been timeless, but is becoming an increasingly popular option to add character to a home!
How Much Does Herringbone Flooring Cost?
When it comes to wood flooring, laying it in a herringbone pattern is more expensive than a traditional installation. Since the pattern requires more material and the installation process is a bit more complicated, the cost for herringbone flooring could be almost double or even triple what it would cost for a traditional pattern.
However, there are definitely ways to make a herringbone floor pattern more achievable and affordable. One method is to use different materials, such as engineered wood, vinyl, or tile. And if you're looking to save even more money, another method is to DIY the installation!
Does Herringbone Flooring Add Value?
So, does herringbone flooring actually add value to your home? Absolutely. Adding herringbone flooring to your home can give it timeless character and depth, adding tremendous value to the resale worth of your home. It can also last a long time, often making it worth the higher-priced cost.
How to Install Herringbone Flooring
Want to install herringbone flooring yourself? Here are a few ideas to get you started on the right path.
Can You Lay Laminate Flooring in a Herringbone Pattern?
Yes, you can lay laminate flooring in a herringbone pattern! However, it's important to find material that's been cut and shaped for herringbone flooring.
How to Lay Herringbone Tile Flooring
To install tile flooring in a herringbone pattern, begin by cutting down the tiles to the right size. A 4×12″ sized tile is often a great option for flooring! Start by adding a tile border, then adding in the smaller pieces of tile. Begin the herringbone pattern and continue until the entire floor is complete! Here's a helpful video to visually see the installation process:
15+ Herringbone Flooring Ideas
Herringbone Hardwood Floors
1. Medium-Tone Hardwood Herringbone Flooring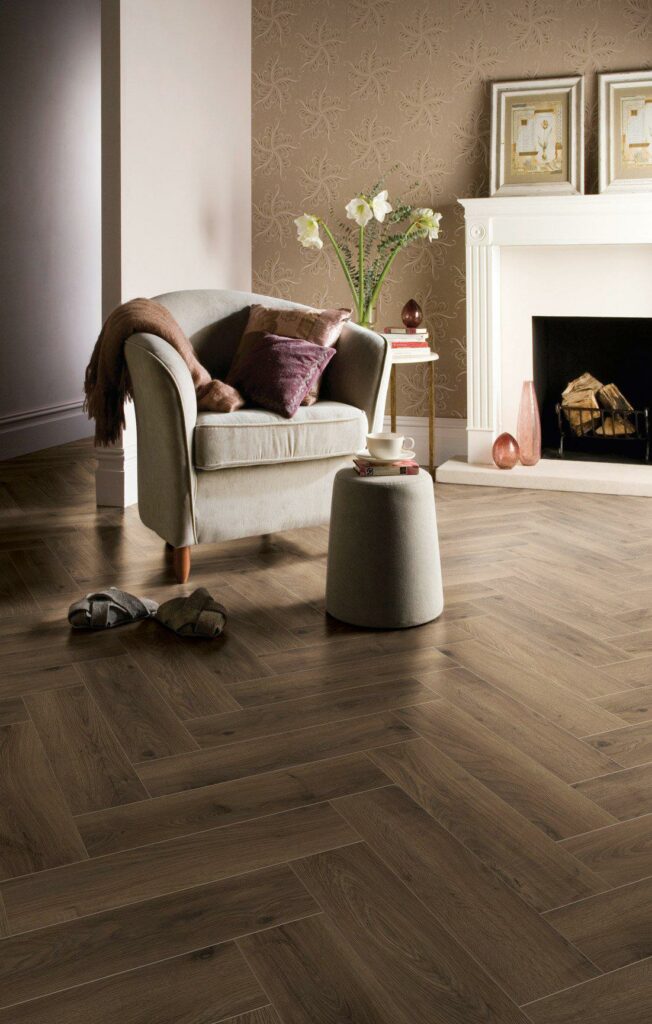 2. Herringbone Wood Kitchen Flooring
3. Living Room Herringbone French White Oak
4. Bedroom Wood Floors Herringbone Pattern
5. Herringbone Wood Planks Flooring
6. Oak Wood Herringbone Flooring
7. Herringbone Wood Planks Flooring
Herringbone Vinyl Flooring Ideas
8. Vinyl Oak Herringbone Floors
9. Dark Wood Vinyl Herringbone
10. Light Wood Vinyl Herringbone Flooring
Herringbone Pattern Tile Flooring
11. Entryway Herringbone Brick Flooring
12. Herringbone Tile Bathroom Flooring
13. Herringbone Entryway Tile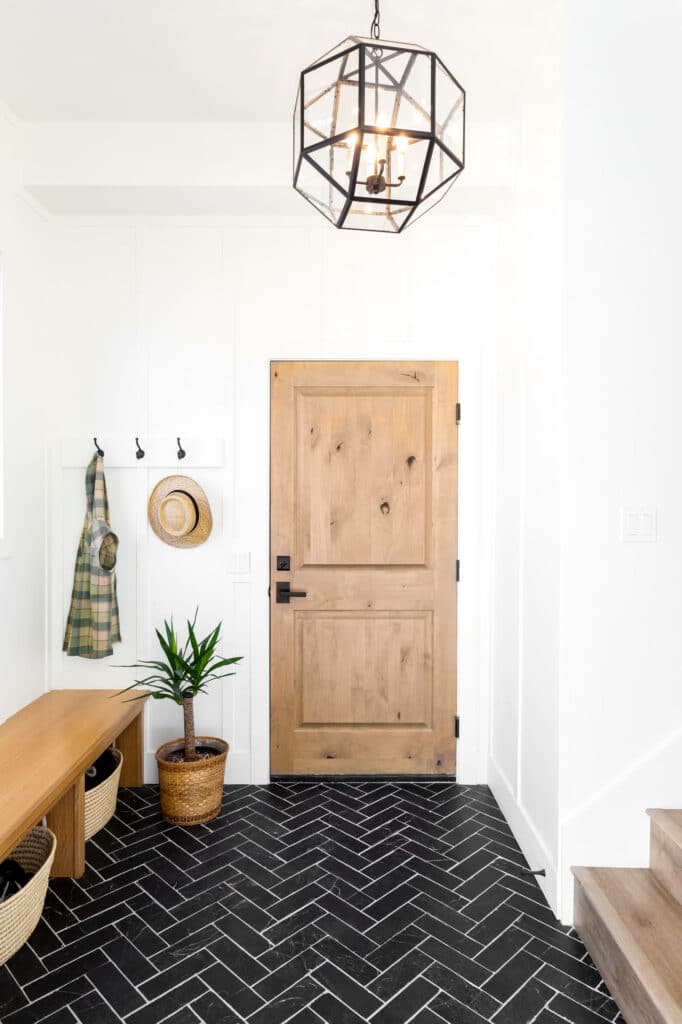 14. Marble Mosaic Herringbone Tile
15. Laundry Room Herringbone Tile
16. Herringbone White Tile Hallway
17. Dark Green Herringbone Tile