Sanding is the most effective way to give concrete floors and surfaces a smoother finish. People also sand concrete to strip it of paint, remove imperfections or stains, seal the surface, or prepare it for repainting. Sanding a concrete floor is something anybody can do with the right tools and know-how! In this article, you'll learn step-by-step how to sand concrete properly.
Overview: You can sand concrete by cleaning the surface to remove excess dirt. Now, using power tools or grit sandpaper, canvas the entire area. Go over it again with a finer grit for the perfect finish. Finally, seal the surface to preserve the smooth and level finish.
How to Sand Concrete Floor?
Laying the foundations of a building is one of the first construction steps, and placing concrete and preparing it for flooring is a part of this process. Because it's such an early step in construction, it's essential to get it right.
To sand a concrete floor, prep yourself and your space. Wear protective gear to keep out the dust and to protect your skin from chemicals. Clean the floor and remove dust, stains, or other imperfections. Use the tool of your choice to make the concrete floor smooth and level.
Here is a comprehensive list of instructions on how to sand a concrete floor without hiring a  professional.
RELATED: 15+ Herringbone Flooring Ideas
1. Prepare the Concrete Floor
Cleaning the floor before sanding ensures that debris or dust particles don't hinder the process.
Sweep the floor. Remove dust and dirt from the concrete floor using a broom or vacuum. Ensure you do a thorough job as leftover dust can make the surface muddy when you mop it. 
Mop the floor. Using a mop or squeegee and pH-neutral soap or cleaner and water, scrub the floor to remove pesky fibers you may have missed during the sweeping stage. 
Allow the floor to dry. Before sanding or allowing any foot traffic on the concrete floor, it's best to let it dry properly. Sanding can be ineffective when the concrete is still wet.
2. Get the Right Tools
Getting the right tools for the job is a crucial step towards sanding success. By using the right tools you can perform the job effectively at the beginning and save time and money by avoiding having to redo the work.
Some tools that can sand concrete effectively include:
Hand sanding pads
Angle grinder
Diamond grinder
Hand-held concrete sander
Concrete polisher
Diamond polishing pads
Each of these falls into one of three categories:
Grinding 
Sanding
Polishing
Grinding and sanding tools have lower grit and are more abrasive. They're used to get rid of and make repairs to larger bumps, ruts, cracks, and imperfections on the concrete surface. Polishers have higher grit and bring about a smoother, more refined finish.
Ideally, you should apply a more abrasive grit before performing a finer finish to ensure everything is even.
Here are a few suggestions for concrete grinders, sanders, and polishers to get you started. 
The ZFE Wet Polisher (available on Amazon) comes with seven sanding and polishing pads of varying grits. It has an ergonomically-designed handle and six variable speeds, making it comfortable and convenient to use. 
The KEEYWOLT Diamond Hand Polishing Pads are affordable and easy to use, with a soft foam back and lightweight design. This set includes 60 to 400 grit and is a game-changer for various surfaces, including, but not limited to, concrete flooring. 
Finally, the BOSCH Corded Angle Grinder is a high-powered, professional-grade grinder and polisher in one. Two handles on the top and side make for easy and comfortable grinding.
3. Begin Sanding the Concrete Floor
Sanding a concrete floor to perfection is a meticulous, time-consuming process. But when done properly you can ensure an aesthetic finish.
Start sanding from the corners of the room. Using a tool you choose, start sanding the concrete from one corner, ensuring you finish the tip first. You may want to use hand sanding pads for the tighter areas. 
Be consistent and methodical. Hold the grinder or other tool steadily and evenly to create a smooth finish. Being too aggressive and sanding at an angle can make unattractive dents and dips in the concrete which are tricky to fix. 
Cover the entire floor. Once the corners are done, work your way out and into the center of the floor in a spiral pattern, ensuring you get every inch. The last thing you want is a patchy or inconsistent job, so be precise and don't miss any spots. 
Get rid of the dust. Be sure to wear a dust mask! Sanding and grinding produce cement dust that must be disposed of before continuing the process. Some grinders have a vacuum that sucks the concrete dust up as you go.
As a safety measure, you can repeat the cleaning cycle mentioned before. Take pH-neutral soap and water and go over the concrete surface with a mop or sponge to remove the residue left from grinding.
RELATED: How to Convert a Garage Into an Apartment
4. Finish and Seal the Concrete Floor
For some projects, simply polishing a concrete floor is enough to seal the surface. In other cases, you need to apply a concrete sealant to prepare the floor and give it a uniform look.
A concrete sealant protects the floor from abrasions and stains that inevitably occur with foot traffic. In warehouses and other production-related buildings, floor damage is even more prevalent due to heavy machinery.
The sealant also gives the concrete a beautiful sheen, enhancing its color. Some sealants add a film across the surface as an added layer of protection. Use the following method to utilize concrete sealant:
Wait for the concrete to dry. If you previously washed or rinsed your concrete floor to remove cement dust, let it dry completely before applying a sealant. 
Cover the baseboards. Baseboards and lower walls without baseboards should be covered with masking tape to prevent sealant from getting on them. This could lead to stains which will require more work later on. 
Ensure proper ventilation. Sealants have toxic chemicals that are unsafe to breathe in, and this can be especially dangerous during an extended project. Be sure to wear masks and goggles, as well as ensure there's proper ventilation in the room, and switch on the fan to air out the space. 
Apply two layers of sealant. Pour the sealant into a paint roller and apply an even layer across the floor. Let this dry thoroughly before applying the second layer.
Sealants can take up to 14 hours to dry completely, so factor that time in before you start sanding. You can speed up the process by using fans and dehumidifiers to dry out the room and reduce fumes from the sealant.
Seal your concrete floors every few years so they stay protected for as long as possible while reducing the effect of daily wear and tear.
Rain Guard Concrete Water Sealers are a highly cost-effective option for the DIY renovator. This long-lasting sealant can be used immediately without mixing. And the best part? It's eco-friendly and non-toxic.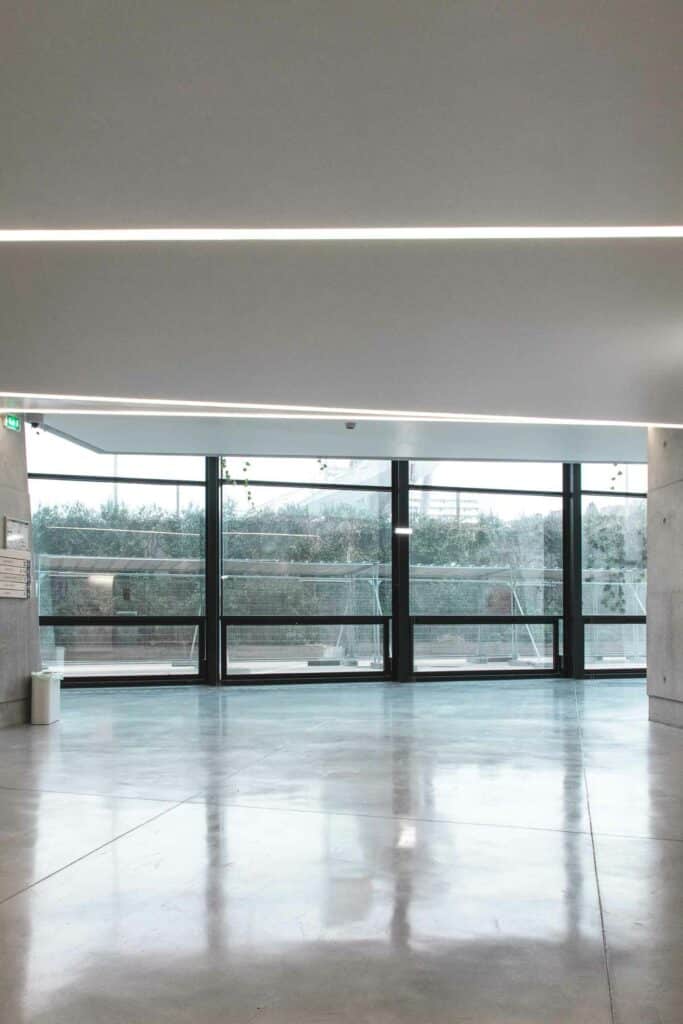 Final Thoughts
Knowing how to sand concrete is a vital step in finishing any building with structural integrity. It lays the foundation for a seamless floor design and plays a role in the floor's longevity.
Using the right tools and being methodical and thorough while sanding is essential for a smooth finish. Hopefully, with this guide, you are now equipped to get to work on your concrete floor.
More Helpful Articles