Plumbing Basics for New Construction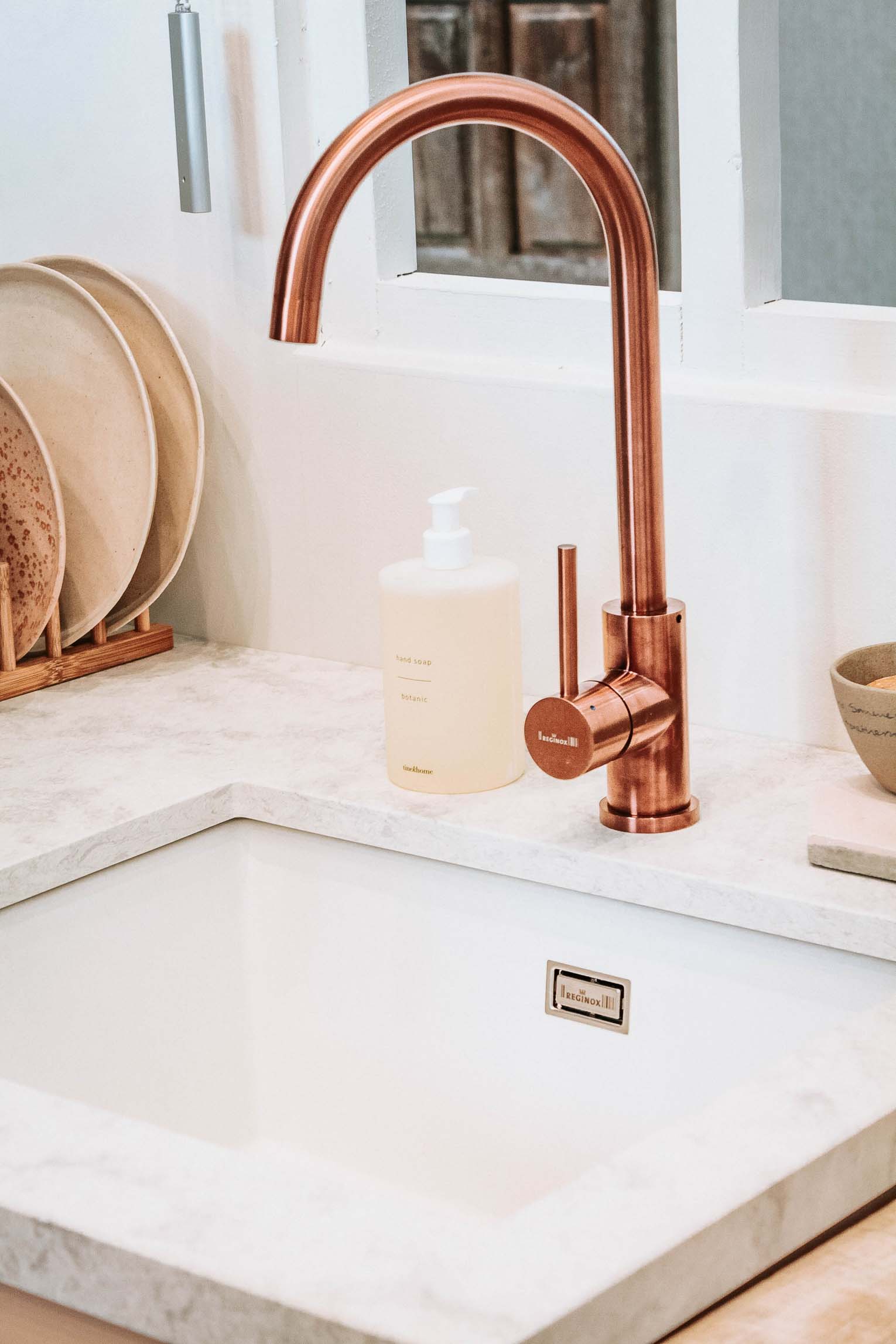 What are the plumbing basics for new construction? This article will explore the basic plumbing tools you'll need to plumb a house, the basic principles of plumbing, and some ideas about plumbing design 101.
Why bother learning to do your own plumbing? The best plumbers are highly skilled tradesmen who can do it faster and better than we do-it-yourselfers. But most DIYers do what we do, at least in part, because we like to save money. Insofar as that is the case, plumbing might be one of the most valuable skills to acquire. 
Maybe you've heard the joke about the brain surgeon whose kitchen sink sprang a leak. When the plumber arrived, he spent about fifteen minutes repairing the leak.
Crawling out from under the sink, the plumber said, "That'll be $250 bucks."
"What! I'm a brain surgeon!" said the homeowner. "Even I don't make $1000 bucks an hour!"
Wiping his hands on his overalls, the plumber replied, "I didn't either when I was a surgeon."
Point being, more than any other component of a building project, learning how to plumb a house may pay bigger dividends than all the other skills combined. I actually don't understand why. Skilled as a good plumber is, plumbing is not rocket science—or brain surgery. The rudiments are pretty basic stuff—plumbing design 101. Let's explore the tools of plumbing, the plumbing basics principles, the basics of plumbing design, and then the doing of plumbing; how to plumb a house, addition, or remodel of your existing house.
RELATED: Basic Construction Framing 101
Table of Contents
Plumbing Basics Tools
There are two kinds of do-it-yourselfers. Ones who are frugal (some call us cheap) and try to adapt materials and tools they already have to get the job done, and the equipment freaks who seem to like doing projects, not because of the added functionality, beauty, and increased value of completing the job; but because the project is an excuse to buy more and better tools.
True confession: I tend to fall in the former rather than the latter categories. Nevertheless, with plumbing, there are certain basic tools that will make the job go more smoothly and, in some cases, make the difference between a successful outcome and one with long-term built-in issues (breakages and leaks that will haunt you). Here's a list of basic plumbing tools you will need to do it right. Good news—some of them you'll already have!
A tape measure—you likely already have this essential piece of equipment. There're pipes to measure and cut so keep your tape measure handy.
A plumb level—you'll need this to make sure your drain pipes have sufficient fall so the waste water runs in the right direction—away from the toilet and toward the septic tank or city sewer.
Screwdrivers—an assortment of slotted and phillips screwdrivers in various sizes will come in handy; there's a range of fittings and clamps you will loosen and tighten throughout your plumbing adventure. 
Gloves, safety glasses, and ear plugs—these help keep you safe as you work, and the gloves help keep you from having black ABS-glue stains on your hands in perpetuity after you finish the project.
Hacksaw and handsaw—there's both pipes (use the hacksaw) and studs (use the handsaw for wood) to cut as you plumb your house. Alternatively, a Sawzall with a multi-material blade comes in very handy.
Adjustable pipe wrenches—you can buy a set of these in various sizes. Pipe wrenches especially come in handy when loosening old plumbing fittings that might be rusted or otherwise stubborn; you will need these close to hand throughout the plumbing project.
Pipe and tube cutters—pipe cutters have adjustable jaws for cutting plastic pipe, and the metal-cutting version has an adjustable screw for cutting copper pipes. 
Cordless drill—you will be drilling holes in studs and joists to run water supply lines and drain lines as you work.
Teflon tape and Plumber's Putty—these are used to insure tight and leak-proof connections throughout the system.
Other tools to have on hand—flashlight, pick and shovel, needle-nose pliers, channel lock pliers, step ladder, hammer, and maybe a caulking gun.
RELATED: How to Convert a Garage Into an Apartment
Basic Principles of Plumbing
There are two sides to plumbing basics: freshwater supply pipes bringing clean water into the fixtures in your house and wastewater drain pipes taking dirty water away from your house.
Drains
Let's start with drains. I can sum up the basic principles of plumbing drains in a single word: Gravity. Take a stroll along a riverbank and what do you always see? Water clambering over itself to go downhill. Cajole all you want, but you will never persuade water to flow uphill. Once you understand this, installing the drain lines in your house will be a piece of cake (I prefer double-Dutch chocolate).
Oddly, everyone laughs about plumbing drains. We don't even have to be boys in the junior high locker room—something about drains hits the funny bone. C. S. Lewis's unlikable character Eustace Scrubb had read all the wrong books, books that had "a lot to say about exports and imports and governments and drains, but they were weak on dragons." My editor won't let me launch in about dragons, so we'll stick with drains.
If you are doing new construction, building a whole new house, or adding an apartment or master suite to an existing house, you will begin your rough-in plumbing using black plastic drain pipe in three dimensions, called ABS pipe (abbreviation for acrylonitrile butadiene styrene—ABS is way easier to say). You will use 1 ½" ABS pipe for sinks and washer drains, 2" pipe for tubs and showers, and 3" pipe for toilet drains.
1. Sink Drains
Kitchen sink drains are anywhere from 20" to 28" from the floor. You will drill through the bottom plate with a 2" hole saw and slide a length of 1 ½" ABS pipe through the hole, leaving 16-18" of pipe sticking up. Next, use ABS glue to attach a T fitting to the top of that pipe, then add another length of pipe to the upper part of the T and install an in-wall vent fitting. The vent allows air into the system and prevents you from having a vacuum lock in the drain line. On the bottom leg of the T, add a 3" stub of ABS pipe and glue a threaded P-trap adapter fitting that will stick through the wall in the cabinet under the sink.
The rough-in drain plumbing for the bathroom sink is installed just like the kitchen sink, except that the bathroom sink and vanity height is usually 3" or 4" lower than the kitchen countertop.
2. Tub and Shower Drains
Use 2" ABS pipe for these drains. Instead of the drain entering the wall, tub and shower drains go straight into the floor. It is important to get the exact dimensions of the tub/shower unit you will be installing later in the finished plumbing stage, that way you will know exactly where the tub drain goes. Cut a hole in the floor for the 2" drain pipe to go under the house (or in the basement). You will need to install a 2" ABS flexible P-trap under the tub drain. P-traps are for creating a liquid plug in the drain line that keeps odors from wafting from the fixture into the room. The tub and sink lines will Y into each other and eventually connect with the larger 3" toilet drain line.
Remember gravity. There needs to be sufficient fall from each of these plumbing fixtures. Water does not flow uphill.
3. Toilet Drain
Toilets have a built-in P-trap so all you need is the alignment of the toilet with its drain hole. The 1 ½" from the sink and the 2" drain lines from the tub/shower will Y into the larger 3" drain from the toilet to where the 3" line exits the house and heads for the septic tank or sewer hookup. There are plumbing fittings at the big-box hardware store for all of these connections.
RELATED: Acrylic vs. Porcelain Tubs
Water Supply
There are four ways to get the water from the city water hookup to the plumbing fixtures in your house. Galvanized pipes (these rust over time), CPVC pipes (this is the least expensive, but can get brittle over time, and many building codes no longer allow its use), copper pipes (this is the most expensive, requires the most installation skill, longest-lasting, but also vulnerable to theft by tweakers looking for quick cash for drugs—talk to a realtor; it happens all the time), and then there's PEX, the industry abbreviation for Cross-Linked Polyethylene. 
PEX is the easiest and most flexible and durable of all the water supply options. Brass fittings come in Elbows, Tees, Wyes, Unions, and Couplings; though the brass fittings are a bit pricey, you need far fewer of them with PEX because it's so flexible. It comes in red for hot water and blue for cold water, and in 20' sticks or in rolls up to 300'. Best of all, anyone can learn to do it! If word gets out, plumbers may have to go back to being surgeons!
You will need to invest in a Heavy Duty PEX Ratchet Clamp and Cutting Tool designed for crimping the fittings to the flexible PEX pipes. A basic tool will set you back a bit over $40 bucks—that's just a blip on a plumber's time clock.
You will need to route a cold-water line to the inflow side of your hot water tank, then a hot water line to each of your fixtures (except the toilet that just needs cold water). Map out your rough-in water supply, get a sharp paddle bit for your drill, and drill through the studs. Feed the PEX lines through your holes. Choose the right fittings—and, voila! Hot and cold water right where you need it.
Plumbing Design 101
How do you design the placement of plumbing fixtures in your new house or addition? And how do you get the freshwater to and wastewater from those fixtures? I'm not oversimplifying here. Remember gravity? It's one of our most important plumbing basics. As you sketch the layout of your garage apartment conversion or master suite—or how to plumb a whole house—let gravity do the work for you. 
In your sketched diagram, place the toilet, the sink, the tub and shower, and the kitchen where they will be most functional, then make sure the drainpipe connecting from each fixture is always downhill from the last fixture—this is where using a plumb level helps. Keep the wastewater flowing away from the fixture to the septic tank or city sewer you are connecting to. Don't forget to vent the drain pipes from your fixtures so that you don't have a vapor lock in your drain system. Think of it as the air being drawn into the pipes, allowing the wastewater to flow downhill, far away, like that kind of yucky water is supposed to do.
As you plan your plumbing design, be sure to allow enough space for your plumbing fixtures: A new toilet is one of the easiest fixtures to install. Place an angle stop (water supply shut off) on the single cold-water supply to the toilet. From there, simply follow the diagrams and instructions that come with the toilet. Use Teflon tape on all threaded connections. And use plumber's putty to bed in the finished bathroom, kitchen sink, and tub drain assemblies.  
Final plumbing advice from New Build House: You can do this! How to plumb a house pays big dividends. Best of all, plumbing basics aren't rocket science—or brain surgery. Now, sit down and read a book about drains—better yet, about dragons—and treat yourself to a nice piece of double-Dutch chocolate cake!
More Home Building & Renovating Ideas
Want to make moves toward financial freedom?
Subscribe to our email newsletter and you'll receive actional steps and insights on:
How to have an investor mindset
How to build wealth for your family
How to educate your kids on financial literacy
How to become a real estate investor
We'll even offer you VIP prices for the ebook series and online courses.