Best Mobility Scooters 2020 (The Ultimate Guide)
If you have mobility issues and want to enjoy a higher quality of life and more freedom, mobility scooters may be the answer for you. In contrast to motorized wheelchairs, many users find these scooters lighter, less expensive, more maneuverable, more visually appealing, and more adaptable to various terrains.
The following guide will walk you through the various types of mobility scooters on the market today, how to select the scooter that best fits your needs, and take a look into the best mobility scooters of 2020.
MOBILITY SCOOTER BUYING GUIDE
What Are Mobility Scooters?
Mobility scooters combine the mobility assistance of a wheelchair with the ease of use of a motorized cart or scooter. These vehicles allow individuals who may have a little trouble getting around or who have difficulty operating a traditional wheelchair a bit more freedom in their daily activities.
Since the first crude mobility scooter was introduced by Sears in 1954, technological advances have made it possible for users to choose from a wide range of styles, features, and customizable options. [source​]
Target Audiences for Mobility Scooters
Although mobility scooters are most often associated with the elderly, there are becoming increasingly common among individuals of all ages who are generally mobile but may need a little extra help getting around, especially outside the home.
Individuals who use a mobility scooter typically have a health condition, such as arthritis, heart disease, obesity, or COPD (chronic obstructive pulmonary disease) that makes the act of walking difficult, unsafe, or causes them to tire easily when walking longer distances.
Advantages of Mobility Scooters Compared to Wheelchairs
checkUnlike wheelchairs, mobility scooters may be easier to use for individuals contending with certain mobility issues involving the arms, shoulders, and hands.
checkThe seats on most mobility scooters swivel, which may be more convenient for individuals who want to stand up and walk occasionally since there are no foot supports to get in the way.
checkMobility scooters offer more stability than wheelchairs, which means they can be used outdoors on terrain that may be unsuitable for a manual or electric wheelchair.
checkSince today's motor scooters look vastly different than wheelchairs and come in a variety of shapes and sizes, they appeal to individuals who may not necessarily want the "stigma" of a traditional wheelchair.
checkMobility scooters are generally cheaper than electric wheelchairs. [source​]
Disadvantages of Mobility Scooters Compared to Wheelchairs
Mobility scooters are longer and have a wider turning radius than wheelchairs, which can make navigation somewhat problematic in restricted spaces. Even buildings considered accessible under the Americans with Disabilities Act may still not be able to accommodate mobility scooters.
The tiller steering mechanism used to control mobility scooters requires you to have enough upper-body strength and mobility to maintain an upright posture, which excludes some individuals.
Unlike wheelchairs, mobility scooters are typically not designed to allow you to transfer from the seat into a bed.
Most mobility scooters have a minimum weight limit of 170 pounds and an upper limit of 250 to 400 pounds, which may exclude certain individuals.
Depending on a person's type and level of disability, mobility scooters may not be covered by Medicare. [​source​]
Types of Mobility Scooters
The mobility scooter market has expanded significantly over the past decade. With all the different models available, it can be hard to figure out which accessories and functions are right for you. The following is an overview of the most popular types of scooters and the factors to consider when making your selection: [source​]
Electric Scooters vs. Battery-Powered Scooters
Some smaller, travel-type scooters may operate off a direct electric charge, like a cell phone or any other rechargeable device. All you have to do is plug them in but this also means you're left without a scooter until it's completely charged. There's also the possibility of running out of power in an inconvenient place if you don't pay attention to the amount of charge you have left.
Battery-powered scooters typically come with several rechargeable batteries, which allows you to continue using the scooter while one of the batteries recharges. Depending on the particular configuration of the scooter, some users may find the process of removing and replacing the batteries a bit cumbersome, especially if they have flexibility and dexterity issues involving the arms, hands, and fingers.
Full-Sized 3-Wheel and 4-Wheel Scooters
Full-sized scooters come in both 3-wheel and 4-wheel models and are the most popular scooter designs.
Like a tricycle, a 3-wheel mobility scooter features one front wheel and two rear wheels for balance. These scooters are stable enough to use outdoors on paved surfaces and small and maneuverable enough to use indoors.
A 4-wheel scooter provides more stability, which makes them suitable for outdoor use on uneven surfaces but may be a bit unwieldy for use in hallways and other tight indoor spaces.
Standard full-sized scooters typically have a weight limit of 400 pounds, speeds ranging from 4 to 12 miles per hour, and the ability to travel up to 30 miles per charge. These scooters tend to have comfortable, high-backed seats and can handle semi-rough outdoor terrain. [​source​]
Specialized Scooters
While full-sized scooters come with a range of features suitable for most users, specialized scooters are available for individuals with specific lifestyle or physical needs:
All-Terrain Scooters
All-terrain scooters come with large air-filled tires, full suspensions, high ground clearance, and greater range and speed to make them safe and comfortable for use over rugged terrain. These scooters are designed for the outdoor enthusiast who may want to take his/her scooter on camping trips or hiking trails and individuals who plan to use their scooter as a primary means of transport around their neighborhood.
Folding Scooters
Unlike full-sized mobility scooters that require you to have a lift on your vehicle for transport, folding scooters are designed to collapse down for carrying. Operating at a maximum speed of approximately 4 mph, folding scooters are only meant for light use, not for rough terrain.
These scooters often have a "no-frills" design and usually don't have the comfort features you may want if you plan to use your scooter for extended daily use. It's also important to note that 4-wheel folding models are hard to come by.
Travel Scooters
Travel scooters offer even more portability than folding scooters. These models break down into several parts for easier transport but don't offer the speed and terrain adaptability of full-sized scooters. Most travel scooters also meet the requirements for transporting on commercial airlines.
Heavy-Duty Scooters
Heavy-duty scooters are designed for individuals who may exceed the weight limitations of standard scooters. These models come with a wider seat and a weight capacity of up to 500 pounds. They also have enough weight and stability to perform well on rough surfaces.
The increased size and speed of these scooters may make them inappropriate for indoor use, especially in small homes, apartments, and assisted living facilities.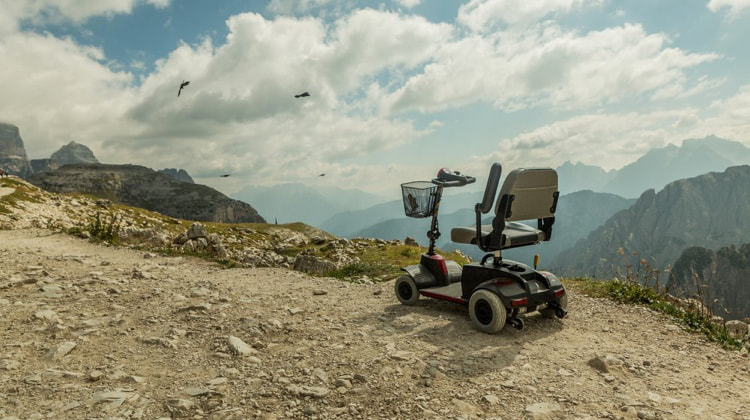 What to Look for in a Mobility Scooter
One of the most important considerations when choosing a mobility scooter is to find the right combination of features for your needs. The following are factors to consider when evaluating various scooter models: [source​]
Purpose
The first step in choosing a mobility scooter is to determine where, when, and how you intend to use it:
If you will primarily use your scooter in your home, while shopping, or in other indoor locations with smooth surfaces, a 3-wheel scooter may be your best option. There are just as stable and safe as 4-wheel models in these situations, but are easier to handle and have a smaller turning radius, which can help when trying to navigate tight hallways and sharp corners. Approximately 80 percent of scooters have 3-wheels, so a wide range of models are available to you.
If you will primarily use your scooter outdoors, a 4-wheel model may make it easier to maneuver over rough and uneven terrain.
If you plan to use your scooter away from home or you travel extensively, a small folding or travel model may be the most appropriate as there are easy to lift and stow away.
If you will use a scooter over long distances or long periods of time, you'll need to look for models that offer higher maximum speeds and longer operating ranges.
Comfort
Since you may spend hours on your scooter at a given time, comfort is of paramount concern. Most users find that memory foam or contoured seats work best in this regard. The seat should be wide enough to accommodate you and high enough to provide adequate back support.
Features such as adjustable or moveable arms, a moveable tiller, and a swivel seat will make it easier to get on and off the scooter and ensure a proper fit.
Height and Body Weight
All scooters are designed with minimum and maximum weight limits. It's important to consider your weight as well as the weight of any medical equipment or extra passengers, such as grandchildren, you may carry on the scooter with you.
Heavy-duty models are normally the most appropriate for individuals weighing over 400 pounds, but they lack the maneuverability of lighter models. Taller individuals may want to opt for a 4-wheel model since they normally have more footrest area.
Longevity
All scooters require periodic maintenance and new batteries to ensure optimal performance. Be sure to ask your salesperson about the types of warranties available to defray any unexpected repair costs. If you intend to use your mobility scooter on a daily basis, charging time, charge duration, and overall battery life should also be taken into account.
Ease of Use
Just like a car, it's a good idea to take the scooter for a test drive in real-world conditions before making your final selection. All the controls should be easy to reach and operate. And while most scooters use thumb levers or joysticks, other types of controls are also available.
If choosing a folding or travel model, make sure you can lift, fold, and break down the unit easily.
Materials
A quality mobility scooter will have a chassis made of aluminum, steel, and/or fiberglass that's strong enough to withstand an impact with a standing object. A full suspension will help absorb vibrations and provide a more comfortable ride, especially if traveling over rough surfaces.
When it comes to seating materials, most users find fabric most comfortable but heavy-duty vinyl is more durable and easier to clean.
Accessories
Based on your personal needs, you may want to look for models that can be customized with accessories, such as cup holders, crutch holders, oxygen tank transporters, lights, horns, or weather canopies. Of course, each accessory adds to the overall price of the device.
Safety
Just like a car, a scooter should have all-surface tires with good tread if you're going to use it outdoors. A tire without sufficient tread won't give you the traction needed on wet sidewalks.
If you choose a scooter with an electronic braking system that automatically engages when not moving, make sure it also comes with an emergency disc brake to manually engage in the event you need an immediate stop.
If you plan to use the scooter outdoors at night, headlights and reflectors are a must.
Rearview mirrors can make it easier to see when backing up, especially if you have limited range of motion in your neck and back.
Since some scooters operate more than 10 mph, you may want to consider a speed limiter if you feel unable to safely control the device at that speed.
If you plan to use your scooter over rough terrain, consider a model that features anti-tip wheels to reduce the likelihood of accidentally flipping over when going over a bump.
Cost
Although typically more affordable than motorized wheelchairs, mobility scooters are still a significant financial investment. If budget is a major concern, it's best to contact your insurance carrier to see if they provide full or partial reimbursement for scooters.
Besides the buying price, certain ongoing costs must be considered when choosing a scooter. For example, you'll probably want to purchase an extra battery if you rely on your scooter extensively.
Batteries and tires also have to be replaced periodically for optimal performance and safety. And like any vehicle, the scooter will need occasional tune-ups but a warranty or maintenance plan may help defray some of these costs.
If you buy a full-size or heavy-duty scooter, you'll likely have to purchase a vehicle lift if you plan to transport the device.
Finally, there are the ongoing electricity costs to charge the batteries, which can make a difference to your electric bill over the course of a year.
MOBILITY SCOOTER REVIEWS
To determine the best mobility scooters of 2020, we reviewed models in four major categories: outdoor scooters, heavy-duty scooters, travel scooters, and budget-friendly scooters. The following are the stand-out models in each category:
The 5 Best Outdoor Mobility Scooters
Scooters in this category are designed for individuals who use their scooter as a primary mobility aid. They typically have enough maneuverability to function well in the home but still sturdy and powerful enough to allow you to travel around the neighborhood or to the grocery store. If you need a mobility scooter suited for a wide range outdoor terrains and applications, we recommend the following five models:
The Phoenix offers enough ground clearance and power for use on smooth or paved paths around the neighborhood or at amusement parks and shopping centers. While it can handle short grass and packed gravel, it's not meant for rugged, soft, or uneven terrain. The Phoenix also offers the highest weight capacity among transportable scooters, so it's a good option for larger individuals looking for a scooter that's easy to transport.
Our Rating:
Pros
350-pound weight limit accommodates larger individuals
Seat, backrest, armrest, and tiller adjust for comfort
Flat-free tires provide safety and peace of mind
Finger-pull throttle helps those with limited hand strength and dexterity to operate
Has a maximum range of 15 miles, allowing for longer excursions
Easily disassembles into four pieces for transport
Cons
Legroom may be somewhat lacking for taller individuals
Headlight is somewhat dim and not in the best position to provide optimal illumination
Batteries can be difficult to change as there are held in by multiple screws and wire connections
The Spitfire may be a travel scooter, but its 4-wheel stability also makes it suitable for light to moderate outdoor duty. The adjustable seat, armrests, and tiller can accommodate users up to 300 pounds. The scooter also comes with basic safety features, including reflectors and an LED headlight. The Spitfire also earns style points for its two-tone upholstery and interchangeable color panels that come in blue, red, and silver.
Our Rating:
Pros
Easy to operate controls
Has enough power, stability, and ground clearance to handle slight inclines, ramps, and small gravel
Option to upgrade to a 21AH battery for a maximum range of 15 miles
Breaks down into five pieces for easy transport
Compact enough to fit in most vehicles
Cons
Initial assembly can be confusing and the instruction manual is somewhat lacking in clarity
Includes a small basket but lacks a cupholder and rearview mirror
Adjusting the seat height can be cumbersome
Turning radius may make navigating narrow indoor spaces problematic
Ride can be a little rough when used on bumpy surfaces
If speed and range are a priority, the Buzzaround EX Extreme by Golden Technologies may be right for you. Offering the benefits of a full-sized scooter, the Buzzaround that can tackle most outdoor situations while still being transportable enough to take with you when you're on the go.
Our Rating:
Pros
Offers an increased weight capacity of up to 330 pounds
Includes a spring suspension for a smooth, comfortable ride
Has a 4-inch ground clearance and sturdy enough to handle rougher terrain than other scooters in this category
Has a larger motor than similar scooters in this class, allowing for speeds up to 5 mph and a range of up to 18 miles
Can be customized with an optional pull-behind trailer
Cons
Entire scooter must be brought inside to charge instead of simply removing the batteries and plugging them into a docking unit
Although technically transportable, the pieces weigh anywhere from 22 to 46 pounds and can be bulky, which may be difficult for some users to manage
The Victory 10 LX by Pride Mobility is perhaps the most comfortable scooter in this category. This scooter features advanced front and rear suspensions for a smooth ride over rough terrain. For this model, Pride Mobility gives you the choice between a Candy Apple Red color and True Blue.
Our Rating:
Pros
Accommodates weights up to 400 pounds
Smoothness of ride makes it an ideal choice for individuals with chronic back pain
Comes with a nice lighting package for extra safety, including directional signals, front tiller light, and rear and curb lights
Charging port is located on the tiller for easy access
Offers ample range per charge at 16 miles
Cons
May not be enough leg and foot space for those on the taller side
Throttle doesn't lock in place, which may become tiring on long rides
Seat has a high back for support, but it could use some extra padding
60-inch turning radius may be too wide for some indoor spaces
Features a feather-touch disassembly system where the heaviest piece weighs approximately 78 pounds, which may be more than some users can handle
While the Sunrunner isn't the most portable scooter on the market, it performs well for long-distance outdoor use. The scooter includes a deluxe padded seat and a high back for comfort during long journeys. It also has a maximum range of 25 miles so you don't have to worry about getting stranded somewhere. Overall, the Sunrunner is a well-built and durable mobility scooter.
Our Rating:
Pros
Has a 3-inch ground clearance and thus able to navigate curbs and other uneven terrains without high-centering
Comes with a safety feature package, including a headlight and rearview mirror
Approved for inclines up to 8 degrees and thus able to handle ramps and slopes with ease
Has a top speed of 5 mph, which is good for getting across busy crosswalks
Cons
Due to the size and speed, practice is needed to be able to maneuver the scooter safely
Has a 50-inch turning radius and thus not the best at navigating tight indoor spaces
Although the scooter breaks down into four pieces for transport, there are heavy and may be difficult for many users to lift
THE BEST OUTDOOR MOBILITY SCOOTER
OUR TOP PICK
The 5 Best Heavy Duty Mobility Scooters
Individuals weighing over 300 pounds or who plan to use their scooter while camping or in outdoor situations other than sidewalks and smooth paths should consider a heavy-duty scooter that provides the necessary speed, operating range, ground clearance, and power. If extra weight capacity or rugged outdoor use is your primary concern, the following models may be the best value for your money:
The Cobra combines performance with a sleek, modern aesthetic of a scooter designed for the outdoor enthusiast. An impressive 7-inch ground clearance and 8-degree climbing angle allow the Cobra to go from a smooth sidewalk to grass or a gravel path with ease.
Weight Limit:
450 pounds
Our Rating:
Pros
Has a top speed of 10 mph and a range of 35 miles, which makes it suitable for long journeys and extended use
Comes with a safety feature package that includes reflectors, turn signals, rearview mirrors, and hazard lights
A fully adjustable captain-style seat, armrests, and tiller can accommodate users of various sizes
Easy to maneuver ergonomically-designed handle
Cons
Has a turning radius of 82 inches and thus not the most practical scooter for indoor use
Even though the scooter includes a full suspension, the ride is still pretty rough when traveling on bumpy terrain
Because of its weight and overall size, it may be difficult for some users to unpack and assemble the scooter on their own
You will most likely need a lift to transport the scooter
The Panther by Drive Medical is designed for those who need an outdoor scooter to get around their backyard or a trip to the neighborhood park or grocery store. In terms of performance, the Panther stacks up well against the other scooters in this class with a top speed of 8 mph and range of 25 miles per charge.
Weight Limit:
425 pounds
Our Rating:
Pros
Comes with front and rear suspensions and large pneumatic tires for a smooth ride regardless of the terrain
Includes electromagnetic brakes and a hand brake for added safety
Includes a USB port, allowing you to keep your cell phone charged while you're out and about
Cons
Heaviest part is 145 pounds, which means you'll need a lift and larger vehicle to transport this scooter
Comes with a small basket but no additional storage, which would be nice for shopping and extended outings. There's also no holder for a cup, cane or oxygen tank
Size of the scooter makes it most suitable for outdoor or indoor use in large, commercial-style buildings
The EW-02 by eWheels is unique among the scooters in this category because it can handle one or two passengers. This is a definite plus for elderly couples who both may need a scooter when out shopping, camping, or visiting amusement parks but don't want the hassle of transporting two scooters. The EW-02 also has a unique design that looks more like a dune buggy or ATV than a mobility device.
Weight Limit:
500 pounds
Our Rating:
Pros
Comes fully assembled, so you can just remove the box and go
Has a top speed of 15 mph and a range of 43 miles per charge
At 6 inches, it has enough ground clearance to handle almost any terrain
Folds for easier transport
Cons
Speed can only be controlled with the right-side handle, which can make opening and steering through doors a little difficult
Changing from forward to reverse requires you to flip a switch, which can be inconvenient when trying to do a multi-point turn or backing up in narrow spaces
The EW-72 by eWheels is designed for speed and distance for those who need a scooter for extended outdoor use. It offers a range of 43 miles per charge and a top speed of 15 mph. The EW-72 functions more like an ATV than a traditional mobility scooter, thus allowing you to travel places that may be off-limits to other scooters.
Weight Limit:
500 pounds
Our Rating:
Pros
Comes fully assembled
Offers plenty of legroom for taller individuals
Comes with 16-inch pneumatic tires and rear shock absorbers for a smooth, comfortable ride
Offers 7 inches of ground clearance, which makes it appropriate for virtually any outdoor situation
Features turning signals, brake lights, and ultra-bright headlights for nighttime use
Comes with a key fob for remote starting and an anti-theft alarm
Ability to limit the top speed with the turn of a dial
Cons
Size, speed, and 92-inch turning radius makes it inappropriate for most indoor uses
Requires a lift or hitch carrier to transport
The Pride Maxima is designed for those who want luxury comfort in a scooter that's rugged enough to tackle almost any outdoor adventure. The Maxima features an upgraded, user-friendly electronics package, ergonomically designed seat, and enhanced rear suspension for increased comfort.
Weight Limit:
500 pounds
Our Rating:
Pros
Has a top speed of 5.2 mph and an operating range of 18 miles, which allows for a full day of use
Has a ground clearance of 4.25 inches and an ultra heavy-duty drivetrain, so it can handle rugged terrain, grass, and curbs easily
Choice of an optional power seat that provides an extra 5 inches of height to make it easier to reach cabinets and shelves
Cons
Even as a 3-wheel scooter, it still has a turning radius of just over 50 inches, which may make navigating tight indoor areas difficult
Floorboard may be a little short for extremely tall individuals and those who may have difficulty bending their knees
Although it disassembles into seven pieces, the heaviest piece weighs more than 70 pounds, so most users will need a lift to transport the scooter
THE BEST HEAVY DUTY MOBILITY SCOOTER
OUR TOP PICK
The 5 Best Folding Mobility Scooters
Folding and travel scooters are designed for those who need to take their scooter on short trips to the grocery store as well as longer trips and vacations. These scooters tend to be lightweight and compact for easy storage and transportation but often at the expense of weight capacity, power, and range. We've ranked the following folding models as best in terms of transportability:
One of the most distinctive attributes of the TranSport is its unique folding concept that allows you to store the device upright in a closet or corner. This can be especially convenient for those living in small apartments or when staying in hotels or on cruise ships where space is limited.
Our Rating:
Pros
Can be folded into a pull-along configuration for use at airports and hotels
Compact size and 32-inch turning radius make it ideal for indoor use
Features an articulated front end for increased stability over uneven terrain
Cons
Larger individuals may find the legroom and seat somewhat cramped
The relatively low weight limit of 250 pounds may not be sufficient for certain users or if you tend to carry extra items with you
Has 2.4 inches of ground clearance, which may make it difficult for the scooter to navigate over curbs and other obstacles
Depending on the type of battery you buy, the scooter can weigh between 60 and 70 pounds, which may be too heavy for some users to lift into a car or SUV
If you travel light and need a highly portable scooter for getting around the airport, cruise ship, or your favorite attractions, the Luggie Elite may be the device for you. While it may not have the amenities of some of the other travel models, it scores high marks for ease of use and transport.
Our Rating:
Pros
Comes fully assembled
Although primarily intended for flat surfaces, it can handle inclines up to 6 degrees to accommodate most ramps
Entire scooter weighs approximately 50 pounds and thus light enough for most users to lift
Can be folded into a partially collapsed position, allowing you to pull it like luggage or into a totally collapsed position to transport in the trunk of a vehicle
Battery charges in only 2 to 6 hours and has a range of up to 12 miles
Cons
Has a weight limit of 250 pounds and thus not intended for larger individuals or those who need to carry extra items with them
Construction isn't very durable and parts can be difficult to find and expensive to replace
Comes with a standard handle, which requires more upper-body strength and dexterity to operate than the delta handle featured on most of the other models
Somewhat lacking in comfort — the seat could use more cushioning and support and the armrests aren't adjustable
Doesn't come with a basket or extra storage and thus not great for shopping
The SmartScoot is designed with the traveler in mind. It can easily stow in a car trunk for a day out shopping or navigate through the airport or on a cruise ship. While this scooter doesn't offer many frills, it gets the jobs done.
Our Rating:
Pros
Has an impressive range of up to 12 miles
Weighs less than 40 pounds, making it easy for most people to lift
Collapses in seconds for transport and storage
Lightweight yet sturdy stainless steel body
Doesn't include many bells and whistles, but still comes with a handy basket for shopping
Cons
Although it has a weight limit of 250 pounds, the scooter may feel a little cramped for larger individuals
Seat isn't heavily padded and lacks armrests, which may cause discomfort during prolonged use
Handlebar tiller requires a fair amount of upper-body strength and thus may be difficult for some users to operate
Doesn't have the sleek, modern aesthetic like some of the other scooters in this category
The Transformer is unique among all mobility scooters reviewed in this guide since it can be folded and unfolded using a remote control — a plus for those with limited hand mobility. No other scooter on the market offers this fully automatic technology.
Our Rating:
Pros
Unlike other scooters in this category, this scooter can accommodate users up to 300 pounds
Can handle inclines up to 10 degrees, making it easy to drive on ramps and gentle inclines
Speed can be controlled with the turn of a dial
Lithium batteries are standard and provide a range of 13.5 miles, which should be enough for all-day use
Doesn't have to be disassembled and reassembled and thus exceptionally portable
Cons
Although folding the device is a snap, it may be a little heavy for some users to lift into a vehicle
The turning radius is a little wide, so tight spaces are problematic
Only has 1.6 inches of ground clearance and thus not designed for rough terrain or tall grass
The Lexis Light is designed for individuals with mild mobility limitations who primarily need a scooter for occasional indoor or light outdoor use when shopping or traveling. Tzora offers both a red and blue version of the Lexis Light.
Our Rating:
Pros
Breaks down into three pieces with the heaviest weighing less than 30 pounds and thus easy to lift and transport in virtually any vehicle
As a foldable scooter, it's portable enough to take on planes, trains, and cruise ships
Despite using 4-wheels for added stability, this scooter is compact and maneuverable enough to handle tight indoor spaces
Includes dual hand controls, allowing individuals who only have the use of one hand to operate it
Comes with a car charger for convenient charging away from home
Cons
Not intended for extended outdoor use or rough terrain
Battery has a maximum range of 8 miles, which may not be enough for long trips or extended use
Battery is located on the tiller, which makes it harder to steer than some of the other models in this category
Tzora is based in Israel, which may make it more difficult to get replacement parts or repair service
THE BEST FOLDING MOBILITY SCOOTER
OUR TOP PICK
The 5 Best Mobility Scooters Under $1000
Having a limited budget doesn't mean a quality mobility scooter should be out of reach. While the models in this category may lack some of the bells and whistles of the more expensive models and may not be the most appropriate for extended outdoor activities, there are more than adequate for light daily use or a trip to the mall. The following models provide superior quality while still coming in under $1,000:
The Scout is a cost-effective option for those needing a light-weight scooter primarily for indoor use. While it may not have the speed or power for rough terrain or long distances, it will suffice if you need help getting around the grocery store or mall.
Our Rating:
Pros
Assembles in just a handful of steps
Breaks down into five parts and is compact enough to fit in the trunk or back of most cars and SUVs
Seat swivels for easy mounting and dismounting
Has a weight capacity of 300 pounds, which is suitable for most adults
Easy to operate steering handle for those with limited hand strength and mobility
Cons
Assembly instructions are somewhat confusing
Seat is only 16.5 inches wide, which may not accommodate some users
Maximum range is only 9 miles and thus not suitable for long outings
Ground clearance is only 2.5 inches, which may be problematic in certain outdoor situations
Turning radius makes sharp turns in narrow spaces difficult
The MiniRider is one of the best performers in this category. It offers the stability and outdoor functionality of a 4-wheel scooter with the same maneuverability found in most 3-wheel models. This scooter also has the range and speed to handle extended use.
Our Rating:
Pros
Has a 35-inch turning radius, making it easy to navigate in almost any indoor situation
Has a maximum range of 15 miles and a top speed of 5 mph and thus suitable for longer outings
Can handle inclines up to 10 degrees, making it possible to navigate most ramps and small hills
When disassembled, the heaviest component weighs approximately 37 pounds, which is light enough for most users to handle
Compact enough that it can fit into most vehicles easily
Cons
Standard handle may be difficult for those with limited upper-body strength to steer
Non-adjustable armrests
Limited ground clearance makes it unsuitable for rough terrain
Doesn't come with the lights and other safety features necessary for nighttime use
The BuzzAround Lite can be disassembled in about a minute, so it scores high for ease of transport. The individual pieces are light enough to be lifted with one hand by most adults and compact enough to fit in most car trunks. The 3-wheel design and 31-inch turning radius make it ideal for tight indoor spaces. Even though the BuzzAround Lite is an economy scooter, it still offers comfort features, such as a deep stadium-style seat and adjustable tiller and armrests.
Our Rating:
Pros
Has a maximum weight capacity of 300 pounds, which is more than some other models in this category
Offers the maneuverability needed for most indoor situations
Has a top speed of 4 mph, which can provide added safety for individuals who may not have the dexterity or reflexes necessary to handle a faster scooter
Features foam-filled tires, so you don't have to worry about damaging your flooring
Takes 12 hours or less to charge
Cons
Only has a 3-inch ground clearance, which means it can only be used outdoors on very flat, even surfaces
Recommended for inclines of 6 degrees or less and thus unable to handle certain ramps
Maximum range per charge is 8 miles, so prolonged use may be problematic
The Go-Go Ultra provides basic functionality for those who primarily need mobility assistance for indoor situations. This scooter is good for occasional use and short-range tasks but lacks many of the comfort features you'd want in a scooter intended to serve as a primary mobility aid.
Our Rating:
Pros
Offers plenty of speed and range for basic indoor use
Has a tight turning radius, making it suitable for narrow spaces
Charges quickly and holds the charge well
Comes with an off-board dual-voltage charger, offering you the convenience of charging your battery on or off-board
Breaks down into five pieces and is easy to assemble and transport
Cons
Has a relatively low weight capacity of 260 pounds
Not really suited for regular outdoor use as it has low ground clearance and struggles on anything other than a smooth, level surface
Maximum range is less than 7 miles, so you may struggle to make it through a full day of heavy use
Doesn't come with safety features such as lights and thus shouldn't be used outdoors at night
The Echo is a good all-purpose scooter for those who primarily need to get around the mall, grocery store, or similar locations. It has a range of approximately 8 miles per charge, which is enough for a day's shopping or running errands.
Our Rating:
Pros
Maneuverable enough for the home and other tight spaces
Disassembles easily and is compact enough to fit into most cars
When disassembled, the heaviest part is 35 pounds and thus light enough for most people to lift
Batteries can be charged on or off the scooter
Cons
Taller individuals may find the legroom lacking
Only has 1.5 inches of ground clearance, which may make it difficult to navigate over uneven terrain and even some entryways
Lacks the power needed to climb steeper ramps and inclines
Seat height is adjustable but doesn't swivel for easy mounting and dismounting
Has an automatic start button, which means you can't lock the scooter in the event you need to leave it unattended in a public place
THE BEST MOBILITY SCOOTER UNDER $1000
OUR TOP PICK
CONCLUSION
When it comes to function, performance, and features, the Scout Compact Travel 4-Wheel Scooter by Drive Medical provides the most value for your money for a few key reasons:
checkOffers ample weight capacity for most users and situations
checkEasy enough to control and operate for individuals with a wide range of health issues and disabilities
checkCan be broken down without tools and is easy enough to transport
While the Scout may not be ideal if you plan to take the scooter on camping trips or along rugged trails, it certainly has enough range, speed, and power to offer you the freedom to get around your neighborhood or enjoy a family outing.
Moreover, the Scout can also be customized with a wide range of accessories, such as a sunshade, cane holder, or an oxygen tank holder to suit your needs.
NOW IT'S YOUR TURN!
Are you looking for a type of mobility scooter not included in this guide? Leave your questions/comments below and we'll do our best to answer them!
REAL ESTATE EBOOK BUNDLE FOR BEGINNERS
Your eBook Bundle Includes:
Rent or Mortgage Free Living: How Smart People Optimize Their Finances
Authentic Confessions of a Real Estate Investor
How to Save For a House: 10 Ways To Make Your Biggest Purchase Ever