15 Best Online Jobs For College Students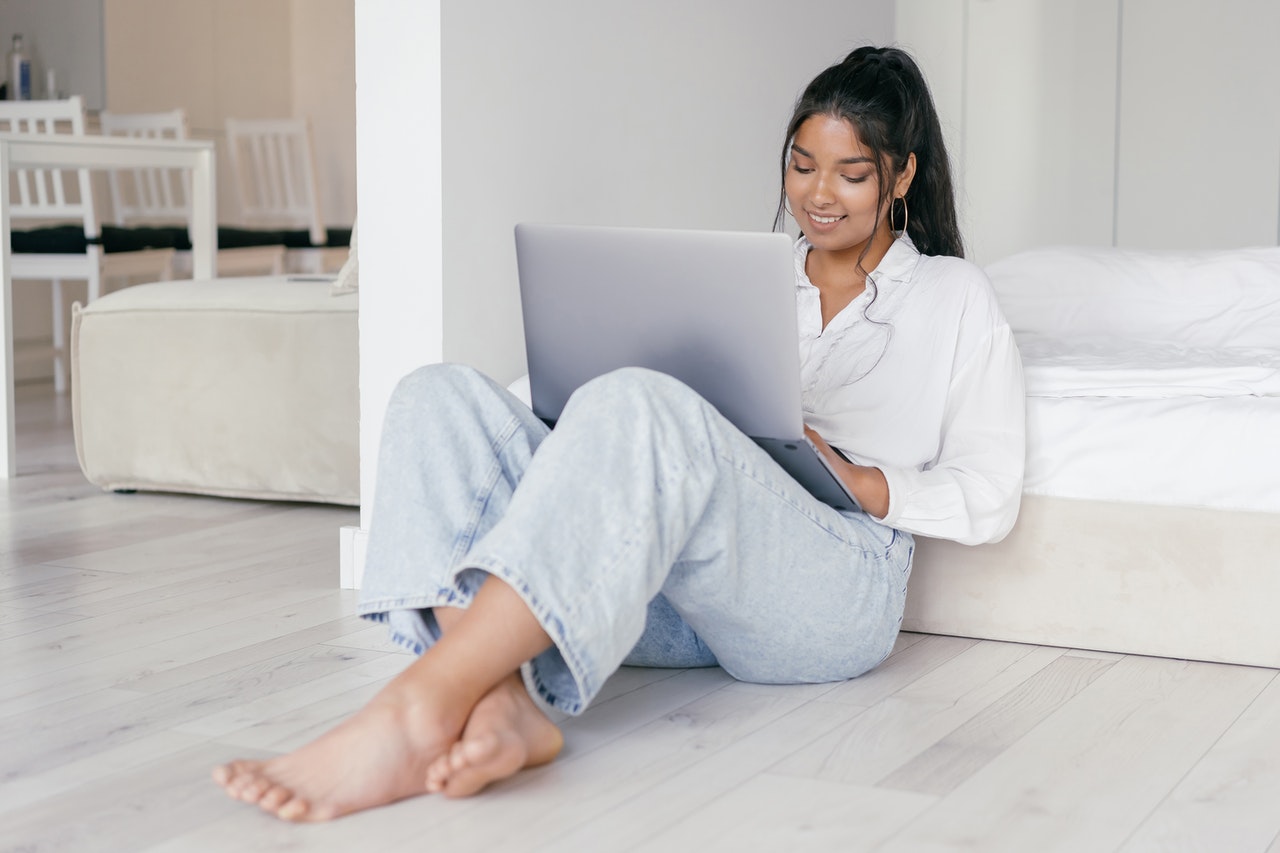 College students could always use some extra cash in their pockets. From books to groceries, it can seem like every expense adds up quickly.
However, there are ways for students to earn money outside of their college town – and from the comfort of their couch (or futon!).
If you're a student that has limited job options on or around campus, you might want to consider finding an online job. You can leverage your skills, learn new ones, and earn extra money in the process. Here are a few of our favorite online jobs for college students.
Top Online Jobs for College Students
1. Graphic Designer
Pay: $25-200 per hour
You don't have to have a degree in graphic design to earn money as a graphic designer. Many students, small businesses, and budding entrepreneurs are looking for inexpensive design work. You could advertise your services to help people create logos, color schemes, and more.
Graphic designers are especially helpful for people who need graphics for their social media accounts. You can help your clients create social media images, website graphics, and pictures to use on their websites or internal presentations.
If you plan to pursue a career in graphic design, doing this job online can help you build a portfolio so you can prove to future employers that you have experience. If you don't plan to pursue this line of work, you can still earn money while using free tools like Canva to help you create quality graphics.
2. Freelance Writer
Pay: $.20 per word or $20 per hour and up
If you are good at paying attention to detail and can explain complex topics easily, then you might want to look into freelance writing. Freelance writers and proofreaders write content, copy, blog posts, and more for businesses. You can search websites like Upwork to find companies that need one-time posts written or can search for companies that need content on an ongoing basis. Some companies will keep you on retainer for a set number of posts per month, and others will pay you by the hour.
3. Social Media Marketer
Pay: $25 per hour
Most college students have natural experience with social media. They know intrinsically what works and what doesn't. If you can also learn the business side of social media, then this might be the perfect gig for you.
Businesses use social media to interact with their audiences. They use platforms like Instagram, Twitter, Facebook, and TikTok to stay top of mind for their potential customers. However, social media management can be very time-consuming for businesses and marketing teams, so they will commonly outsource it to an agency or specialist.
4. Course Creator
Pay: Contingent on sales
If you have a skill or idea to share, you might be able to monetize it by teaching other people how to do what you do.
You simply need to create your course on a platform like Teachable or Udemy, then market it. Some websites will market your course for you, and others will require you to do 100% of your sales and marketing. If you can price your course well and advertise it to an eager audience, you can create an online income stream for yourself.
5. Web Developer
Pay: $50+ per hour, the typical annual salary starts at $60,000
Both web-based and brick-and-mortar companies are always looking for skilled web developers. You will need to have specific skills to be a web developer, but the pay is high, even for those just starting. As more companies build their online service offerings, the demand for skilled developers continues to increase.
If you're still in school and just starting, you can earn more than most of your peers if you have skills in web design, programming, and coding. If you don't have time to take on a part-time job or internship, you may want to consider freelancing.
6. Virtual Assistant
Pay: $20-150 per hour
Whether you'd like to be an executive assistant to a corporate employee or help an entrepreneur streamline their workflows, virtual assistant (VA) jobs are on the rise. While the term 'virtual assistant' might conjure up images of working through someone else's extensive email list or doing tasks that they don't have time to do, virtual assistants can do almost any type of work.
VAs typically do any work that is time-consuming for their boss. Everyday tasks they complete are social media management, administrative tasks, scheduling, email management, and more. The higher-paid VAs often offer to code, web development, graphic design, and more in their service offerings.
7. Survey Taker
To earn money by taking surveys, all you need is an internet connection and an email address. Many survey sites like Survey Junkie and Swagbucks offer a $5 or $10 bonus for merely signing up, and you can earn money by referring your friends.
This is an excellent option if you typically have extra time between classes or while on the bus. While this option won't make you rich, you can earn extra money or Amazon gift cards to spend how you choose.
8. Translator
Pay: $10-60 per hour
If you can read, speak, and write in more than one language, you might be able to do online translation work or do translation services via phone. Companies that operate in more than one market often need translators to help to ensure that web copy, documents, and books are translated correctly. Additionally, there are phone-based services in which people need a translator to help them make calls or conduct business.
9. Video Captioning
Pay: $0.45 per minute captioned
Have you ever watched a video in a crowded place and read the captions on it instead? These captions help companies reach larger audiences and keep their audiences engaged in the video content. However, it is often expensive for companies to pay someone internally to caption videos, so they pay freelancers instead.
Websites like Rev.com allow companies to post the videos they need captioning. Videos are typically several minutes long, but you can earn over $25 per hour of video that you caption.
10. Video Editor
Pay: $20+ per hour
Videos are one of the most popular types of content online. Websites like YouTube and TikTok help businesses stay in front of their customer bases. As a result, there is a high demand for skilled video editors.
You can search for video editing jobs on Upwork. Most beginners can charge at least $20 per hour for your work and increase your rate as you gain traction in a specific niche or industry. You will need to have some video editing skills to get started as well as have access to video editing software.
11. Photographer
Pay: $25 per hour, or several dollars per photo
If you have an eye for photography, you might be able to monetize your hobby. There are several options in this field, including portrait photography, selling stock photos, and more. You may have some overhead if you do not already have a professional camera and photo editing software. Still, once you've established a foothold in the industry, you can raise your prices.
12. English Teacher
Pay: $18-50 per hour
The recent global pandemic has plenty of students learning from home. Parents around the world are looking for ways to educate their kids online. Some online schools, such as VIP Kid and Whales English, employ freelance English speakers to teach kids online.
Other companies, such as English First, allow native English speakers to teach adults online. If you're a native English speaker, you may want to explore becoming an English teacher.
13. Tutor
Pay: $14-20 per hour
If you are an upperclassman, you might be able to tutor people who are in classes that you've already taken.
However, you can also find students online. You can check out websites like Chegg.com and Wyzant to find college-level students that need some extra help in their classes.
14. Retail Arbitrage
Pay: Contingent on sales
Retail arbitrage is when individuals buy items in retail stores for a cheaper price than they can sell them online. Then, they resell items online. People who do this typically use large online marketplaces such as Amazon or eBay to resell their items for a significant profit.
Fulfillment by Amazon is the most popular retail arbitrage method. You can open an online store and sell stock straight from the supplier of the products that you sell. Each platform charges a different amount, so it is important to do your research before trying to create a drop shipping passive income business.
15. Blogger
Pay: Undefined
If you love writing and dabbling in code, design, and other functions, then blogging might be for you. Bloggers typically have a niche area of expertise that they want to share with the world. Bloggers earn money through affiliate links, advertising, selling products and courses, and sponsored posts.
Most bloggers choose a niche that they love and that there is a market for. For example, a college student might create a blog on how to make sure you get your security deposit back and include specific videos, blog posts, and other content that helps people fix up their apartments on a tight budget.
While it can take up to a few years to get a blog off the ground, many people can earn their first blogging dollars after a few weeks of operating the website.
The Bottom Line
If you're a college student and need to earn some extra cash, there are plenty of jobs available to do online.
This is especially important as many universities have closed their campuses for the fall semester. Both job seekers and employers are shifting their focuses online to maintain social distance and gain wider exposure.
This post is originally on Wealth of Geeks.
Ernie & Addie Learn The Value of Saving Money
Kids Can Learn Through Storytelling:
The power of saving and the importance of financial literacy
The joy of delayed gratification and the rewards of responsible money management
Tools to teach young readers about the value of setting financial goals