15+ Small Attic Low Ceiling Room Ideas
Thinking about renovating your small attic space with a low ceiling into a small bedroom? Adding this type of space to your home is always a great investment. Here are 15+ Small Attic Low Ceiling Room Ideas to transform your home!
RELATED: How to Convert a Garage Into an Apartment
Low Ceiling Small Attic Room Ideas
1. Small Attic Reading Nook
This cozy reading nook is an excellent idea for a small attic with a low ceiling! A cozy nook with beautiful frames, wood tones, throw pillows, and a soft color palette can make a space feel like a perfect getaway!
2. Cozy Bedroom
There's something about a small attic space with slanted ceilings that's perfect for an extra-cozy bedroom! Whether it's a guest bedroom or a room that will be used daily, this is one of the best ways to renovate an attic.
3. Cottage Style Bedroom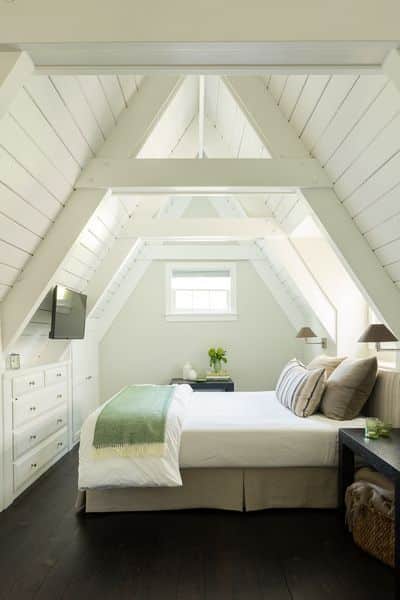 This cottage-style bedroom idea with a built-in dresser is the perfect use of a small attic space! If you're looking for fresh inspiration for your attic space, this room is perfection.
4. Low Ceiling Attic Loft
Why stop at a bedroom when you can create an entire loft? Add balconies to your attic space to create a private outdoor space for fresh air and some airflow. Your guests will love it!
5. Small Bedroom Loft
This small bedroom loft features two built-in beds, making it perfect as a shared bedroom or a guest room.
6. Unfinished Attic Bedroom
Who says you have to add drywall? An attic space can be left partially unfinished for some extra-cozy cabin vibes. Leave the exposed wood beams, brick wall (if you have one), and add some edison bulbs. This low ceiling attic bedroom is a favorite!
7. Nantucket Style Room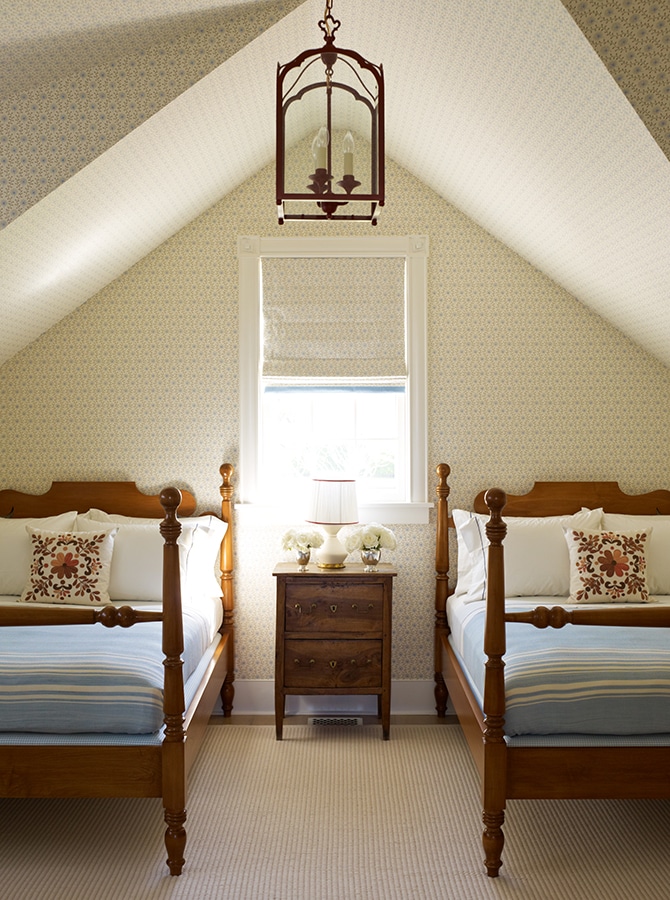 A good rug and wallpaper, along with a few antique beds, can really transform an attic bedroom!
8. Modern Farmhouse Attic Closet
Create the closet of your dreams in a small, low-ceiling attic space! Adding more closets to your home are always a great investment and perfect for older homes with little space.
9. Attic Office
One of the best things to do with your unused attic space is to transform it into an office! White walls, lamps, side tables, and some storage space can make the room feel fresh and perfect for a focused work session.
10. Small Attic Bathroom
Add skylights for an attic bathroom with plenty of light. Renovating an attic space into a bathroom is a great investment and can add tons of value to your home!
11. Kid's Bedroom
This low-ceiling small attic transformed into a kid's bedroom is perfect for the space! With the right layout and decor, a small bedroom with low, sloping ceilings can still feel spacious and inspired.
12. Attic Gym
Love to workout but hate going to the gym? Renovate your small attic space into a home gym! While you'll definitely want some good air conditioner and insulation in there, an attic gym can be made as simple as you want. Just make sure that the flooring structure can handle the weight of your gym equipment before getting started!
13. Boho-Style Lounge Area
Have an attic window? Then your attic space could be perfect for a boho-style lounge area with tons of plants!
14. Kids Playroom
This attic playroom idea is next level! A small attic space is a perfect room to play around with style in, and it's a great space for your little ones to be as loud and noisy as they want.
15. Add Roof Windows
Ready for a life-changing idea? Add roof windows to your small attic ceiling! This can make a small attic feel inviting and bigger than it actually is, making it perfect for a bedroom or loft. Adding natural light in an attic space is definitely worth it!
16. Cozy Attic Guest Bedroom
This carpeted cozy attic bedroom is perfect for a guest, older child, or really anyone and is one of our favorite small attic low-ceiling room ideas!
More Home Renovation Ideas