How To Get Website Feedback To Drastically Improve Your Site
Congratulations! The fact you're even entertaining the idea of getting feedback for your website is commendable. Why? Well, you'd be surprised at the number of site owners who pooh-pooh the idea that others might have valuable insights which they might have missed themselves.
The reality is site owners – especially of small businesses – are often too attached to the look and feel of their sites and thus lack the perspective to recognize faults, even when there are glaringly obvious. And when the user experience and design of a site aren't as good as they could be, sales suffer as a result.
The earlier in the process you gather site feedback, the easier it'll be to make improvements because you'll be less personally invested and thus far more open to critique.
In this post, I'll describe how to get website feedback to make your site as great as it can be in the following ways…
Greater visual appeal
Easier to navigate
Optimized functionality
Better conversion rate
Ready to get started?…
HOW TO GET WEBSITE FEEDBACK FROM EXPERTS
Collecting and analyzing site feedback can be both time-consuming and expensive so if you're unable to commit to the task, consider consulting a professional web designer and/or usability expert instead. There are many options available including the popular free website feedback network Criticue.com or simply hiring an affordable consultant on freelance sites like Fiverr.com and Freelancer.com.
Just to be clear, this isn't the ideal choice. Let me explain…
While experts are good at giving expert evaluations, they don't give the same kind of feedback as ordinary, less tech-savvy internet users would give, which presumably makes up the bulk of your audience, right?
In fact, back when I worked as a Usability Analyst, a BIG part of my job was observing average Joes perform common site tasks to uncover problems our design team would have otherwise missed.
Another reason why relying solely on the opinions of one or two experts isn't the best idea is because it's just one or two experts. Expert site evaluations from a couple people are hardly enough to go by for something as important as your online business. For a more well-rounded perspective, you'll want to get at least five people to test out your site over a specific time-frame. [source]
So, by all means, use a site like Criticue.com but try not to leave it at that, get feedback from real users too…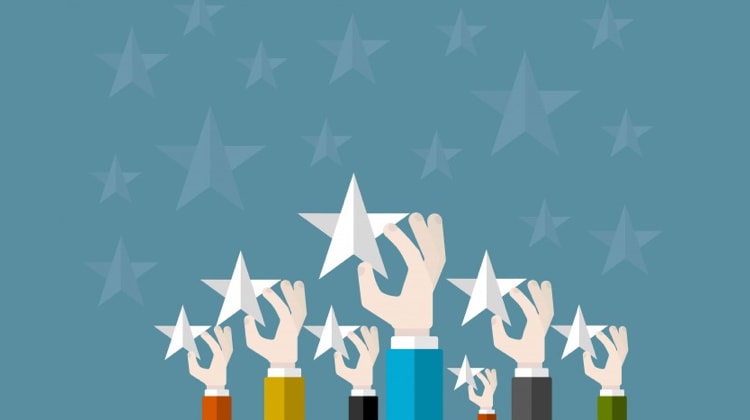 HOW TO GET WEBSITE FEEDBACK FROM REAL USERS
The More Expensive Route
In the past few years, a whole crop of usability and feedback tools have popped up. But as useful as many of them are, they don't come cheap and results aren't instantaneous. Why? Because gathering and analyzing data takes time. Still, if you have the budget, check out one or more of these options…
UserTesting.com
Probably the best known of online usability services, UserTesting.com offers video reviews and written summaries of websites based on tasks given to testers beforehand. You have the option to come up with the tasks yourself or work together with the UserTesting team to create them.
Currently, UserTesting has a special deal of $49 per video for the first 10 videos which works out to roughly $500. Yup, that's not a typo! But if money's no concern, give it a try, especially since UserTesting.com has a good track record.
As you'd expect, UserTesting isn't the only game in town with the same business model. There are other reputable companies with similar pricing structures such as Userlytics.com and UserBob.com. So give those a peek too.
Usabilla.com
Unlike UserTesting.com, Usabilla.com gathers feedback directly on your site using a built-in annotation tool. Whenever testers come to your site, there are shown pre-selected site screenshots which they can then easily leave feedback on.
Some of the Usabilla premium plans offer recruiting as part of their package, otherwise, you'll have to find testers yourself through means like paid traffic or family and friends. One web page is free to test but extra pages will cost between $49-$199 depending on the plan.
UsabilityHub.com
UsabilityHub.com offers a whole suite of tests including its popular Five Second Test, along with Click Test, Question Test, Navigation Test, and Preference Test. All serve different purposes and all gather valuable feedback for the serious data collector.
With their free plan, you'll get partial use to UsabilityHub's tools minus quick turn-around time or customization options. For that, you'll need to upgrade to their Pro version which will set you back $99 per month.
Now, it's not enough to use services like these, make changes to your site, and move on to other things. You'll want to re-test your site AFTER you've made changes to verify they helped, not hindered your site. And that, I'm afraid, requires another round of expensive testing.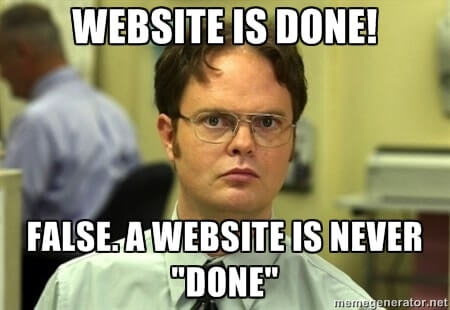 But there's another way…
The Cheaper Route
So what do you do if you don't have a big budget to dedicate to site feedback? While there's no substitute for the pricier services described above, free options are available such as these…
Family and Friends
Recruit family and friends to provide you with site feedback using instant message, email or a social media blast through a channel like Facebook. Keep in mind, getting unbiased opinions from loved ones may be tough so you'll have to make clear you're only looking for genuine feedback. And to make sure they do a thorough job, consider offering a small paid incentive.
Forums
Submit your website to popular forums like Sitepoint and various Reddit subreddits like /r/design_critiques and /r/userexperience and request feedback.
A word of caution: Any trouble you have getting critical feedback from family and friends definitely won't be a problem on Reddit. In fact, you may feel like crawling under a rock once there are through with you. 😉 But here's the thing…a lot of the feedback is helpful so don't dismiss comments outright just because they may sound harsh at times.
Surveys/Forms
If you already have a loyal audience and/or get enough traffic to your site, invite visitors to fill out a short survey. Feedbackify, SurveyMonkey, PollDaddy, and Wufoo all offer free and/or trial plans to collect visitor feedback. But don't rely on surveys alone to gather user feedback. Why?
First, people who go out of their way to leave site feedback either tend to be very impressed or very dissatisfied with a site — neither of which necessarily reflect the general public opinion.
Second, open-ended and general multiple choice survey questions aren't as insightful as the feedback you'd receive from real users performing targeted tasks on a site like UserTesting.com. Unlike surveys, targeted tasks can pinpoint issues the tester might not even be aware of.
So, complementary? Absolutely. Using surveys as a sole strategy? No.
To Change or Not to Change?
Regardless of which route you choose (i.e., expensive vs. cheap), ultimately it's up to you to decide which site changes to make based on users' feedback. But how do you know if you don't have a point of reference?
I mean, just because someone makes a suggestion doesn't mean you automatically implement it, right? Well, one idea I recommend before revamping anything on your site is cross-referencing your feedback with the mac daddy of all usability books — Don't Make Me Think by Steve Krug. Yup, it's THAT good.
MY WEBSITE FEEDBACK TOOL OF CHOICE
Despite the legitimate options described above, I don't use any of them personally. Instead, I use an awesome site feedback tool included in an online training program I'm a member of called Wealthy Affiliate (WA) — a platform that teaches budding entrepreneurs to build sustainable businesses online (read my complete review of it here.)
The WA feedback tool serves my needs in several ways…
Affordable price – Cost per issued feedback is $1.00 (or the equivalent of 2 credits). Alternatively, you can offer feedback on sites in exchange for feedback on yours via the WA community credit system.
Quick turn-around time – User feedback arrives in a matter of hours, if not minutes.
Unbiased opinions – Real people inside the WA training platform offer genuine, helpful feedback.
Targeted feedback – General feedback is helpful but it's also good practice to get site feedback on specific features and components like content, design, layout, and images/media…
Click to Zoom
These are the kind of comments I've received for ConfinedToSuccess.com…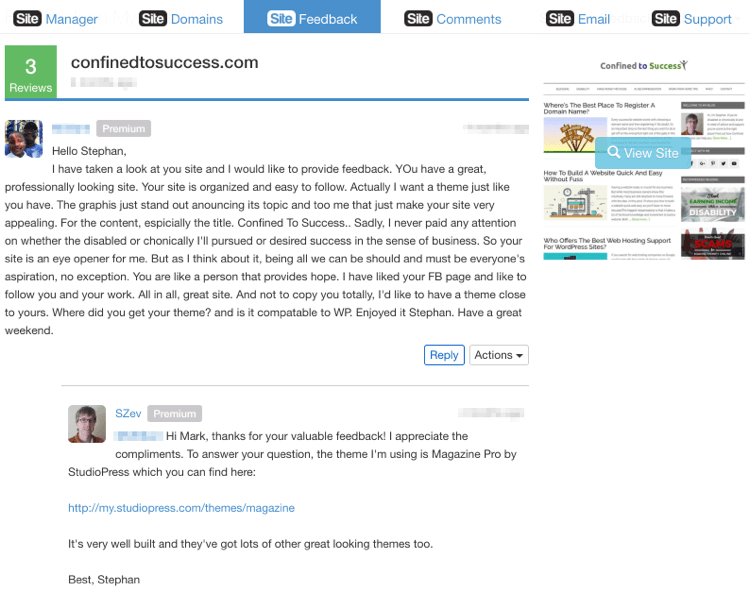 Aside from me, the WA feedback tool has its share of other fans…
And that's just ONE of a bunch of great tools offered by Wealthy Affiliate to help optimize your site. In fact, WA membership offers a complete web package consisting of domain registration, web hosting, site comments, site builder, and more.
Feel like taking a test drive?
Try out Wealthy Affiliate for 7 days free of charge and catapult your website to success!
TOOLS/WEBSITES MENTIONED IN THIS POST
NOW IT'S YOUR TURN!
What, if anything, made you decide to get feedback for your website now? Leave your comments below!
REAL ESTATE EBOOK BUNDLE FOR BEGINNERS
Your eBook Bundle Includes:
Rent or Mortgage Free Living: How Smart People Optimize Their Finances
Authentic Confessions of a Real Estate Investor
How to Save For a House: 10 Ways To Make Your Biggest Purchase Ever