How Long Does Sod Take To Root?
Laying sod is often a quick way to revive dead lawns, golf courses, and other green areas. However, we often forget that sod needs to spread its roots to become a more permanent part of the lawn. So how long does sod take to root? Sod taking root is not instantaneous and could take some time and effort.
Sod takes up to two weeks for shallow roots to form. It's fragile at the first stage, but as a stronger root system develops, you can feel more confident walking on the turf. Deep roots need at least a month and can take up to 45 days to form fully.
In this article, I'll discuss how long you need to wait for your newly laid sod to take root and become a permanent part of your newly constructed home's lawn. Let's get started! 
In This Article
Root System Formation Stages in Sod
As you'd expect with any plant, sod roots need time to develop. The shallow root system that forms initially is still very fragile, and it takes significantly longer for strong, permanent roots to grow.
In the sections below, I'll discuss how sod roots develop:
1. Shallow Roots
You'll be able to notice very shallow roots forming within 10 to 14 days in the first phase of your sod taking root. It's critical that you water your lawn every day during this early phase because the roots are very fragile and sensitive to damage.
The shallow roots formed during this phase can easily dry out if you stop watering them even for one day. I also recommend avoiding stepping on the sod while the shallow roots are still growing.
2. Deep Roots
After two weeks have passed, the roots start to grow downwards via positive geotropism and begin moving deeper into the soil. You can expect this phase of deep root formation to be complete within 30 to 45 days.  
During the formation of deep roots, you can water your lawn less often. Conventionally, you can switch to watering on alternate days instead of daily.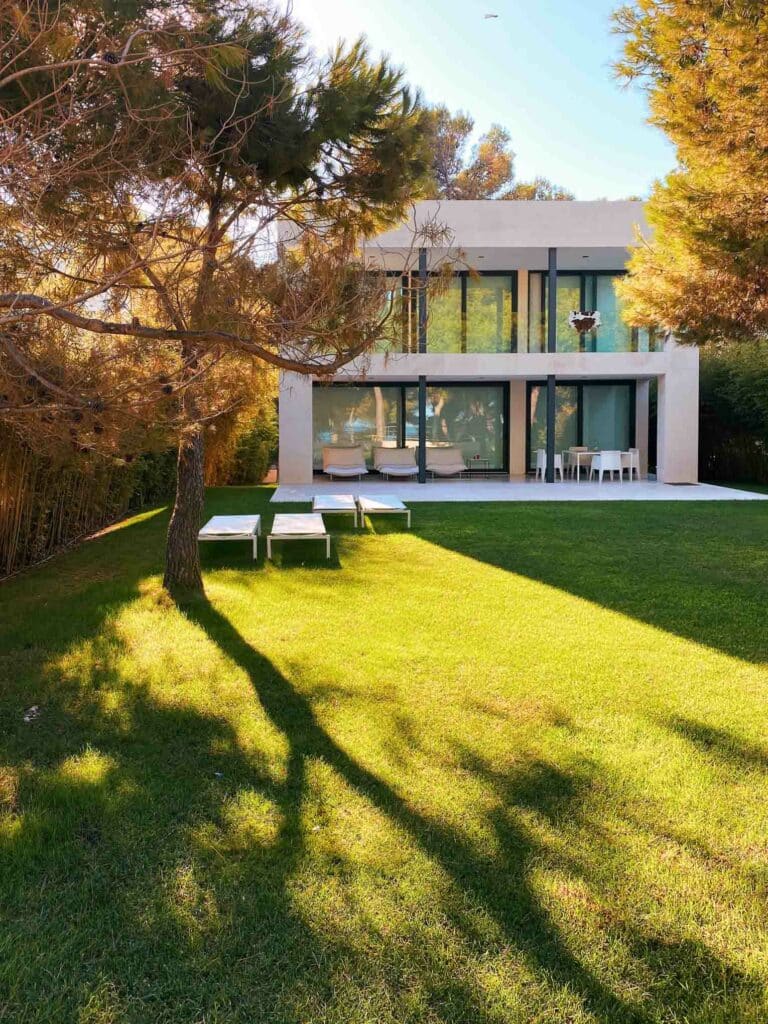 How To Speed Up the Sod Rooting Process
If you're in a hurry to see your lawn completed and don't want to avoid stepping on the newly laid sod, there are things you can do to help the roots grow faster. Here's what to consider:
Add Fertilizer
Using an appropriate fertilizer is one of the most effective ways to encourage sod root growth. I prefer to use the Yard Mastery Flagship Granular Lawn Fertilizer, which I get from Amazon. It works with any grass type and is easy to use if this is your first time adding fertilizer to your lawn!
However, you should avoid over-fertilizing because that would burn the grass and kill the lawn.
Use a Lawn Roller
Once you lay sod, a lawn roller will help fuse the soil from your sod rolls to the soil beneath. This will help the root system grow faster because the soil is fused better. You can buy a lawn roller at any gardening or hardware store. However, you should make sure you don't use a very heavy roller, as this could do more harm than good.
Aerate Your Lawn
Before laying sod, it's a good idea to aerate your lawn periodically. Generally, you should be aerating your lawn once every six months. This process helps nutrients and water reach the roots more effectively, allowing them to grow faster and stronger. Wait for six months after laying new sod to aerate your lawn to avoid damaging it.
RELATED: Plumbing Basics for New Construction
Factors Affecting Rooting
To care for the roots of your new lawn truly, it's best to understand the various factors that can impact root formation and growth.
Here are four of the most important factors to consider:
Grass Type
It goes without saying that the type of turf you have laid is a major factor in determining the root formation rate. Just as you'd expect different plants to grow outwards at different rates, the roots will also do the same. 
Make sure you ask your supplier about the grass species before buying it, so you can make an informed decision. Some grass species require more care, while others thrive with minimal care.
Sod Quality
All farmers grow sod using a similar method, but not all of them will use the best practices in making sod. Some turf rolls are of higher quality and, consequently, more expensive. Freshly harvested sod is considered better quality and will last longer because it forms deeper roots.
Always check with your supplier whether the sod you're purchasing is harvested on demand.
Season and Climate
Warm weather is better for most sod, but you should make sure that the grass you've chosen will grow well in your local climate. Also, it's best to lay sod during the spring to ensure that it forms a deep root system faster and fuses with the existing lawn. Roots may take twice as long to develop during colder months.
Soil Type and Condition
Lastly, you cannot grow sod or any other plant if your soil is unsuitable. You may want to check your soil before laying turf.
Here are a few things to do before laying sod to ensure that the soil is in the best condition:
Clear any debris from the area on which you plan to lay your sod.
Check that the soil drains well.
Check that the soil is at an appropriate pH and adjust if needed.
Add a layer of topsoil.
Add an appropriate fertilizer.
Once you've done all of the above, your soil is prepared to grow roots as it is in its best condition. Don't skip this step because it's arguably the most important.
Final Thoughts
If you follow the advice I've provided above, you should have a fully developed root system underneath your sod in as little as a month. You can begin the first steps towards a healthy lawn. Make sure you buy quality products and choose sod from a reputable farmer, and your sod will form deep roots in no time, and look lush and healthy.
More Articles For Your Next Project